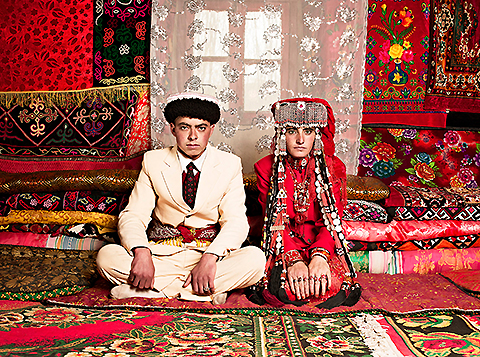 What do we lose when we see an ancient culture disappear and centuries of tradition being abandoned and forgotten? My creative urge was to capture the untainted simplicity of the tribe's life and culture. Their culture along with the eco-environment are now endangered, being constantly eroded by the majority ethnicity. Unfortunately, there are times that we have to lose things before we can truly appreciate their existence.—Li Xinzhao
Since 2009, Chinese photographer Li Xinzhao has spent several months capturing the lives of Tajiks, the isolated people of Tashkurgan who live amid the snow-capped Pamir mountains in Western China near Afghanistan, Pakistan and Tajikistan borders. Tashkurgan is extremely cold and there are many places without electricity or telecommunication. There is no access to hospitals or medicine and nutrition is lacking.
Xinzhao describes this complex place as an "unworldly world", and one that has almost never been revealed before. Through The Unknown Tashkurgan is an expressive portrait of an undiscovered people that Xinzhao so beautifully captures. The photographs are undeniably bold, not just in the striking details that define this culture, but also in the bond that was formed between photographer and subject.