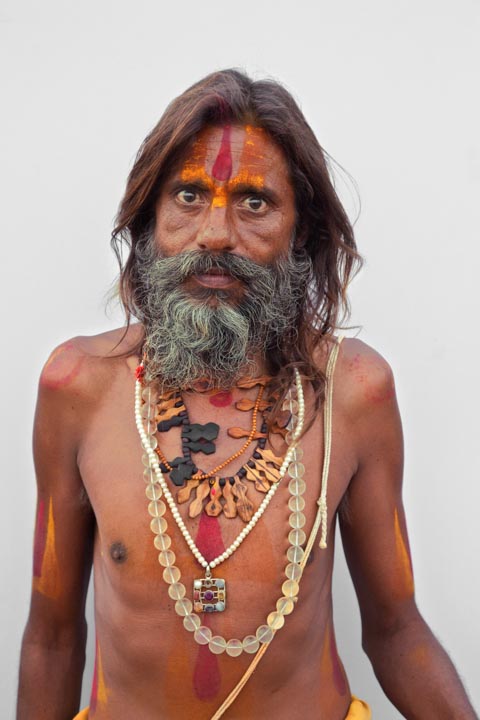 Baalak Das Nath Naga. Aged 46. Sadhu since 18 years old.
In 2010, London-based photographer David Graham traveled to Haridwar, India to photograph the Kumbh Mela festival, the largest gathering on the planet for a religious purpose. There he captured portraits of Sadhus, the wandering holy men of India.
What can you tell me about the festival?
"The Kumbh Mela has been described as "The Greatest Show on Earth". It is certainly the largest religious gathering on the planet attracting up to 50 million people. It takes place every 3 years in one of 4 different locations and the participants undertake ritual bathings in the Ganges, especially on certain auspicious days. It is being held in Allahabad from January 14-February 25, 2013.
"A temporary camp that accommodates millions of people is built just for the Mela. Many come to stay for the whole time and take part in religious discussions, devotional singing, mass feeding of holy men, women and the poor, and take part in religious assemblies.
"The Sadhus are usually clad in saffron sheets; some have ashes and powder dabbed on their skin and others may not wear any clothes at all. Some sadhus undertake what are known as tapas—extreme versions of which include holding your arm in the air for years or standing all the time."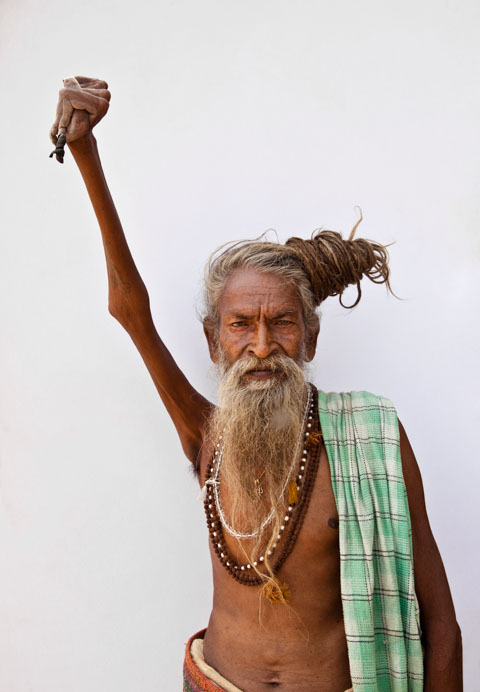 Amar Bharti. Aged 62. Hand held up for the last 32 years.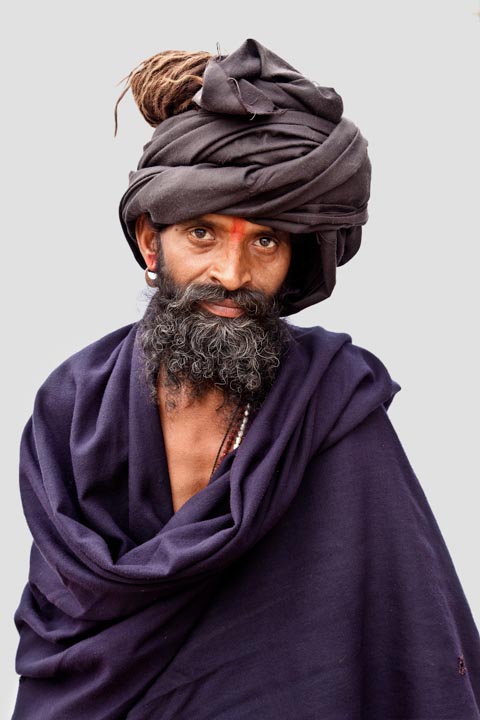 Shri Panchayati Bada Akhada Udasin Baba. Aged 55. Sadhu since birth.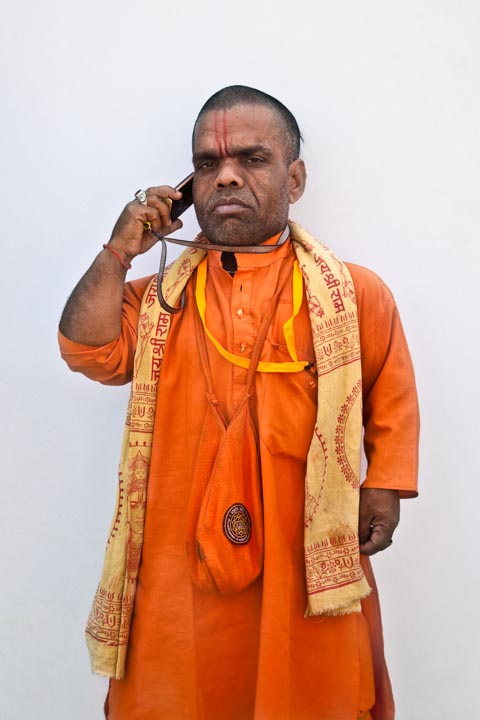 Pandit Raja Ram. Aged 45. Sadhu for last 25 years.
What is the overall vibe of the festival?
"I attended the Kumbh Mela in Haridwar, Northern India in 2010. Everywhere there were thousands of Sadhus going about their daily lives. There were numerous campsites spread out over a very large area. Different groups stay within their own compounds. Some seemed more spiritual and organized than others.
"As the day progresses you see many mass dinings and religious assemblies and tens of thousands of people seemingly wandering around aimlessly. I particularly remember the incessant noise of competing preachers over loud speakers. It was also incredibly dusty from the thousands wandering around.
"As you approach the bathing points, thousands are being corralled towards the river and it can take several hours to reach the front where you change, bathe and immerse yourself in the Ganges. Everywhere you look is colourful, entertaining and often very funny. I asked to photograph someone in the middle of the main street of the town and without asking he just took his clothes off."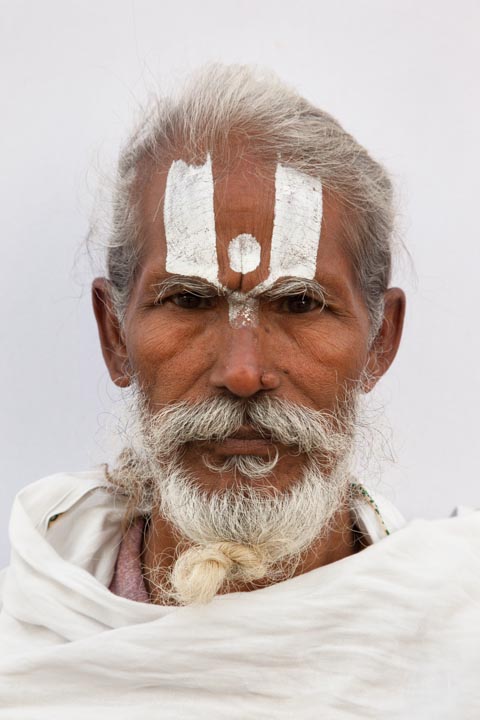 Narayan Das. Aged 68. Sadhu since he was 10.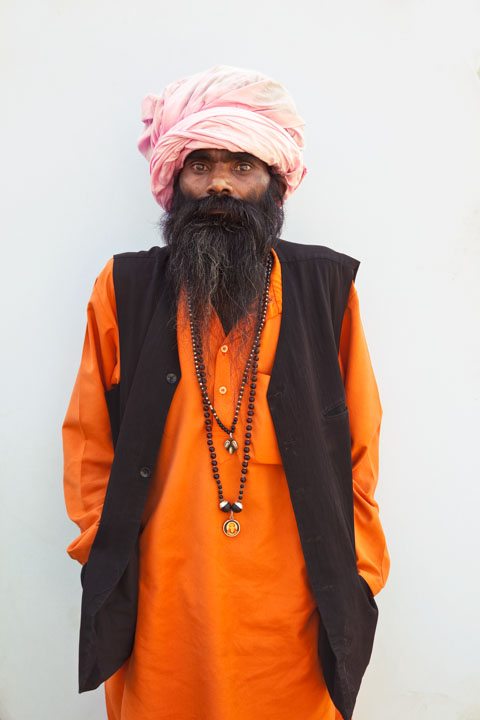 Vartmini Udasin Mahatma. Aged 55. Sadhu since he was 9. From Punjab.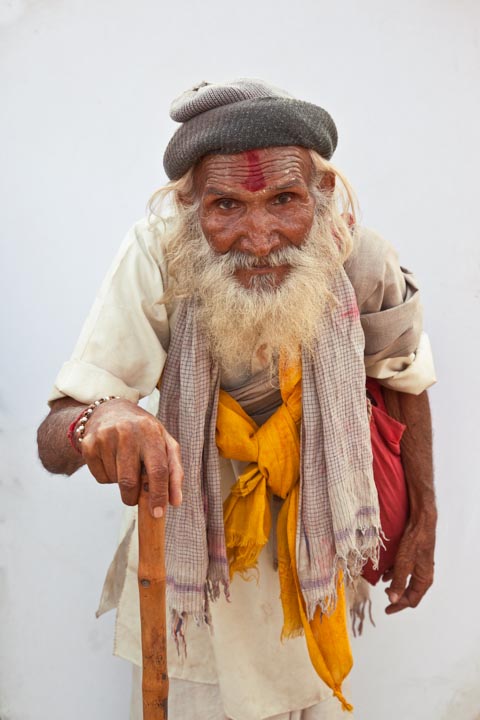 Govind Das. Aged 100. Sadhu for last 70 years.
How did you approach these men and how did you communicate?
"I had been to Bhopal on an assignment in 2009 and whilst there met Sanjay who I then arranged to meet at the Kumbh Mela as my assistant. He spoke Hindi and approached people who I pointed out and explained what I was doing. Very few said no and most did not ask for money. He also took everyone's name and asked them various questions including how they got to the Mela and how long they had been a Sadhu. Some had walked for several weeks and others had cycled. Without Sanjay it would just not have been possible to do this project and I would also have got terribly lost and not found my way to the best camps and people."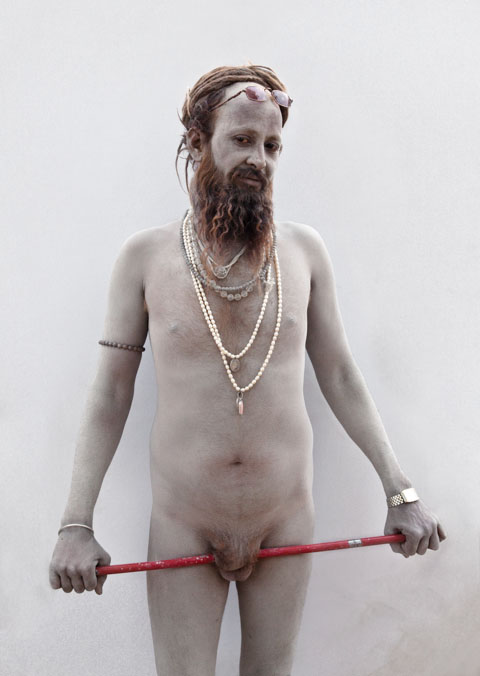 Kotwal Akhandanand Saraswati. Aged 35. Sadhu since he was 8.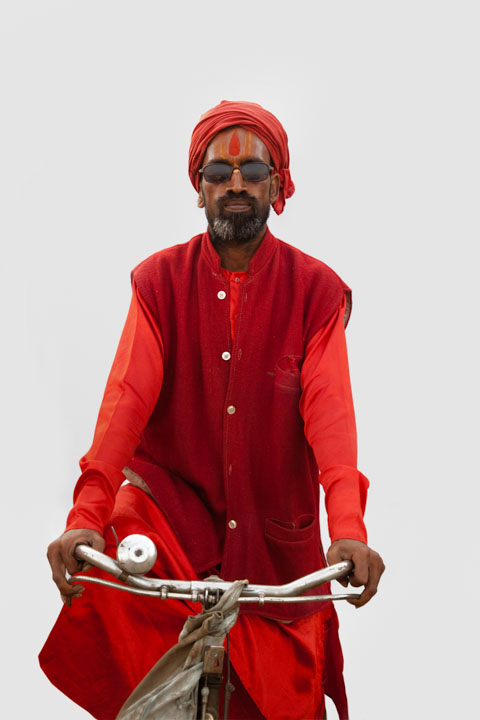 Vijay Narayan Das Lal Baba. Aged 50. Came on his bicycle 1,000 kilometers in 7 days.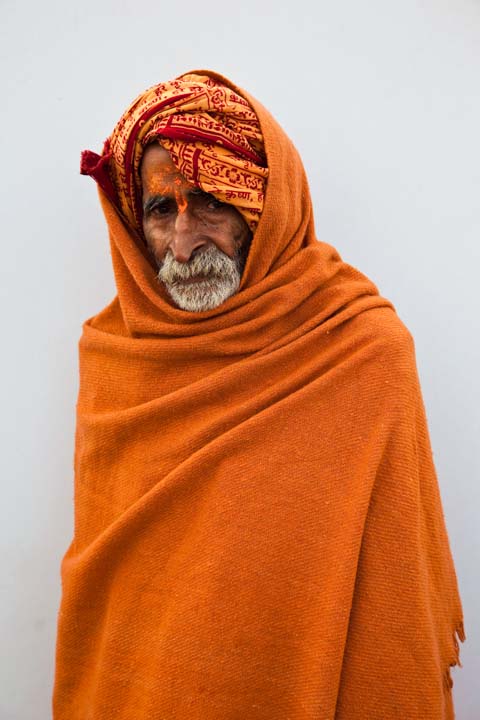 Kotran. Aged 75. Walked to Mela.
How long did you spend photographing them?
"I have been photographing in India for several years. I carry a portable and foldable popup backdrop that can be held by one assistant behind the person I am photographing. I take the backdrop to the subject rather than bring the subject to the backdrop. This makes the photographing quicker, attracts less attention and makes the photo less posed.
"I also use the background to control or rather block out the sun so I always photograph in flat light and there is a consistency to the portraits. You could not achieve this without a backdrop as the photos were taken all over the place at different times of day. Especially at the Kumbh Mela and usually in India, there are so many people around that within a few minutes a large crowd starts to gather and it becomes harder to photograph and particularly distracting for the subject. Therefore, I usually take a photo of one person and then move on.
"I specialize in mass portrait projects and have often photographed as many as 100 people in a morning. I find it very easy wherever I am to approach strangers and take their photograph. Over the years I have developed a methodology to get the portrait quickly. I often spend only a few seconds photographing someone. I observe them first before approaching and usually have a preconceived idea of the photo I am going to take."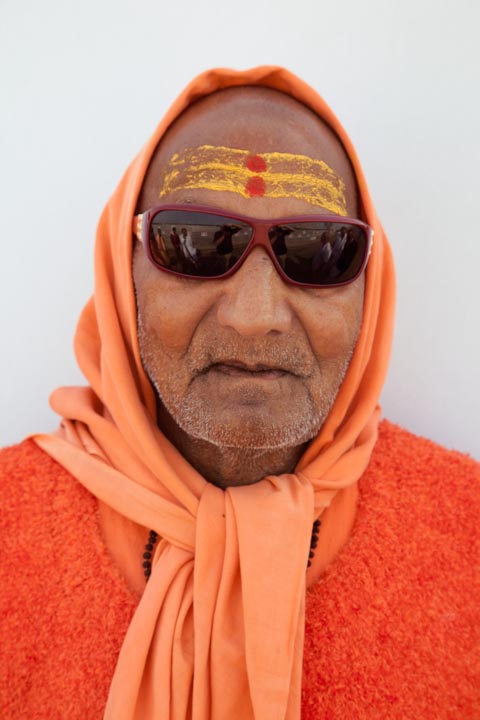 Swami Shri Girijanandji Saraswati Maharaj.
Aged 130.