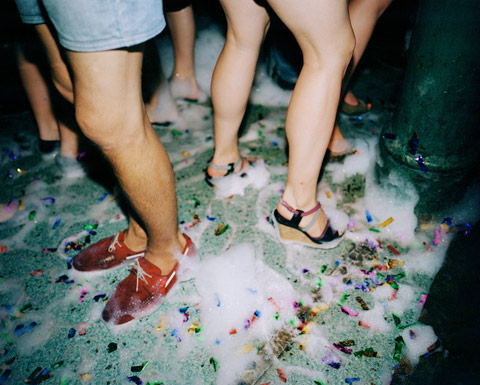 I recognized a difference approaching people at night. Immediately I had a strong connection to most of them – they were very open from the first moment. There was no rush, there was time to talk and express our thoughts. I am sure that meetings like this would have been completely different during the day. People didn't hide. There was nothing to hide. There was something magical going on in St. Petersburg during this period of time.—Reiner Riedler
The White Nights refers to the time of year when the sun is visible almost the entire day and night in areas close to the Arctic and Antarctic Circle. The Dark Curtain is a documentary project by Austrian photographer Reiner Riedler capturing the transformation of the city of St. Petersburg during this time, when the nights are bright and the streets are crowded with sleepless people. Working for two weeks, Reidler completely changed his rhythm to adjust to shooting at night, often making appointments to photograph people at 4am. Riedler's photographs reveal what ensues when the night no longer divides the day.
Riedler is represented by the Anzenberger Agency. More of his work can be seen on their online gallery.