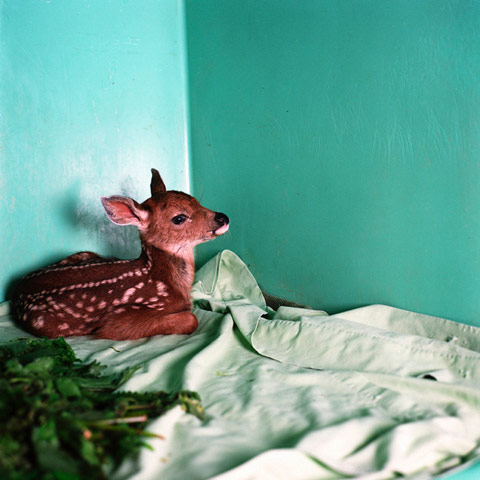 "Coming to Sarvey felt like coming home. The work that I produced there documents the delicate union that exists between humans and animals. These pictures were made with the intention to show the world an upclose view into the faces and souls of these wild animals. To look into their eyes as if looking into our own."—Annie Marie Musselman
What would you do if you found an injured pigeon on the sidewalk? Would you photograph it? Would you look away and pretend you didn't see it? Or would you call someone that might be able to save its life?
Annie Marie Musselman did the latter and that phone call resulted in her magical, award-winning series, Finding Trust.
In some ways, this series personifies everything a documentary photographer is not supposed to give into. In order to remain neutral and create unbiased photographs, most documentary photographers would most likely photograph the pigeon and move on.
However, Musselman takes a different approach as she was involved from the beginning of this series: first, by making that initial phone call to Sarvey Wildlife Center, an animal rehabilitation clinic, then by volunteering at the center while photographing the creature inhabitants and their caretakers.
As she says, she had a desire to "do something that mattered".
The human/animal relationship has always been complicated and mystifying. At one end of the spectrum you have the "bacon-infused everything" trend ("bacon" band aids, for example) and on the opposite end is this work by Musselman, where even the life of a pigeon — often referred to as "flying rat" — is something worth fighting for.
The process of rehabilitation takes amazing courage from these animals. Most have never come into contact with other people or do their best to avoid us as we encroach more and more on their forests and natural habitats.
As Musselman notes: "Finding Trust came from the feeling I get from the animals. I can see in their eyes that when we are helping them, they know it."
Musselman makes such a simple statement with this work that's almost impossible to ignore. Over and over she asks us to care. To feel empathy. To look in the eyes of the animals and to see that they too have feelings and should be respected.
Musselman does not remain neutral with this series. She has an agenda. As she writes: "I want so badly for humans to be kinder to animals in all aspects of our lives, and I feel that the more their beauty is exposed, the more people will see something like them inside their selves."
Musselman is raising money through Kickstarter to help fund the publishing of "Finding Trust" in conjunction with Kehrer Verlag publishing in Berlin.