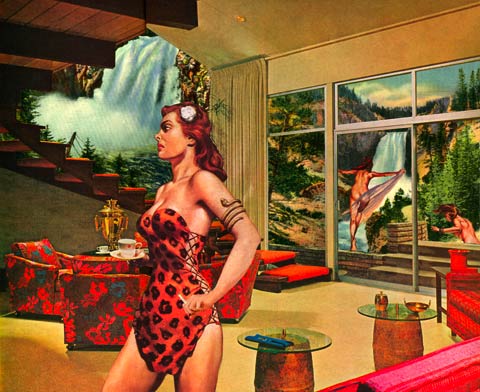 In her project, True Adventures in Better Homes, photographer Nadine Boughton combines elements sourced from women's magazines and men's adventure magazines of the 1950's to create domestic scenes that depict the tensions between the idealized notions and the reality of domestic life.
In 2011, True Adventures in Better Homes was included in Photolucida's Critical Mass Top 50, and work from this series has been exhibited at Photo Center Northwest in Seattle, the Newspace Center for Photography in Portland, Oregon and RayKo Photo Center in San Francisco.
Boughton lives in Gloucester, Massachusetts where she teaches photography, collage and creative writing.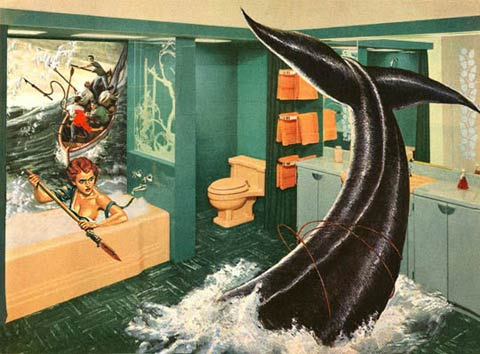 Can you please introduce us to True Adventures in Better Homes? How did this project come to be? What compelled you to make these images?
"I've been working with materials from the 1950's for some time, particularly women's magazines. When I discovered men's adventure graphics it was natural to drag them into the domestic spaces to see what would happen.
"One thing that intrigues me is the collision of opposites and the tension that creates. The cool spaces of mid-century homes merged with 'sweats,' as these adventure magazines were called. I found the 'everything is perfect and under control' of the advertising world pitted against the libidinal world of men's 'adventures' to be irresistible."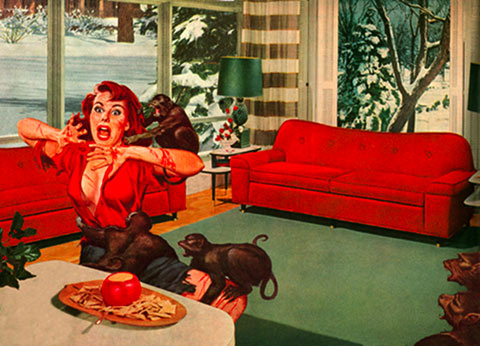 Can you tell us a bit about your process? How did you go about creating these images, both from a conceptual and technical standpoint?
"The conceptual process was shaped by a number of things. Out of the tension of opposites, the decision to focus on the wild animal cover art along side the domestic was important, especially in the earlier work of this series. Something was breaking into the ordered universe of the home and I was curious what that was about. My background is in psychology – what breaks through from the unconscious dream into everyday reality interests me.
"I also made a decision to combine the images in a way that make for believable spaces, or at least hover between the real and unreal. There are no fantastical creatures, no orange cats flying through the space. And the scale is kept, well…true or real.
"My technical process involves scanning images from many sources and constructing the collage using Photoshop. I have a large database of images built up so I don't cut things out of magazines as much as I used to. I miss the 'hand' in art making, however, and am doing some new collage work on paper with old fashioned glue.
"I print out what I think of as 'sketches' and look at the piece a long time before committing to executing the collage. The process of seamlessly fitting all the pieces together can be quite time consuming. When I first heard the digital collage artist, Maggie Taylor, speak, she said she made about six pieces a year. Maybe by now she's faster, or maybe it's not about 'fast'. But it's true, the work takes time – I probably complete ten a year."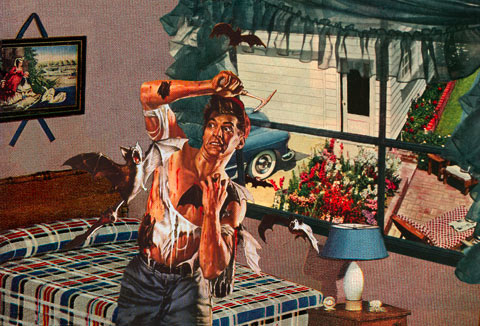 Why are you drawn to appropriation and collage?
"I am drawn to collage because it so represents the process of life. Life is collage. We make meaning by piecing together memory, dreams, daily experience, bits from media. It's also a form that completely speaks to this time…the fragmentation, the enormous creativity going on due to the Internet.
"Appropriation is alive and well. It brings back something from the past for reconsideration. The imagery of this series is the period I grew up in so it is layered with memory. Working with this material is a bit like an archeological dig, a slow shift that mirrors my own waking up. It's partly nostalgia, mixed with a twist of horror. I want to trace that shift in how we were depicted, what messages were encoded, from the post war years to the cultural explosion in the 1960's. After that I know what happened."
What are some of the things that you keep in mind when making a collage? What are the elements of a successful collage?
"For me, color is a guiding force in making art. I try to create a color harmony in these collages. Humor is important to me too. It is a doorway. We laugh and then there's the moment where we scratch our head and say, 'hey wait a minute, there's more here.'
"Collage always works my ability to 'see.' Often the idea can get in the way and one has to return to the image over and over again. I look for a sense of mystery. We don't know why the juxtaposition of a few images holds power, but it does."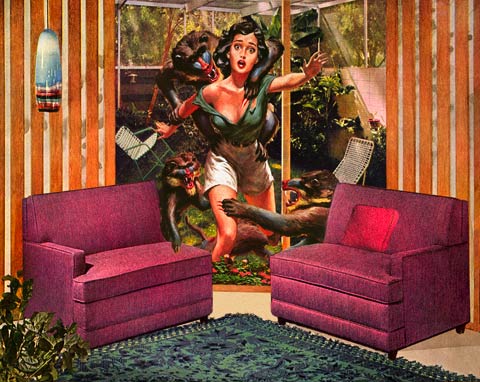 Is there a social message you are trying to convey with this work?
"Well, these images come from the period of the Cold War and I am speaking to, indeed exposing, the fear and anxiety that was present in that time. They are also a satire on the burgeoning culture of materialism, advertising, the polarity of gender roles. I am looking at the historical period but also asking 'is anything different now?'
"In many ways it's the same because we are human. These adventure mags were made for men going off to war and coming home from war and that is certainly still true.
"I do come at things from a psychological perspective. For me these images expose the underbelly that is always present. There is a great power to be sourced from the dark."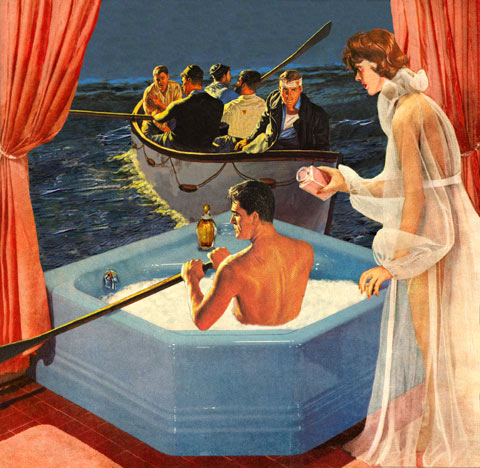 Are you working on anything currently? What's next for you?
"I have several projects in the oven, all involving materials from the period of the 1940's to early 1960's. I'm engaged with the women depicted in the Breck shampoo ads with their beautiful hair, their perfection. It's an interesting journey to revisit them and work with why they are so compelling.
"I have work from this series in a show, "Ten Artists to Watch," that will be opening December 13 at the Los Angeles Center for Digital Art (LACDA). As I said earlier, the handmade collage is tugging at me. And I'm in the process of making a book of True Adventures in Better Homes."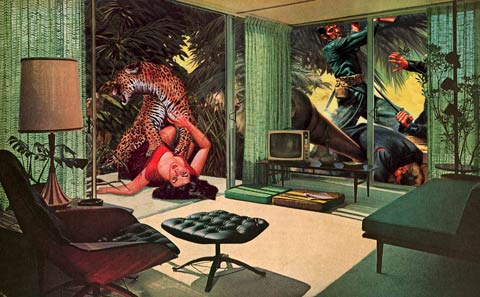 This post was contributed by photographer Adam Smith