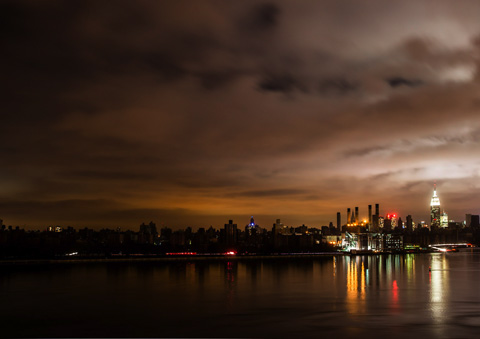 Photo by Michael Cinquino
In the wake of Hurricane Sandy (and the snowstorm last night) which has greatly impacted the residents of New York City and the surrounding areas, we decided to put together a list of ways photographers in the area and elsewhere can help with relief efforts. The list below also includes photographers and companies who are generously selling prints and donating all of the proceeds from the sales to the American Red Cross and other relief organizations.
And please, if you know of others initiatives, please feel free to mention them in the comments section of this post and/or on our Facebook page.
Photo Exhibition and Print Sales
New York-based photographer and curator Ruben Natal-San Miguel is currently in the throws of planning a photography exhibition with all proceeds going towards New York State water communities affected by Sandy. He's looking for a gallery to hold the event as well as photographers interested in donating work. Those interested can get in touch with Ruben through his blog, ARTmostfierce or on Facebook.
Pro Bono
Local efforts to provide family portraits to Sandy Survivors are being organized by Elizabeth Griffin, a photographer and editor at Hearst Magazines and a native New Yorker. She is looking for photographers and assistants to volunteer their time and talent to photograph families in the coming months who have lost all of their pictures in the storm. She can be reached at [email protected]
Souls.Rebuilt was established on November 1st, 2012 in the wake of Hurricane Sandy. The goal is to provide a new set of family memories through photographs to those that lost their's in the storm. Photographers interested in contributing can fill out this contact form.
Prints For Sale
20×200 is featuring a NASA satellite image of Hurricane Sandy with all proceeds benefiting the Red Cross.
The Billy Farrell Agency is donating all photo sales proceeds this week to the American Red Cross.
After Michael Cinquino's photo (pictured above) of the Manhattan skyline went viral, he decided to make it available for purchase with 100% of the profits going to the American Red Cross.
Photographer Jeremy Brooks is donating all proceeds from his Instacanv.as gallery sales in November and December to the Red Hook Initiative.
Until November 10th, photographer Logan Hicks will be selling the print "SoHo Illuminated by a Food Cart" with 100% of the proceeds going to the American Red Cross.
Photographer Michael Rubenstein is offering a free print from his archives to anyone who donates over $50 to the American Red Cross or any other relief organization. More details on his Facebook page.
Photographer Christine Zona is selling Jersey Shore Polaroids with 100% of the benefits going towards Waves for Water and the ASPCA-NJ.