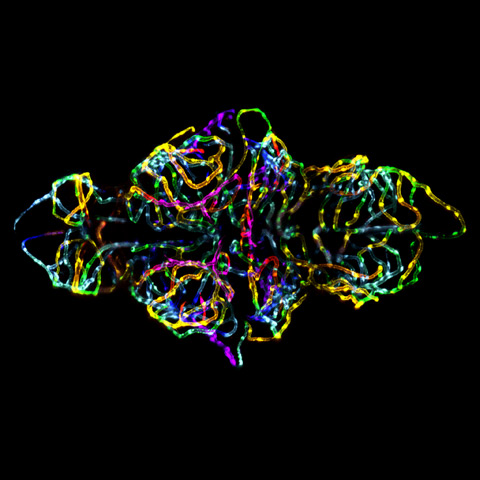 1st Place: The blood-brain barrier in a live zebrafish embryo (20x) [Photo: Dr. Jennifer Peters and Dr. Michael Taylor]
Nikon recently announced the winners of the 2012 Nikon Small World Photomicrography Competition. Now in its 38th year, Nikon Small World is regarded as the leading forum for showcasing the beauty and complexity of life as seen through the light microscope. Competition judges analyzed entries from all over the world covering subjects ranging from chemical compounds to up-close-and-personal looks at biological specimens. This year's top honors went to Dr. Jennifer Peters and Dr. Michael Taylor of St. Jude Children's Research Hospital for their photomicrograph, 'The blood-brain barrier in a live zebrafish embryo'.
Top images from the 2012 Nikon Small World Competition will be exhibited in a full-color calendar and through a national museum tour. You can also vote for your favorites through November 13.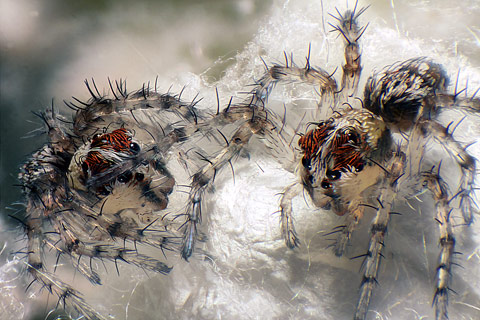 2nd Place: Live newborn lynx spiders (6x) [Photo: Walter Piorkowski]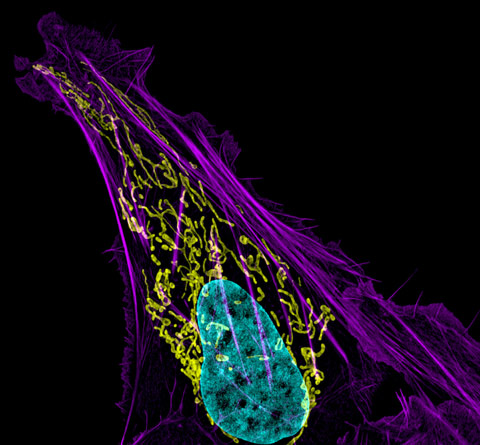 3rd Place: Human bone cancer (osteosarcoma) showing actin filaments (purple), mitochondria (yellow), and DNA (blue) (63x) [Photo: Dr. Dylan Burnette]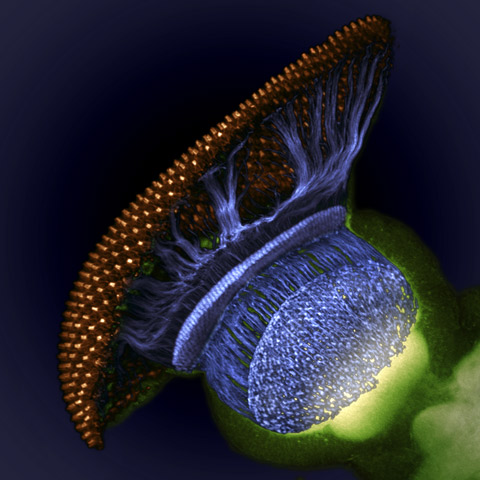 4th Place: Drosophila retina at 40% pupal development [Photo: Dr. W. Ryan Williamson]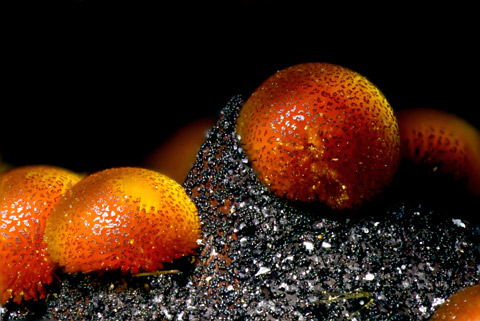 5th Place: Cacoxenite (mineral) (18x) [Photo: Honorio Cócera]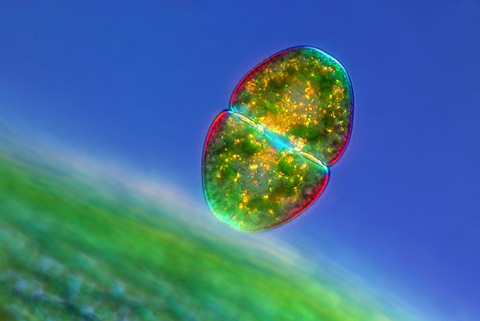 6th Place: Cosmarium sp. (desmid) near a Sphagnum sp. leaf (100x) [Photo: Marek Mis]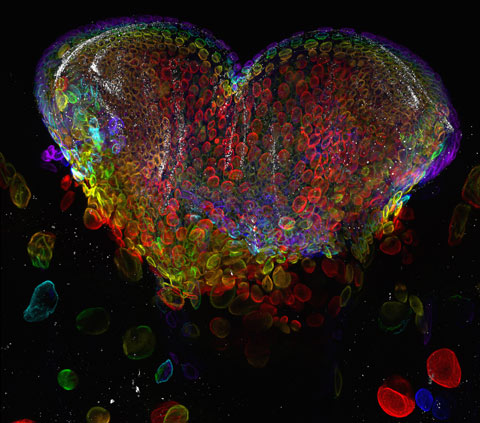 7th Place: Eye organ of a Drosophila melanogaster (third-instar larvae) (60x) [Photo: Dr. Michael Bridge]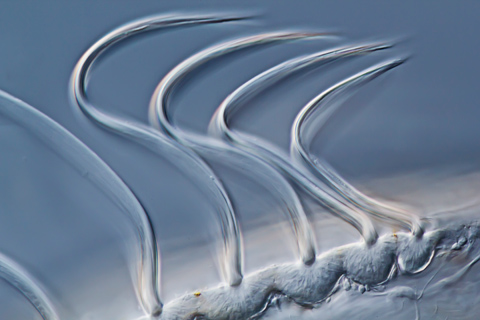 8th Place: Pleurobrachia sp. (sea gooseberry) larva (500x) [Photo: Gerd A.Guenther]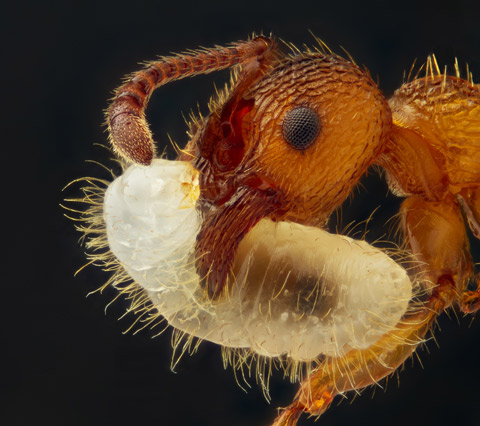 9th Place: Myrmica sp. (ant) carrying its larva (5x) [Photo: Geir Drange]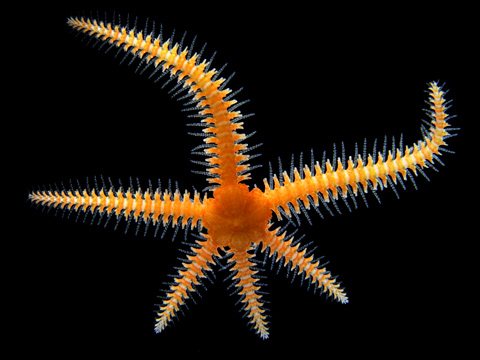 10th Place: Brittle star (8x) [Photo: Dr. Alvaro Migotto]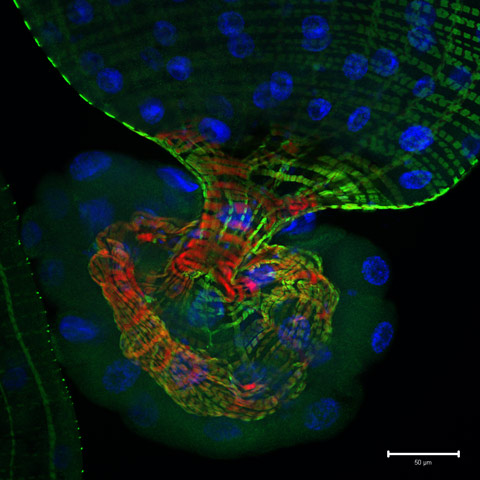 11th Place: Section of a Drosophila larva gut, expressing a reporter for Notch activity (25x) [Photo: Jessica Von Stetina]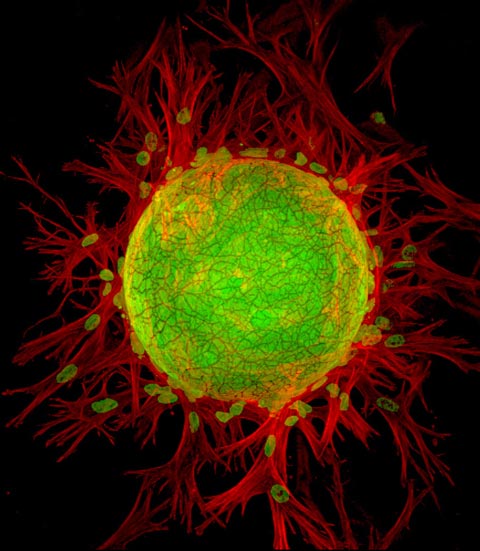 12th Place: Lymphatic endothelial cells and fibroblasts coated on cytodex beads and seeded in 3D fibrin gels (200x) [Photo: Esra Guc]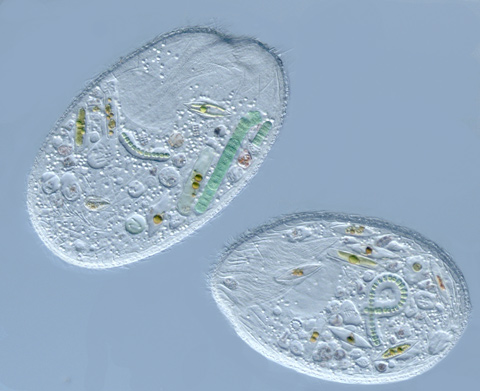 13th Place: Sonderia sp. (a ciliate that preys upon various algae, diatoms, and cyanobacteria) (400x) [Photo: Dr. Diana Lipscomb]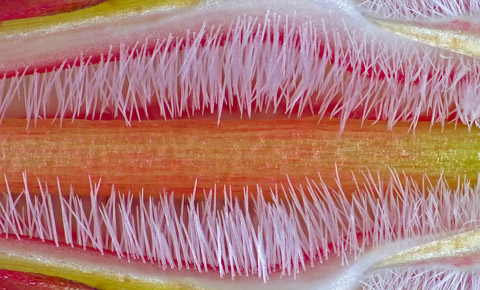 14th Place: Pistil of the flower of Adenium obesum (10x) [Photo: José R. Almodovar Rivera]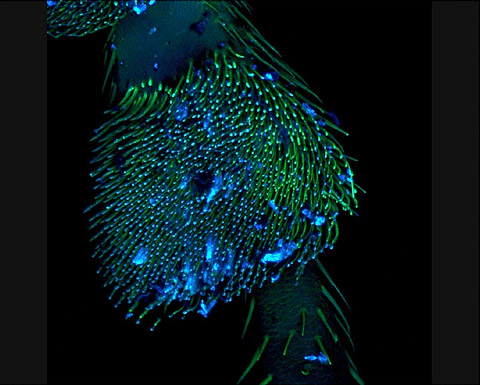 15th Place: Section of a Coccinella (ladybug) leg [Photo: Andrea Genre]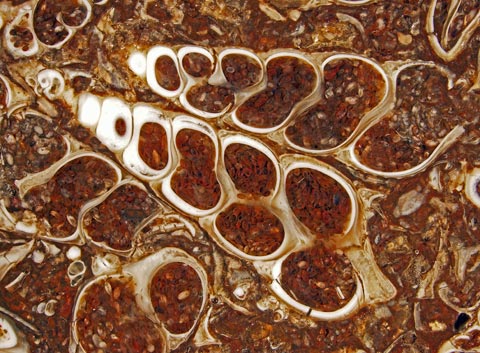 16th Place: Fossilized Turitella agate containing Elimia tenera (freshwater snails) and ostracods (seed shrimp) (7x) [Photo: Douglas Moore]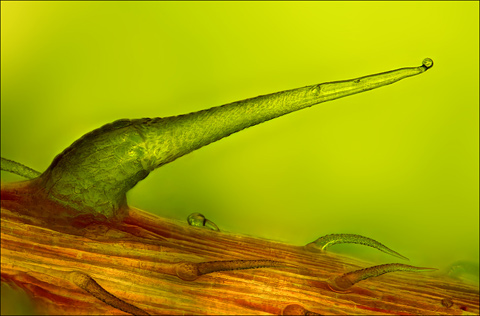 17th Place: Stinging nettle trichome on leaf vein (100x) [Photo: Charles Krebs]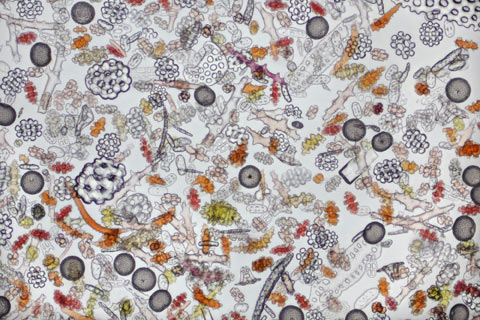 18th Place: Coral sand (100x) [Photo: Dr. David Maitland]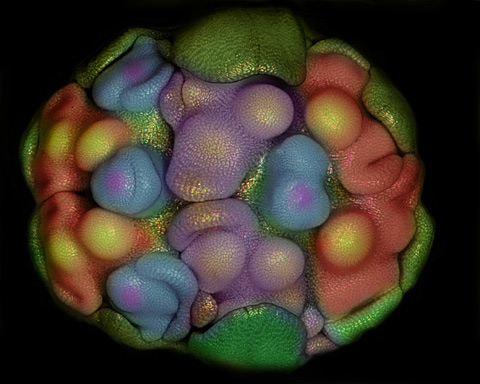 19th Place: Garlic [Photo: Dr. Somayeh Naghiloo]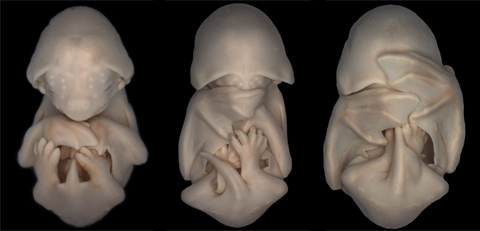 20th Place: Molossus rufu (black mastiff bat) embryos [Photo: Dorit Hockman]
This post was contributed by independent curator/producer Amanda Gorence.