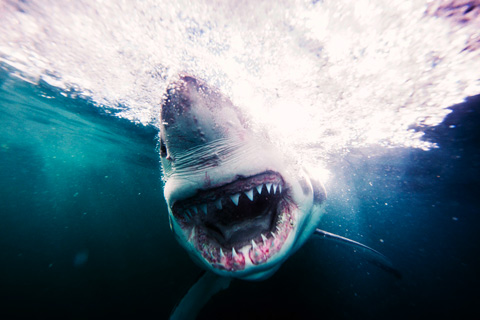 Los Angeles-based photographer Michael Muller's fascination with sharks started when he was a kid surfing Northern California waves amongst the plentiful great white's. Since then he has photographed sharks around the world in places such as the Galapagos Islands, South Africa, Fiji and Guadalupe Island.
We asked the advertising and editorial photographer some questions about his hobby photographing one of the most feared animals on the planet.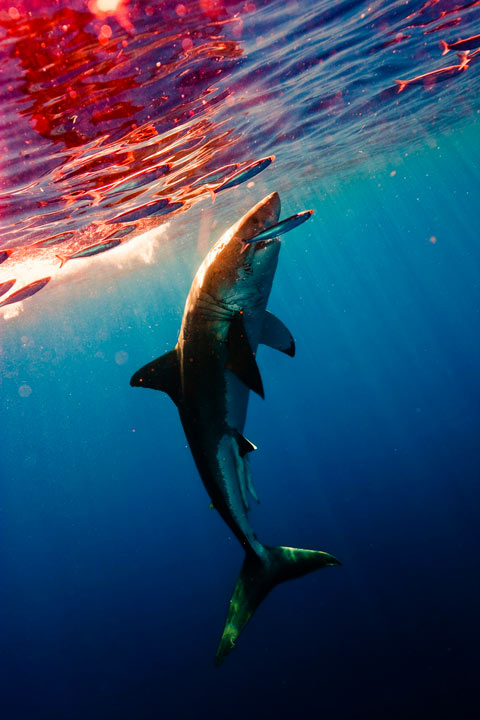 Has photographing sharks mainly been a personal project?
'The majority of my shark expeditions are personally funded, but I have had a few that were projects such as the IWC watch campaign in the Galapagos and the TV show I made with the Travel Channel in Fiji.
'I am passionate about sharks and what started out as personal quest to this day remains one. I am constantly looking for new ways to shoot these amazing creatures and to also shed some light on the fact that they are the ones in danger, not us.'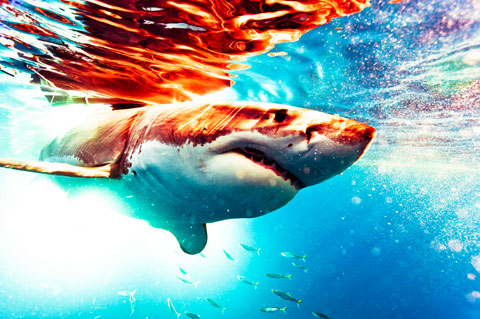 How far away are you from the sharks?
'I am very close to the sharks, and actually got knocked over once by 40+ bull sharks swarming me. No cage, no metal suit, just a camera between me and their teeth.
'With the great whites it's a little different. At the surface I am in a cage, but get out to get super close. When I dive down to deeper depths, I get completely out of the cage with no protection. Here they are very passive and inquisitive about us.
'After spending so much time with these animals I've realized that we are not on their menu, they are more scared of us than us of them.
'My wife just joined me a few weeks ago on an expedition I did with Philippe Cousteu, and his board from Earth Eco, and she got out of the cage with me on the first dive! It was quite an amazing experience to share this passion I have and watch it bloom in the woman I love so deeply.'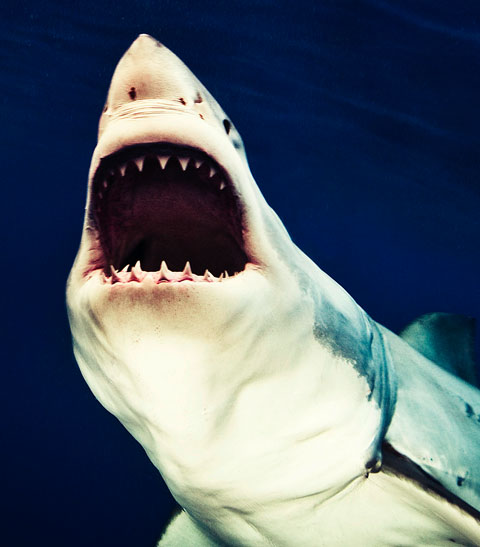 Can you talk about the lighting set up for these images?
'I created the most powerful waterproof strobes in the world. With the help of 2 other guys we figured out a way to basically get 1200 watt strobe lights underwater. This allows me to bring a full blown studio to the animals in their environment.
'Anytime you mix electricity and water you must be very careful. Diving with the equipment poses the biggest challenge and the biggest danger, but it's just amazing what you can do with the addition of these lights. These are the same lights I used to shoot The Avengers campaign and all the other commercial/editorial shoots that I do, only we are 70 feet down with dozens of hungry sharks around us.
'I just received 4 patents on these lights and we plan to put them out on the market in a rental capacity. I can't wait to see what other photographers do with these lights. It's very exciting for me as not many people get patents for photography-related products these days.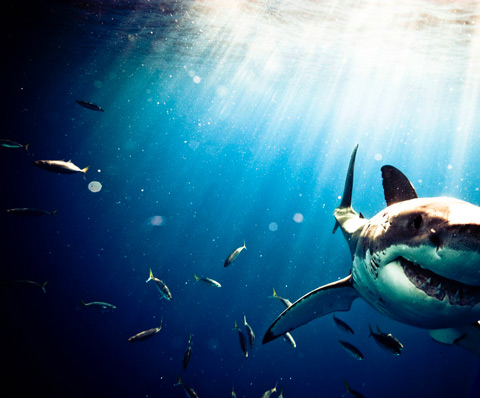 How do you plan for these shoots? What gear do you usually go in with?
'Each expedition is different but for the most part when you are taking Hollywood lighting into this type of an environment, a lot of gear and manpower is needed. There is a ton of planning that goes into each trip and each trip presents it's own set of challenges we must overcome on-site.
'When dealing with Mother Nature you can only prepare so much and then when you get there she always, and I mean ALWAYS, throws you a curve ball. I have an amazing team of guys that have got my back and vice versa. We have always come home in one piece and for the most part with all of our gear, which is a miracle.'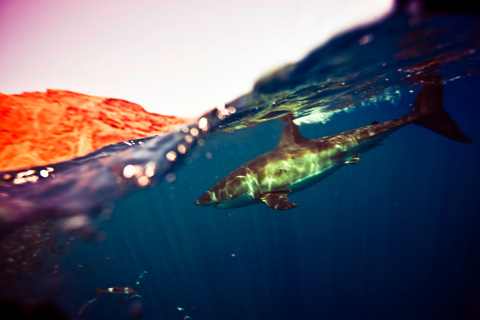 You shoot a lot of surfing/underwater photographs. Are you a surfer as well as a photographer?
'I am a big time surfer. Surfing is my favorite activity and I grew up riding Northern California waves which are infested with great whites, hence the obsession I have with them. Growing up knowing you weren't alone, and that at anytime a whitey could pop up definitely added a thrill to surfing those cold black waters and secret spots between San Francisco and Santa Cruz.
'I still surf today as much as I can, and although there are plenty of great whites off of Malibu, they are all juveniles so they pose no threat to the swimmers and surfers of Southern California, for the most part. In fact, I just took these lights in the water for a shoot I did with surfers for the TransWorld Surf magazine Imaginarium contest.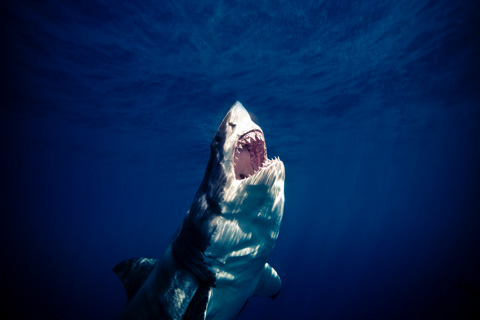 Are you ever scared of getting eaten or bit by a shark?
'I've never been scared of being eaten or bit. I have a deep respect for these animals and know they are wild so I try and not put myself in situations where risk is too high. I am very careful and treat them with the utmost respect. I am usually laughing underwater when I am surrounded by sharks. I get so excited and it's so surreal that I have to pinch myself sometimes that this is my life, and I'm living my dream.'