Manolo Espaliú is a fine art photographer based in Seville, Spain. We asked him some questions about his series, 42º, which recently won him the Nuevo Talento FNAC de Fotografía 2012 award.
What is it about city streets, those in Seville in particular, that draws you to photograph them?
'Seville is probably the warmest city in Europe. Most of the summer it's over 105ºF. Due to this, the Moorish (who lived here from 8th to 13th century) left us a downtown with an urban environment close to Arabic Old Medinas, with very narrow streets, to avoid the extreme sunrays during the harshest hours of the day. Most of the Sevillians avoid going out on the streets. Only tourists go out for sightseeing. As Seville is a very touristy city, you can find a lot of people walking in the streets. So it's a nice place for street photographers.'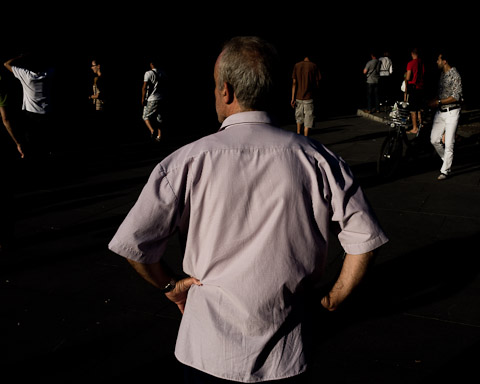 The way you use light is really beautiful, revealing only a little and leaving the rest shrouded in mystery. Can you talk about why you chose to depict the streets of Seville in such a way?
'In fact, 42º C (108º F) comes from a mere technical and observation exercise. All photographers in Seville know the sky there is wonderful, but not for shooting. At certain times in summer, it is impossible to work. The light is extremely tough and any attempt to do something subject to the traditional rules of photography is so difficult. So I decided to push things a little more and turn this "inconvenience" in my favor.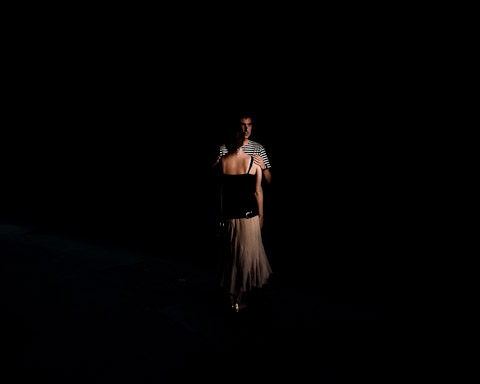 'I admire photographers like Trent Parke and I consider it interesting to see how he works, creating certain atmospheres while playing with extreme lights and deep shadows.
'I just used the natural light in the same way lights are used at photographic studios. As I said before, my city has an Islamic origin and the streets are very narrow, so I chose the streets oriented to the west when the sun was hiding and the effect is very similar to studio lighting. When the light is so harsh, and you measure the highlights, the rest go into black easily. All photographers know this effect very well, especially if they usually work with flashes – even when it's daylight.
The city street is full of anonymous individuals that often go by in a blur. But instead of highlighting that aspect of the street, you have depicted the street as an alternative space, one that has isolated the figure and removes the context of the environment. Are you trying to depict the psychological space of the pedestrian?
'Sure. What I wanted to show is the exact moment where people come from the shadow (which is like a shelter) and go where the sun burns. In this orange line is where we can observe signs of anxiety on their faces or them interacting with each other through disquieted gestures.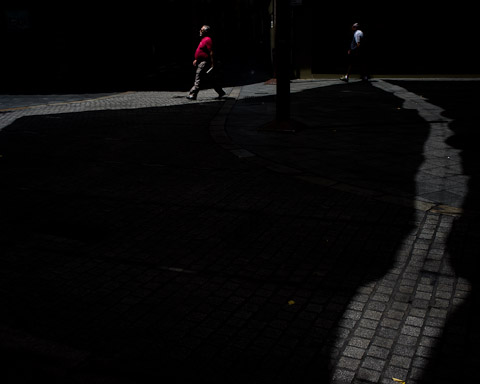 'I've been suffering from this for the last 20 summers and I wanted to share this annoying feeling in this exact moment through this orange line that divides what the shadows hide and what the light makes visible. I did not want Seville to be the main character in my work. That's why I tried to avoid any references to the space context.'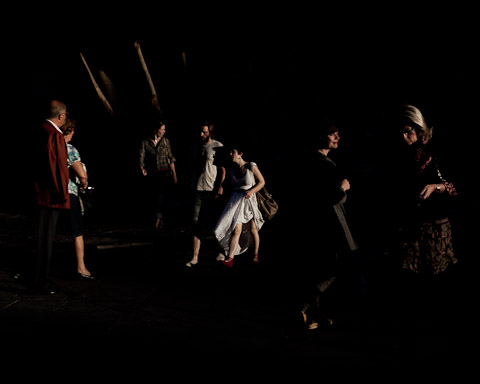 It's hard for me not to think of drawing and painting when I look at your images because of they way in which you use light. Do you look at painting?
'Well, I should say that I'm not too much into drawing and painting, especially if you consider classic painting. I'm more interested in contemporary art. But obviously I know of a lot of artists that worked with this "chiaroscuro" style, in particular, most of the 17th century Sevillian School painters (Valdes Leal, Zurbaran, Murillo, and even Velazquez). But this is something that didn't come to me from studying painters. I think I have assimilated it unconsciously into my personal imaginary.'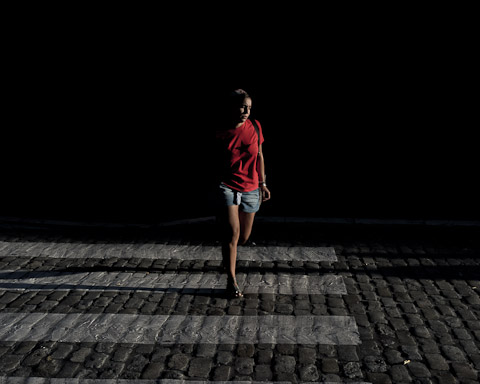 I also see a lot of photographic references in your work – like Philip Lorca Dicorcia and Ray Metzker. Both artists used the street as a stage and were very conscious about the way in which they used light to highlight that. Do you agree that you are doing something similar?
'Obviously, I'm doing something similar but I was not thinking of Lorca diCorcia or Metzker while working. I can say that some time ago I wanted to research about how Trent Parke uses light and shadows to create intriguing atmospheres that invite us to wonder about those pictures. In fact, I didn't know the work of Ray Metzker when I was working on 42º C and I now wonder why. His work is absolutely amazing, but sadly here in Europe, is not well known as in the States.
'In my line, you can see the works of Colombian Manuel Vazquez or even Jhad Nga.'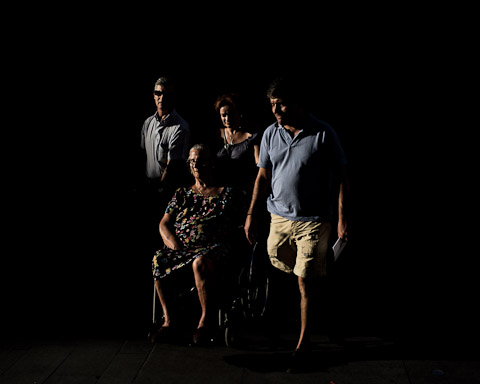 This post was contributed by photographer Clarissa Bonet.