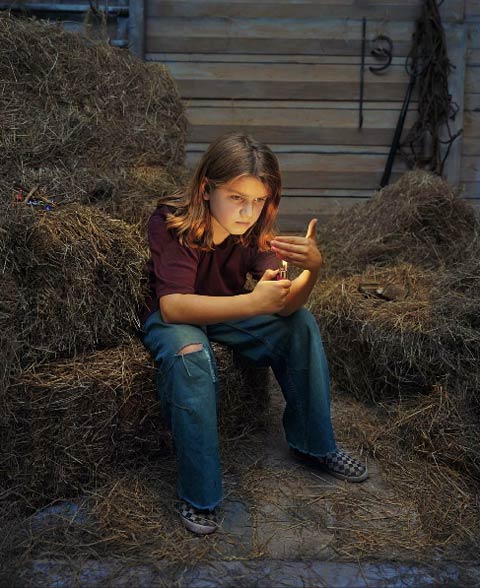 David Stewart is a London-based advertising and fine art photographer and director. We asked him a few questions about his new fine art series Teenage Pre-occupation, photographing punk bands, and creating projects that are both humorous and timeless.
You started out photographing punk bands such as The Clash and The Ramones in the 1970's/80's.  Can you talk a bit about this time in London?
"In the late 70's I was studying civil engineering in Liverpool and finding it very dull. I had always taken photographs, but it was not until I started taking photographs of bands playing in local venues in Liverpool and the North of England that I realized how much I enjoyed it. It was during the time of punk, and the bands often played in smaller venues; this made it easier to get close when photographing the bands. I was shooting on 35mm transparency film and the results were mixed. I recently scanned some of these images for archiving purposes. At some point they may be worth showing.
"Due to this interest, I decided to leave the civil engineering course and start a foundation course in Art and Design. This led onto doing a photography course for three years."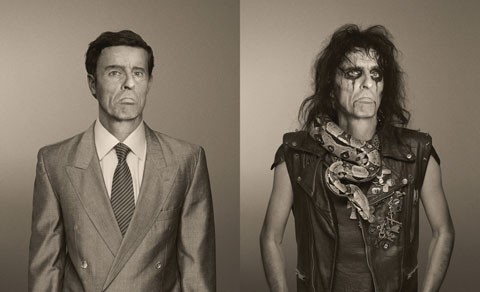 I read that you still shoot all of your projects with a large format camera (8×10), which is pretty rare for an advertising photographer.  Why do you choose to stick with film?
"My commissioned work is now all shot digitally due to time constraints and clients/agencies needing to see what they are getting instantly. This means they can change their minds right up to the final moment.
"I do still shoot all of my personal projects on film with a large format camera (8×10). This is the way I learnt and the way I worked on commissions pre-digital. It involves thinking more about what you are shooting and trusting your instincts.
"One of the reasons I have stuck with film for my personal projects is that I would hope to exhibit all this work at some point (large scale). There are still problems with digital files which need post production to rectify.
"Less skill and thought are required when you shoot digitally, it makes people very lazy. The whole process of shooting with a large format camera and film forces you to approach the shoot in a different way. This has become part of the reason my work looks like it does."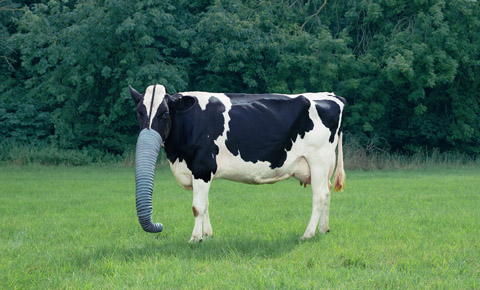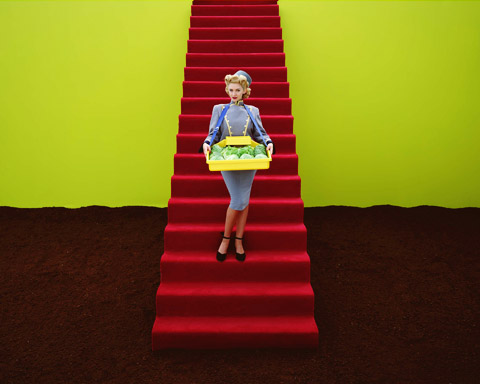 Your Cabbage photo series and accompanying short film was made in 1995, however it looks as though it could have been done today.  Is creating work that is timeless something that you consciously think about?  And do you think shooting with film gives your images more of a timeless quality?
"It is not a conscious decision to create timeless work, however I think my methods of shooting on large format add to the timeless quality. I am usually trying to capture what I see and make it as real as possible.
"Photographers often look for a treatment on top of the image to hide the lack of content. If you base your work on something you have discovered in Photoshop, it's likely many others have discovered it too. In my mind It should not be a 'fix it later' process."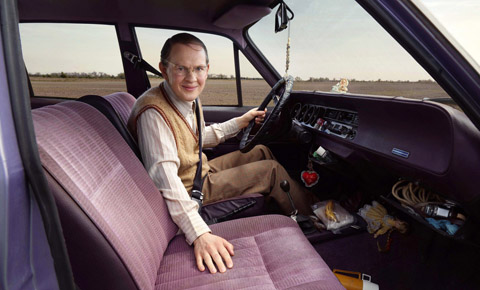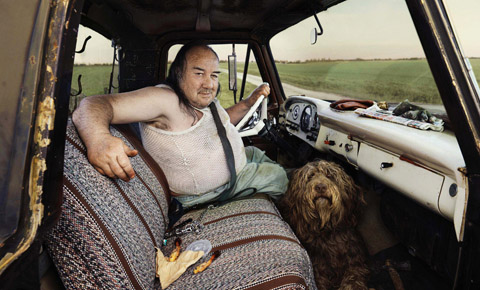 Your work is clever, offbeat and often hilarious.  Can you talk about your process for coming up with ideas and also the elimating/editing process. When you know an idea is truly good and how do you know when to scrap it?
"On commissioned work the ideas come from the creatives and it is just the way you tell the story that gives the work its look. The humour can be turned up or down with decisions about casting, performance and styling.
"The best commissions are always when the humour is more subtle. Getting commissions with good ideas in the current climate is hard to come by. When one does come along, it is easy to spot as there is so much mediocre work out there.
"In the 'Thrice Removed' work the ideas came from things I had seen and remembered. The words that accompany the images gives a little insight into the process. In the majority of my recent work I am just presenting real situations from my point of view.
'With ideas on personal work, I tend to just carry on and shoot the thoughts I have. When curating a project/book, it is at this point certain images are rejected, sometimes forcing me to shoot more."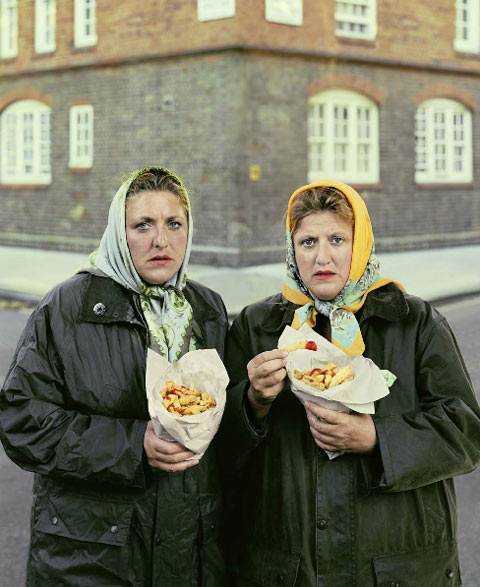 Looking through your portfolio, it's sometimes difficult to tell the difference between your personal work and your commissions.  Do you tend to approach them differently?
"Initially there is a similar approach to commissions and personal work, but with commissions you can find yourself becoming more of a manager of clients' demands which can soon take the first intention off track. There are too many people involved in making decisions on commissioned work. Sometimes the reason you have been chosen for the job is forgotten and so what you end up with becomes unrelated to your portfolio.
"In the current climate, advertising photography is treated by clients as something they just need to fill a space with and they forget that it is communication which can entertain, provoke and deliver a message at the same time.
"With personal work it is totally your own decisions throughout the process. Interestingly it is still the personal work which attracts the most attention from agencies/clients. It is past commissioned work that makes them feel safe about using you for their project."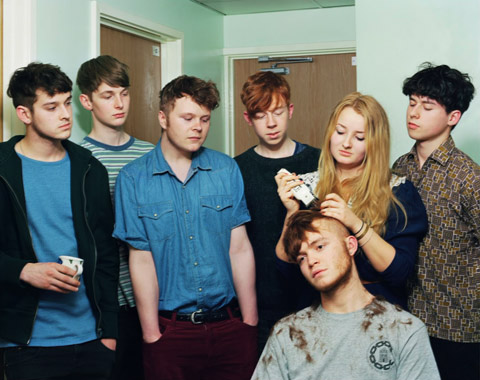 One of the photographs from your new series, Teenage Pre-occuption, which was displayed in The National Portrait Gallery in 2011, materialized after your daughter mentioned a haircutting ritual at her school.   Would you say that the inspiration for this series came from your kids and their friends?
"Yes. Being surrounded by teenagers (my sons, daughter and all their friends), have made me aware of some interesting things about them; these things may be of the time and current culture. I thought it was worth documenting from my perspective.
"In 'Thrice Removed' there was an image called 'Five Girls, four cartons, three cups' and the reaction to this image got me thinking about my next project which became 'Teenage Pre-occupation'.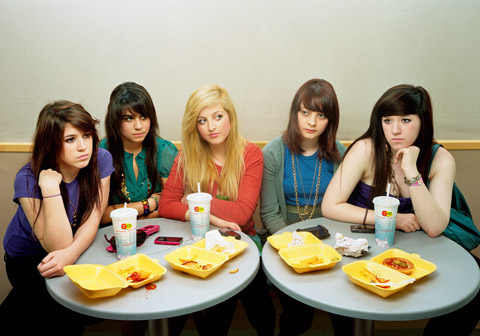 Teenage Preoccupation is meant to be released in book form early next year.  Anything exciting planned for the release party?
"The book is currently in the design stage and now has been set for a launch in March 2013. There will be things going on at the release party including themes taken from the images. With the subject being teenagers, there is plenty of ideas floating around."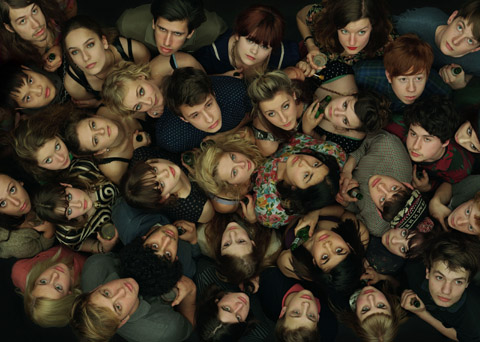 Any other projects in the works we can look forward to seeing soon?
"I always have other works going on alongside current projects, some of which develop into bigger things. I find it good to learn from each project and the reaction to the work is what informs the next thing. Photographing people is what interests me and I am always looking for the next group I can poke fun at.
"With the developments in technology, it has now become more accessible to shoot moving material at the same time as stills. The moving versions of the stills can be used effectively on the internet; this has already been the case on several commissions. In 'Teenage Pre-occupation' there are already some moving pieces, as I am sure there will be in all future projects.
"When launching a book, the moving can be useful for promotional purposes in the form of a trailer or invitation. Having the option to involve moving images on the internet enables me to get my work across to a wider audience. The internet seems more suited to moving imagery, as a gallery would be for displaying large scale prints."