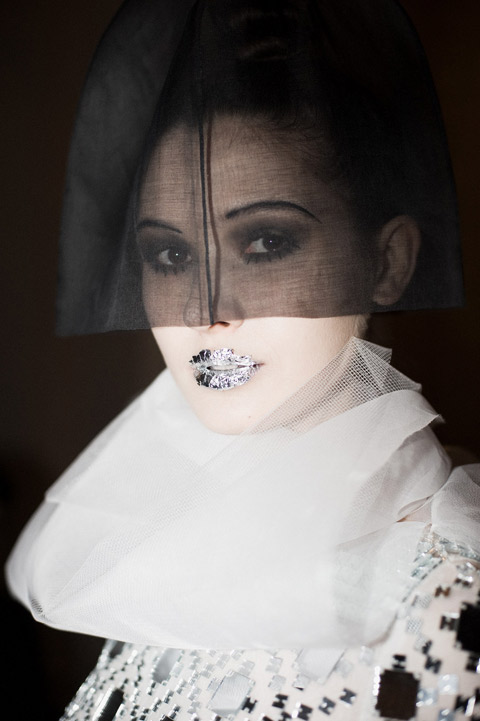 Shawn Brackbill is a Brooklyn, New York based portrait, fashion and music photographer.
I first came across your work a few years ago on Flickr. It seems like you were shooting mostly musicians then. How did you come to be involved in shooting fashion week?
'I was shooting mostly musicians up until my first Fashion Week. I pitched a shoot to Dazed and Confused in July of 2008 to cover an event called Boadrum 88. It was started the year before by The Boredoms, a Japanese band, and that year Gang Gang Dance would be leading the performance of 88 drummers here in Brooklyn. I covered the event using multiple Polaroid cameras and Yashica Electro GSN rangefinder I had acquired from Ebay and refoamed.
'A few weeks after delivering the images from that shoot, Dazed contacted me about covering the Spring / Summer 2009 New York Fashion week for them. They basically sent me out with a list of shows to cover and not much direction. That season I started to figure out what and how I wanted to cover Fashion Week and was hooked.'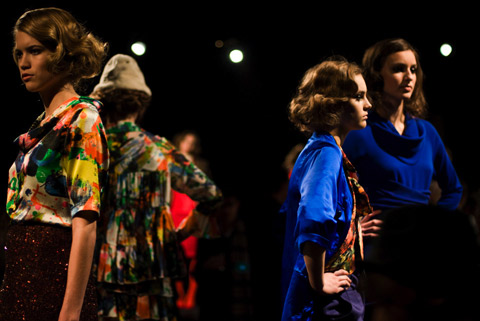 You are shooting NYFW for Interview Magazine again this year. How do you prepare for such a grueling week of shows and parties?
'I took it pretty easy this past weekend. I took my camera in to have the sensor cleaned and am going to stock up on batteries and some extra memory cards. Also, trying to clean up the hard drive on my laptop and be prepared to deal with the thousands of photos I will take during the 25 to 30 shows I'll be covering this week.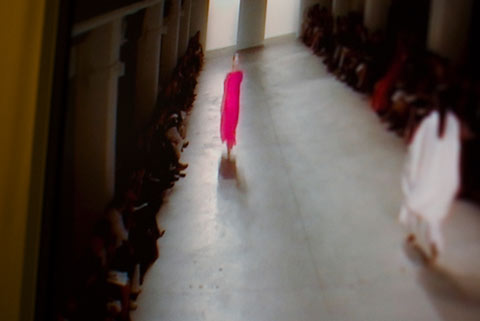 What's in your camera bag for the week? Does shooting fashion week require different equipment apart from what you would normally use?
'I bring to Fashion Week what I might typically bring on most shoots. My Nikon D700 and the 50mm f1.4 is my most used lens. I have thought about limiting myself to this lens for the entire week and keeping the bag light. I love the challenges that come from limitation, even those that are self imposed. I shoot 90% of my Fashion Week coverage with this set up but I'm not sure that I will trade the other lenses in just yet. I would most often also pack either a 105mm f2.5 or 85mm f2, 28mm, and SB800 flash.'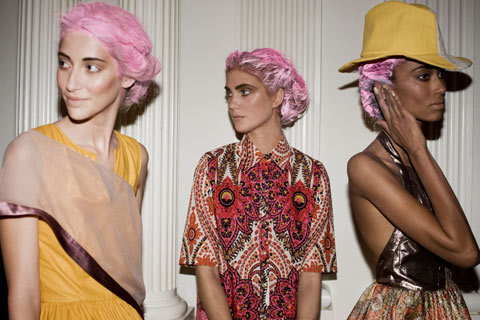 For the shows, are you in the pit with the rest of the photographers? If so, how do you ensure your images do not come out looking like everyone elses?
'At this point, I don't often shoot any shows from the photographers pit. Most of my Fashion Week coverage is shot backstage. I love the challenge of finding moments during the chaos of backstage— working with available light in the various locations. This use of available light will often set my images apart from many of the other backstage photographers.
'Most of my images are presented full frame so I need to be conscious of what is in the frame as well as how it's arranged. I do my best to not show any other photographers in my backstage images and often will even cut a photo based on this. I like the illusion that my access is exclusive, as though it is all taking place just for my camera, even though I'm surrounded by 10-20 other photographers.'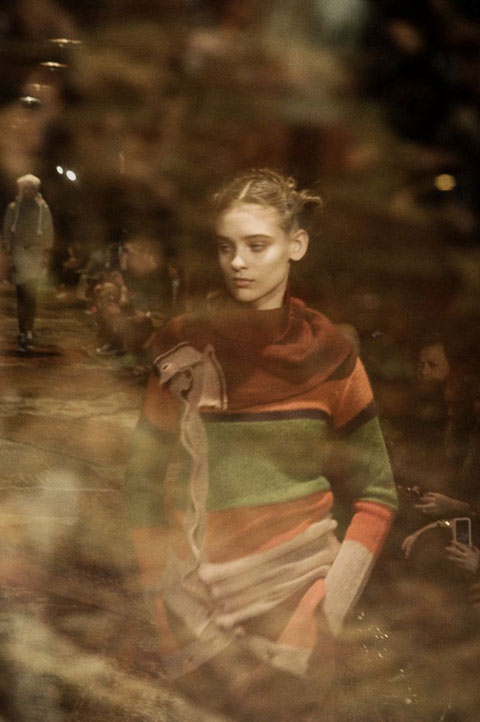 'Last season, I did find myself with an assignment to cover a Y-3 show that did not allow backstage coverage. I was standing on the photo riser with about 25 other photographers, a few of them friends that I had met covering Fashion Week, trying to think of a way to cover the show differently.
'I often do in camera multiple exposure work, both digitally and on film, and thought that this might be a nice experiment for the runway show. I loved the rugs that they laid out for the runway and thought they could create nice texture. For many of the images I shot ten multiple exposures which are brought together in camera to a single RAW file.'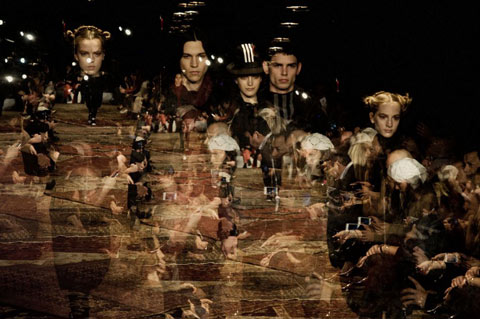 Can you talk about the non traditional work you've done. Specifically your work with Polaroid film?
'I was contacted by Polaroid in 2010 and I talked with them about doing a NYFW/Polaroid project using their plastic instant film camera. I found great acceptance from the subjects that I photographed with the camera over the S/S 11 and A/W 11 seasons. Many, I felt, were put at ease with the colorful plastic camera and the familiar instant film.
'I think the "instant" Polaroid film is less instantaneous than a digital photo in that there is an additional step of scanning the physical photo before it ends up on the web. Whether conscious or not, this put people at ease and gave the portrait a bit more weight.'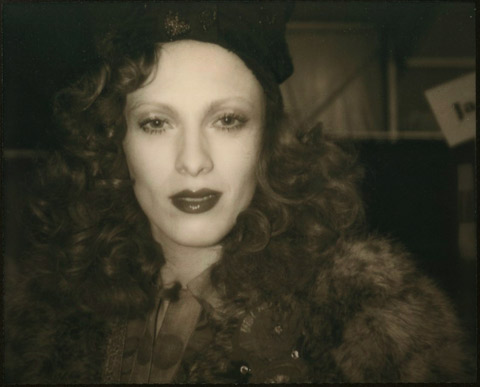 'I loved the challenge and limitations of using that camera to photograph NYFW and the images are certainly different than my other backstage work. In September 2011, I partnered with Interview and The Impossible Project to use some of their Black Frame film to shoot some backstage images. I was thinking I would focus on portraits this time around and was happy to be able to use the Spectra camera, my favorite of the Polaroid formats. The camera also gives much more control and quality while still putting the subjects at ease with the sense of nostalgia.
'This season my non-traditional work will be created on the iPhone. I will be running Interview Magazine's Instagram account (@interviewmag) for Fashion Week and will also be posting images to my own Instagram (@sbrackbill). I've really enjoyed having the iPhone camera with me over the past 6 months and I'm looking forward to using Instagram this season.'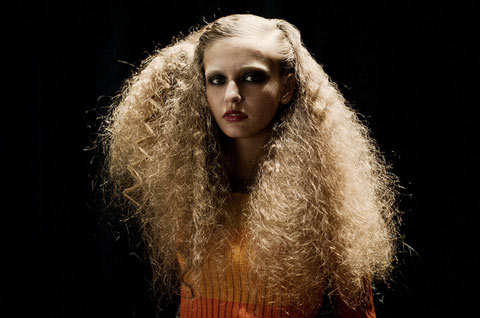 What's a typical day look like for you during fashion week?
'Typically from 12am until 2 or 3 am, I will be editing and processing the images from the day before. I'll hopefully get 4-6 hours of sleep and then will be uploading the images from the previous day.
'The first show of the day could start anywhere between 9 to 11am somewhere in Manhattan. Most days I will have a schedule of 4-6 shows for the day. In between shows, I will often start loading cards and editing the shoots to save time in the evening.
'Using a mix of taxis, subways and walking, I'll take the quickest trip to each show. I will head home after the last show of the night to hopefully eat some dinner and then get to work on the edit of the days shows.'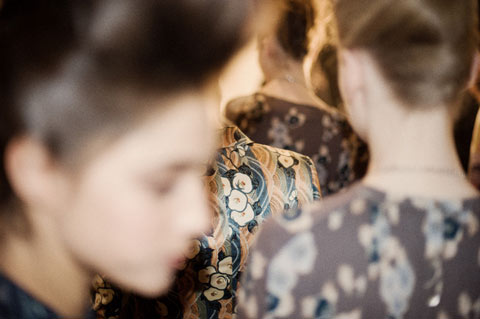 What are the main challenges you face during the week?
'Many of the challenges lie in the logistics of travel to and from each show, and streamlining and automating the editing process as much as possible. I've found this to be much easier with Interview Magazine, but one of the biggest challenges of Fashion Week can be gaining the access you need to get the shots.
'Three months ago my wife and I had our daughter so a huge challenge for this Fashion Week will be finding some time to spend with the two of them and help out with that.'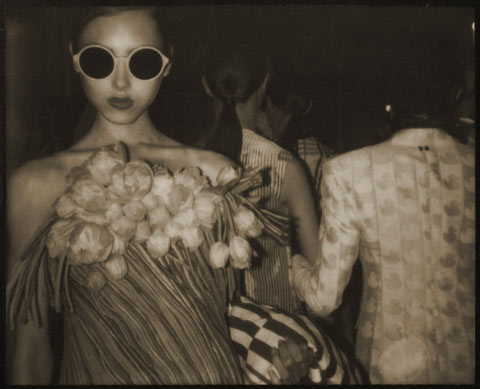 It seems like you don't just cover the tents but shows that happen off-site. Can you talk about the differences between covering those events, if any?
'For about the first six seasons of my NYFW coverage, I only covered the off-site shows. The access at them is often easier and the PR people are often more cooperative. I feel like this helped me build my approach and style by having the time I needed to find the images and moments.
'When I started working with Interview Magazine, I found that many of my assignments were the biggest shows at Fashion Week. The access is often much more restricted and the time I have to find the images I'm looking for is often limited.'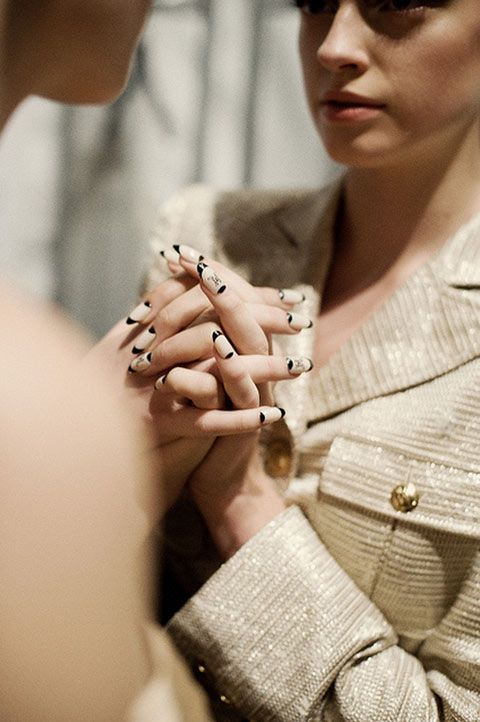 What do you like best about covering Fashion Week?
'I really enjoy all of the challenges of creating such a huge body of work in a week. It's a ton of work to organize, travel, get the access, and deliver the images. It's worth all of that to have the opportunity to photograph backstage. The stage is set with beautiful people and great clothing. I love the challenge of finding those great moments and great shots that tell the story of all that goes into the fashion shows.'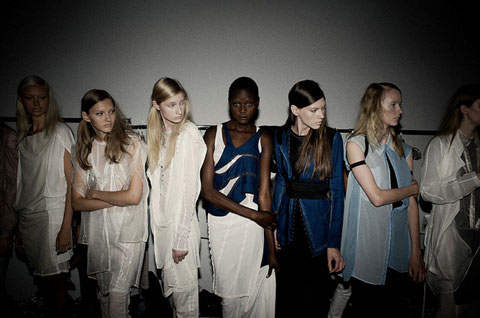 This post was contributed by photographer Roger Kisby.
If you're a photographer, you can now promote your new series, website, gallery show, recent assignment, etc. on Feature Shoot for a very affordable price. Find out about becoming a Spotlight Photographer here.