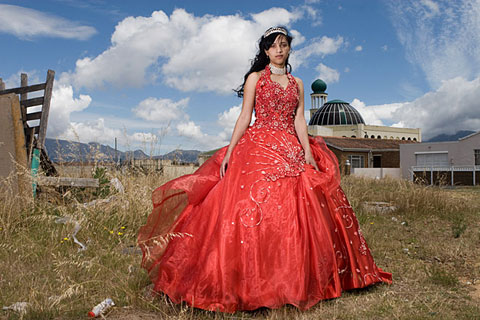 This series of portraits of girls all dressed up for their Matric Dance was photographed on the Cape Flats, a vast area outlying Cape Town. The Flats have been described as "apartheid's dumping ground", a place which still possesses all the attendant problems of a formerly forcibly displaced and fragmented society: poverty, crime, drug addiction and gangsterism.

For most matriculants and their families, the matric dance is a seminal moment: for some, it is a celebration of being the first member of their family ever to finish school, previous generations having been disadvantaged by the apartheid era education system and economic conditions; for others it is a night that formally marks the leaving behind of childhood and transition into adulthood; for the majority, especially in the cases of more impoverished families, it may primarily be a night of fantasy escapism, a chance to live out their dreams through costume and styling, their first and possibly their last real opportunity to dress up no holds-barred and be the centre of attention.

Many families will deny their children nothing for this outfit, costs often being budgeted into household expenses for up to a year in advance. The resultant look, I believe, speaks volumes: about the hopes, dreams, aspirations and influences of young South Africans today, before any disappointments, before their dreams are crushed. May they shine on.—Araminta de Clermont
Araminta de Clermont is a photographer currently based in London. This work is from her Before Life series which is represented by Michael Hoppen Contemporary.