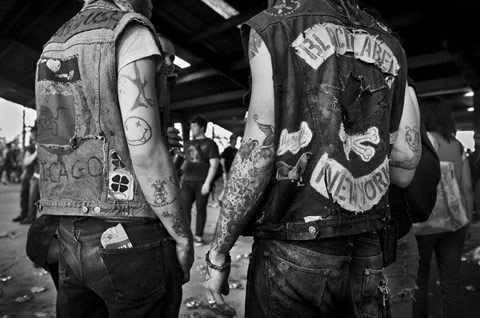 Julie Glassberg is a French born, award winning photographer currently living and working in New York. Her work is mainly based on the diversity of world cultures; subcultures; portraits; documentary projects. These images are from her series, Bike Kill, which documents the culture surrounding the Black Label Bike Club.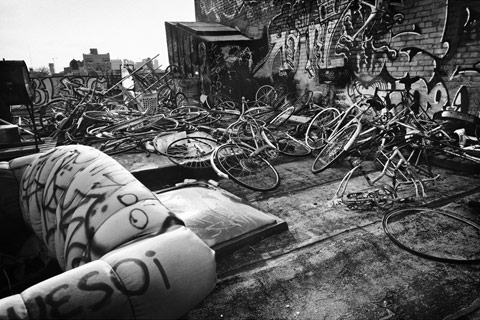 The Black Label Bike Club is pretty protective of their privacy with regards to interaction with photographers and media.  How were you able to gain access to this group of individuals?
'When I started this project, I was a student. Also I was doing it for a strictly personal goal, because I was interested in their group, actions and way of thinking. I think it helped me that I was not doing it for a specific magazine or paper. I had no intention with the project at the beginning – my goal was just to explore a world that fascinated me.
'I thought those arguments would be enough to gain their trust but not quite… They had had bad experiences in the past with various media and some were not too happy that I was around taking pictures. It took a while to gain their trust, like any human relationship.
'I started hanging out with them as much as I could; sometimes not taking photos at all. I figured if I wanted to learn about them, they also had to learn about me. It can't just be only one way.
'Stinky helped me a lot too. I became friends with him progressively and would meet up at his work in a bike shop. We would then go meet the rest of the group at various locations.'
How long did you spend documenting the Black Label Bike Club and their culture?
'I spent a bit more than two years working on this project. I became really good friends with some of them in the process and although I feel the project is quite complete, I will keep photographing them when I see them if it can add to the story, or simply because I find a moment interesting or beautiful.'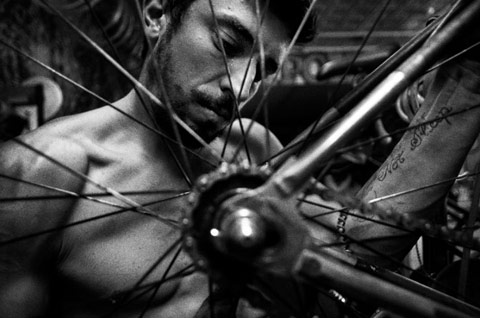 Along with photographing their infamous jousting competition, Bike Kill, it looks like you also photographed some parties and some of the members in their living spaces. Can you describe a typical day of shooting?
'There was never a typical day of shooting. Each time was different because those people are unpredictable. That is what I like about them: their freedom.
'The tall bikes and the jousting of course grabbed my attention first; but then I became more interested in the group and lifestyle. It was not just about bikes and craziness. It's an interesting group of people with multiple talents, full of originality and ideas. They are not afraid to live and to take risks. They do not let the system stop them from what they want to do.
'I sort of identify to these people that do not follow the norms of society. I often say that I want to be a kid my whole life. One of my favorite feelings is when you feel like a 5 years old discovering something new and amazed by simple things. They are kids. I don't mean this in a negative way, on the contrary, they just have this free way of thinking. They don't let the rules of society contain them, control them, or dictate their lives.
'So, to speak about a day of shooting is difficult… I would just be with them as much as possible and random things would happen; things that you cannot predict.'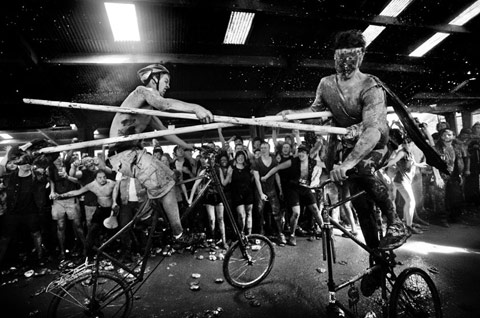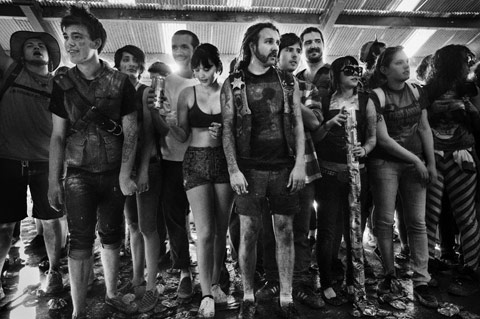 In your statement you noted the irony of 'rebel culture revolving around such a non-threatening object: the bicycle'.  Did you notice any other contradictions when photographing this group?
'I guess the main contrast is between how they look and who they are. There is this tough outside image with the clothes, colors, jousting, tattoos, anarchy events, but some of those folks are the greatest I've met, with a big heart, culture and intelligence.
'They may seem like the careless youth, yet they are more aware than most young people about what's going on in the world and are very united. It seems to me they have real values of human relationships that we are completely losing today with technology.'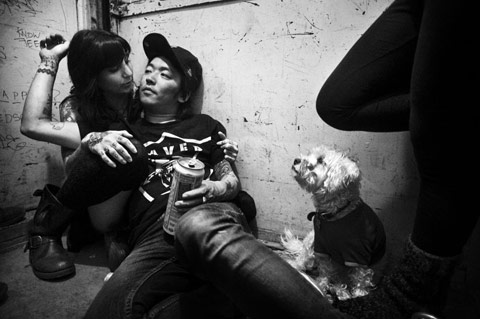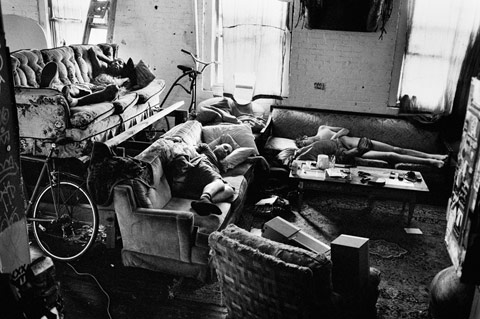 What was it that initially drew you to photograph the BLBC?
'I saw some videos of past years of the jousting events. I thought those kids were crazy (in a completely good way), out of the norm, rebels, and I was attracted by all that.'
You photographed some women in the jousting competition.  Can you comment on the role of women in this mostly male-dominated group?
'Actually, I don't think it's a male dominated group. Well, in the BLBC itself I've met mainly men. But it's more than just the club. It's a whole community, and this community includes members of other bike clubs like the Cutthroats (lots of girls) or the Skidmarxx, or even friends that don't belong to any bike club.
'They all are on the same level. It's more like a huge family and the women are as badass as the guys in the community. It is not ruled by men.'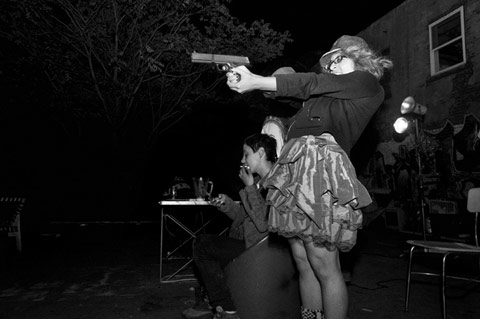 This series of work, with regards to subject matter, is quite different from everything else on your website.  What was different about photographing the BLBC?
'Well, the only difference is that it's a long-term project that I spent more than two years working on. I didn't approach it differently from the rest otherwise… It is not
really possible to compare it to the portraits that are more cinematic, mostly color and posed, or to assigned work.
'I don't feel like I did something different from my interests; on the contrary, it is one of the projects I've worked on that is the closest to me. Underground cultures, subcultures, alternative lifestyles and rebels have always been a major interest for me, and I discovered one that was still unknown to a lot of people, and not stereotyped or overdone, unlike the punk scene or some other scenes that I had photographed in the past.
'The time I spent on the Bike Kill project made it much closer to me and more complete than some other stories I've worked on. It is also, in a way, a culture I identify with.'