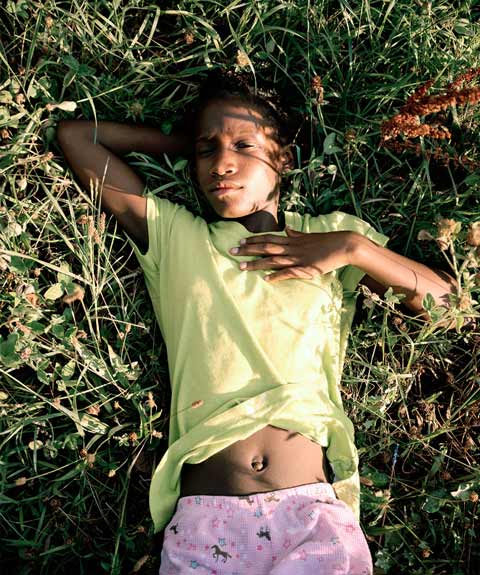 Interspace explores the tension between the natural and the unnatural or, urban spaces in North Lawndale. What happens when these areas compete? Additionally, what happens to the urban figure when placed in this feral space existing in the inner-city environment?

The figure is no longer in the ghetto. They escape to a kind of 'interspace'. This west side interspace is small, overlooked, underused and nearly lost. Abandoned space and empty lots are now areas of quasi-public/private ownership. Properties that were once the sites of derelict buildings become 'no man's land' and soon volunteer plants and trees flourish and take over. These spaces are part dumping ground, part playground and part oasis to the residents of North Lawndale.—Kelly Kristin Jones
Kelly Kristin Jones is a fine art photographer based in Chicago.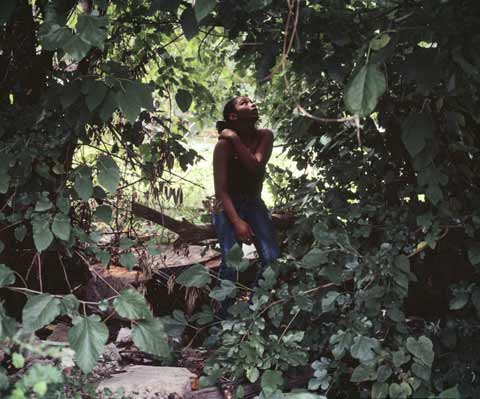 There are similarities, both aesthetic and psychological, that runs through the entire breadth of your work. Can you talk about the evolution of your work over time as you continue to revisit the same subject matter in varying ways? What separates the project Interspace from the others and how did it come to diverge from your previous work?
'For the past handful of years I have committed my practice to my community and to making photographs that allow me to explore both this place and the relationships I have here. As Seasons changed and new ideas formed I have certainly altered the emphasis in my photographing (the spaces, the sitters, the camera equipment, etc.). This has been a continuous investigation of North Lawndale and of photography itself.'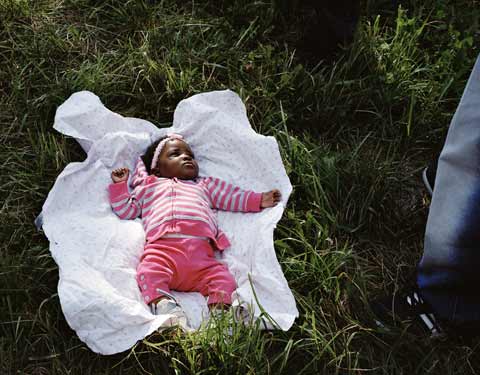 'Interspace was a rather dramatic shift for me. I was in graduate school at the School of the Art Institute of Chicago and was for the first time being confronted by some really powerful and interesting ideas about a more conceptual constructed photography.
'The documentary way of shooting simply didn't fly with most of the SAIC community and I was often condemned. People were very wary of me and of what I was doing simply because social documentary photography (the category that I was lumped into) has such a dark history. I knew that I would be challenged at SAIC – I just didn't know how MUCH I would be challenged!
'But in the end, this was a very necessary stage in my artistic maturation. Had I not attended this program and had I not worked with the people I worked with, I would have been content to continue to make images the way I always had – as someone standing in the corner waiting for something interesting to happen.
'I still deeply respect the documentary practice and I still have great conceptual and aesthetic ties to documentary, but I'm more interested in how I might make a photograph instead of simply taking a photograph. Interspace was my (very small half-) step towards this way of photographing.'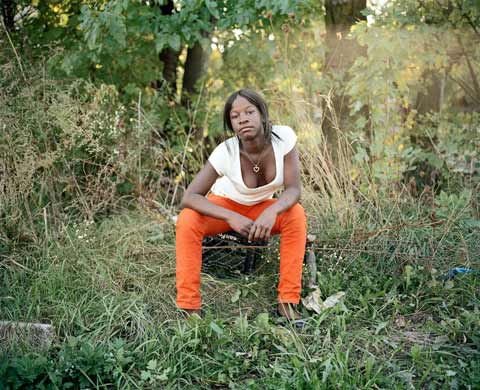 In photographing your subjects within the more overlooked or unseen natural environment surrounding their urban environment are you creating a new space for your subjects? Is it an oasis or new reality?
'These photographs and portraits prompt a new way of seeing – a new way of seeing the city and a new way of considering the figure. The Interspace series both reveals a stereotype and offers a tension. These spaces are not oases. Yes, they offer spaces filled with lush green growth but I am very intentional about including more than just the "ideal". Looking closely at the images, bits of trash are revealed among the wild flowers and grasses. In the distance telephone poles and dilapidated buildings tell of a real location – not simply a utopia for the camera. These photographs, while visually seductive, are also disorienting.
'Interspace is about the unfixed and unexamined (unfixed identities, unfixed spaces and unexamined environments). The interaction between the subject and their surroundings in my photographs challenges many of the stereotypes of the urban space and so in this way I am offering a "new" reality. Our urban space is too often pictured in a very narrow way. I am attempting to show an alternate vision of this space. I want to play with the idea of the oasis as well as pick at what an urbanscape "ought to" look like.'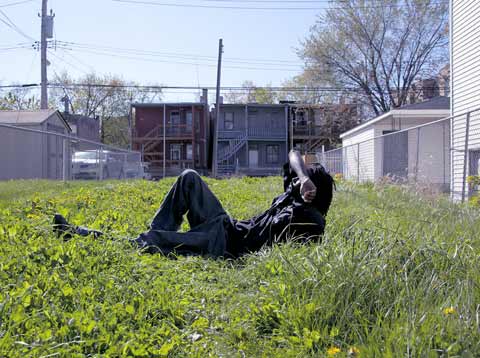 The contrast between your subjects posture and clothing and the unruly, lush backdrop of nature creates a striking beauty and an interesting tension between the urban human figure and wild natural elements. Can you talk a little bit about this?
'Confession: this all began by accident. I was out with my camera, play the documentary photographer and photographing three of my neighbor's children as they played. The girls decided to show me the inside of their "clubhouse" which was in an empty lot at the end of our block. As I set up to make a very different sort of photograph I noticed one of the girls, Cedriana, cowering from a bee. I didn't think, I just snapped.
'I went on the make piles of photographs that day, however, when I scanned my film there was only one image that held my attention. THAT bee photograph! There was an intriguing tension between her gesture and the surrounding space.
'The image held up in art school critiques, but when I showed the photograph of Cedriana to her grandmother the reaction was astounding. She was instantly enamored and as word spread, strangers wanting to tell me how much they liked my photograph often approached me. Cedriana enjoyed her weeks of neighborhood fame and I began to explore this idea and why it garnered the reaction that it did.'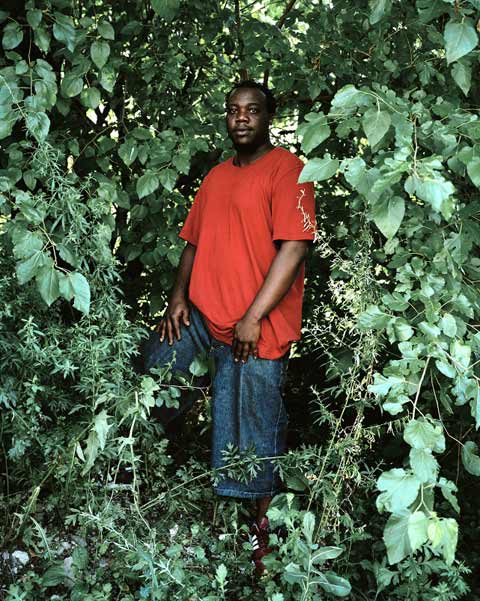 What is the role of the portrait in your work? Taken from what would be considered their obvious familiar environment the viewer is left only with the immediate clues of their clothing, body language, and facial features to try and figure out who these people are and where do they live. Are you revealing something specific and personal about each individual subject or are you after something else all together?
'I think my answer to this – my way of thinking about this – has changed over the past two years. I come from a documentary background. My work was very firmly grounded in this tradition with a deep desire to tell stories and make portraits. However, during the Interspace project in particular, I began to shift my approach to making photographs. I become much more interested in construction of the image. I wanted to pursue something beyond the individual.
'I began to try to think beyond North Lawndale – could I make images in my neighborhood that were able to go beyond a particular kind of story?
'Everyone photographed for the Interspace is someone with whom I have a relationship. These are my friends and family members and many have known me all of my life. It was important to me to work with loved ones for this project. I found that I was better able to experiment and play when I was confident that my sitter and I trusted one another.'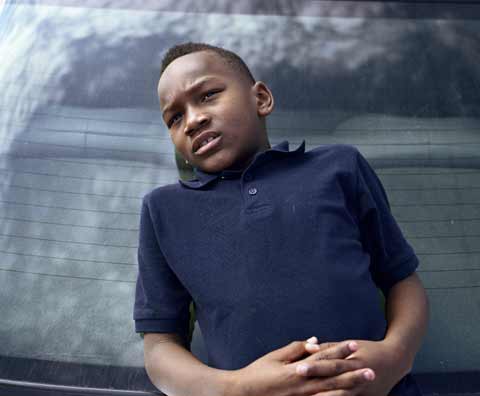 Where have you been drawing inspiration from for you artwork?
'Katy Grannan, Viviane Sassen, Carrie Mae Weems, Rineke Dijkstra, Dawoud Bey, Edward Hopper, Henri Rousseau, the French Romantics… and, to be honest, I'm often amazed by friend's facebook photographs and have drawn inspiration from many of my neighbor's personal photo shoots in bathrooms, bedrooms and kitchens. Actually, I think we've influenced one another. I see my way of photographing mimicked in some of their facebook photographs too!
'I spend a lot of time walking and driving around simply looking – I find that I often come up with new ideas while I'm behind the wheel. The process is never over and so after a shoot I always print out my images to bring to show the sitter. Many times after we've had a conversation about the work I will come up with a new concept or we'll decide to reshoot. Those living room critique sessions have had a powerful impact on my work and its' role in my community.'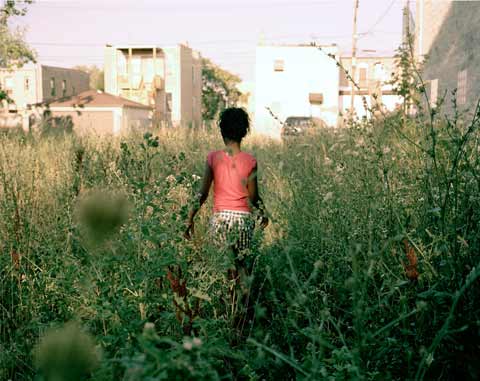 This post was contributed by photographer Julie Renée Jones