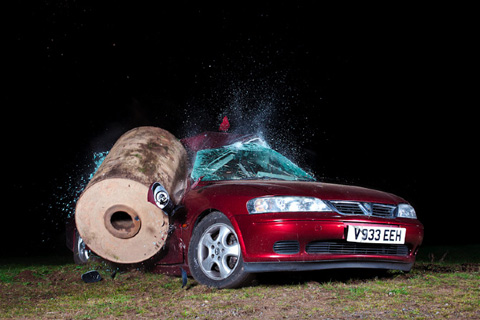 "Take most people, they're crazy about cars. They worry if they get a little scratch on them, and they're always talking about how many miles they get to a gallon, and if they get a brand-new car already they start thinking about trading it in for one that's even newer. I don't even like old cars. I mean they don't even interest me. I'd rather have a goddam horse. A horse is at least human for God's sake."
– J.D. Salinger, Catcher in the Rye.
My latest series was created at my family home where I used the destruction of the car to question the role of the automobile in society, I chose to use the above quote as an entry point into the work, as it works as an access into the reading of the narrative. At the beginning of my degree my family did not fully grasp the reasoning behind my choice of studying fine art photography. However as this project progressed my family members gained a hands on experience of my practice, as they worked as my assistants and within the construction of my imagery.

I chose to use my backyard as an outdoor studio to construct a conceptual narrative through the collision of performative and the staged imagery. Through the duration of the course my increasing confidence as a practicing photographer has encouraged me to become more innovative and experimental in my working methods. Stylistically and thematically this has been challenging at times, but it has begun to illuminate interests and common subject matter within my practice.

Jody Daunton recently received his BA in Photography from Brighton University. He is also a co-founder and art director of the creative publication Another Escape, which he runs alongside creative partner Rachel Taylor.