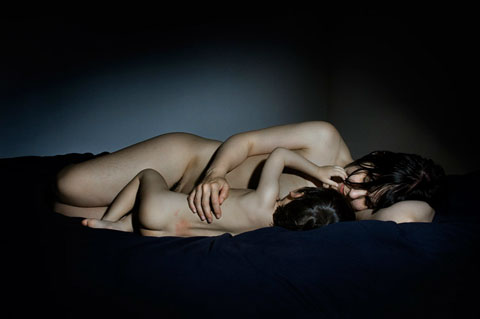 Photo by Ana Casas Broda
Susan Bright is a photography curator currently based in New York. She has become a prominent figurehead in her contribution to photography by showcasing artists who are pushing the boundaries of the medium. In doing so she highlights exciting movements within photography and keeps the bar high for the next generation of artists.
You may have some of her books on your bookshelf, they include Art Photography Now, Auto Focus, Face of Fashion and How we are: Photographing Britain, the show she co-curated with Val Williams, which was the first major photography exhibition ever held at Tate Britain.
She is currently researching representations of motherhood for a practice led PhD in curating.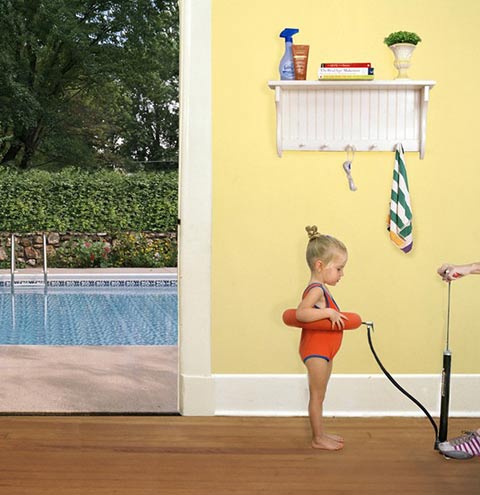 Photo by Julie Blackmon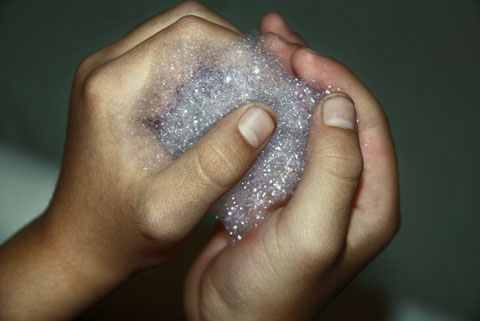 Photo by Ana Casas Broda
Why did you first become interested in how motherhood is represented in art and the media?
'My daughter was born in 2008. At this time I had an established career as a photography curator and writer and knew little of childbirth and childrearing. Like many of my female contemporaries I had established my identity through my career (not my family) and as such had little experience around children.
'I reached for books, photographs, magazines and journals to help me through a tumultuous shift in my personal identity and was surprised by what I read and saw. It is important to note here that I gave birth in New York, where I continue to live and work. It was here that the other two main factors that drove me to this investigation became apparent.
'Firstly, I began to notice the increased imaging of mothers in celebrity culture and with this what seemed like a subliminal messages that becoming a mother was the 'right thing to do' as apposed to having a career. The irony seemed to be lost that the only reason these women were of interest to the public was because of their careers.
'Parallel to that much of the literature I read seemed to place impossible demands on a mother in pursuit of perfection. Becoming a 'perfect mother' seemed to me, like a national American obsession, bolstered by images of happy mothers smiling from the front covers of the 'Red Top's' in print media. I found this retrograde and far from my reality. But photographically I was fascinated by the  sheer quantity of magazines and websites dedicated to celebrity mothers. I kept seeing the same poses repeated again and again. I immediately wanted to investigate why there seemed to be such a thirst for mothering in the media.'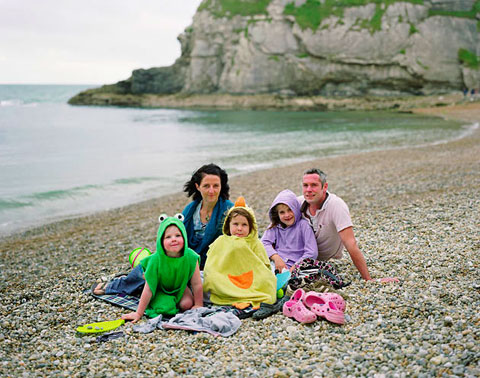 Photo by Trish Morissey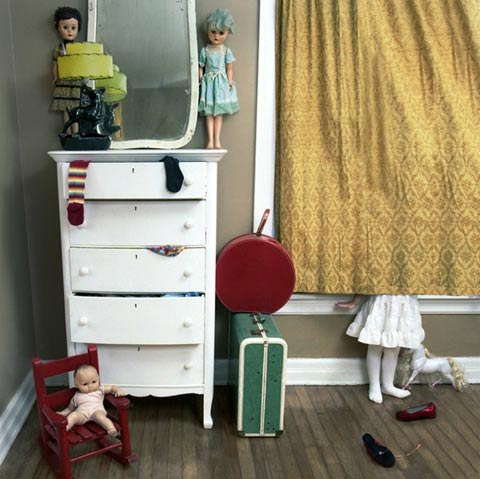 Photo by Julie Blackmon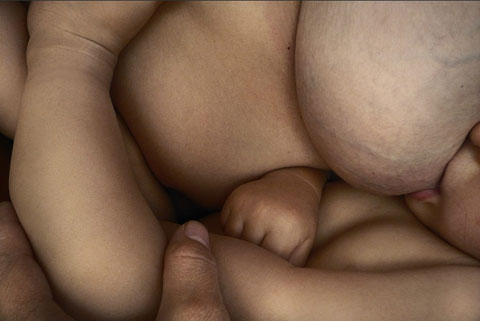 Photo by Ana Casas Broda
What have been your discoveries?
'Well first and foremost that in the early Twenty First century the presence of the mother figure has moved from the margins to the mainstream – be that in literature (with the advent of 'chick lit' and indeed more serious literature); pornography (with the ever expanding MILF genre) or in mainstream television.
'In American politics the status of the mother in both the campaigns of Sarah Palin and Hillary Clinton were highly visible and central to their political identity. In Britain the anxiety over Kate Middleton's fecundity consumes tabloid space illustrating both poles of culpability.
'Journalistic and popular books on the subject are on the increase and the online versions of celebrity magazines are dedicating whole sections to the cycles of mothering – from conception to an intense focus on the children of the famous. Hollywood has naturally followed (or lead) the trend with an increasing number of films with Motherhood (and parenting) as the central plotline.
'Apart from the ideological messages mentioned briefly above in much of the media I also noticed how little pregnancy is imaged in fine art and how it has become increasingly sexualized in the media. I am enjoying delving into 19th Century photographs of pregnancy and seeing how complicated they are. There is too much to go into here (I dedicate a chapter to it in my thesis). The historiography is important and somewhat hidden. Breast feeding is still pretty much hidden in the media although the recent TIME cover which shows a three year old being breast fed may have visual repercussions. I am not so sure though… it may actually set the imaging of this aspect of mothering backwards as everything will be compared to that.
'I also discovered a genuine anxiety about aging and am curious to find out how representations of mothers fits into this.'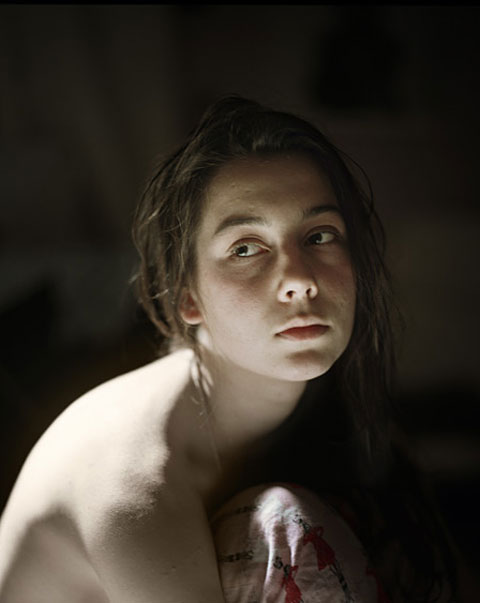 Photo by Toni Wilkinson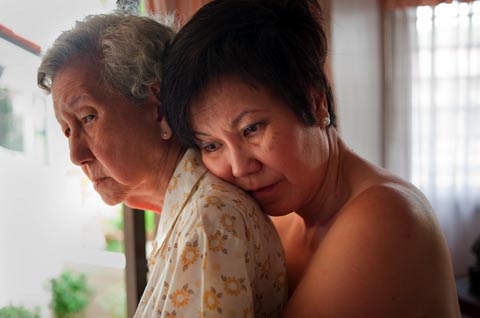 Photo by Geraldine Kang
What is the main assertion of your research and exhibition?
'In terms of my thesis research what I have found lacking, in regard to analyzing the making and reception of images of mothers, is a coherent critical approach or stance to fully understand the implications of this phenomenon and its historical precedents which is not reliant upon psychoanalysis. Personally I feel that much of the art making and theory surrounding the Mother figure has been hijacked by psychoanalysis and this is not of interest to me and my investigations.
'I have turned to body of work commonly understood as 'Postfeminism' to help me to articulate my ideas. The term is contested, provocative, troubling, perplexing, contradictory and disconnected. There is no unified origin and it has often come to be understood as a buzzword in mainstream media. It often identifies itself with youth and an anxiety of aging and can be superficial.
'For me there is nothing superficial about mothering and nothing 'post' about feminism (if  we are taking 'post' to mean that which has gone before to be redundant). The term, its knotted definition and the impact in therms of the Mother figure can only work up to a point and then there is an estrangement, or disjuncture, between theory and practice. I am attempting to lay the foundations for a new way of considering contemporary photographic images of mothering within a postfeminst discourse (however contested that term is) and in turn aim to contribute a radical corrective to the lack of critical examinations in early Twenty First Century postfeminist critical writing.
'The exhibition has a slightly different emphasis than the bulk of the thesis. I turn to fine art photography in order to articulate my ideas. It takes as its inspiration and genesis Mary Kelly's lesser-known photographic piecePrimapara (1974) which together with Post Partum Document (1973-1979) demonstrated in a powerful and groundbreaking way, that the mother-child motif could be addressed in a completely new way. As an important touchstone in the second wave of Feminism of the 1970s, the work, and the concurrent critical debates around the subject, came from a highly psychoanalytic point of view.
'This exhibition, however, comes at a time when contemporary photography is no longer marginalized, but is at the center of visual culture, and theoretical and feminist debates have moved on. With this in mind the work featured here is highly personal, often documentary and is subject driven rather than theoretically motivated.
'My curatatorial standpoint is to present bodies of work by different artists and articulate viewpoints work compliments and complicates in order to avoid a didactic and monolithic view of mothering. All the work challenges and agitates traditional passive views of Motherhood.
'The work tends to be intensely personal or autobiographical in focus, which doesn't mean it can't connect to wider universal themes, articulate metaphorical messages and be intellectually rigorous. It presents an interpretation of the subject that highlights the complexity of the subject and does not shy away from emotional or emotive subjects.
'The photographers I have selected tend to work on large uncompromising bodies of work over many years and as such some are still on-going. I hope this exhibition is a rare opportunity to explore new interpretations and insights on an ancient theme in a thorough and contemporary manner.
'The central argument of the exhibition will be the investigation of the complex and demanding experience of motherhood through the transitions that occur to a woman's identity by becoming or being a mother. These transitions and the way they affect identity is explored by not only concentrating on the mother figure herself but by focusing on how it effects those around her. It shows mothers to be both blessed and bound with a simultaneous need to escape and connect. It investigates what it means to have a personal identity become one that is associated with another person. It focuses on the transitions and the importance of those shifts in identity and the effect this has on partners, friends and children.
'It will be shown at The Photographers' Gallery at the end of 2013 and will tour through Europe and the USA.'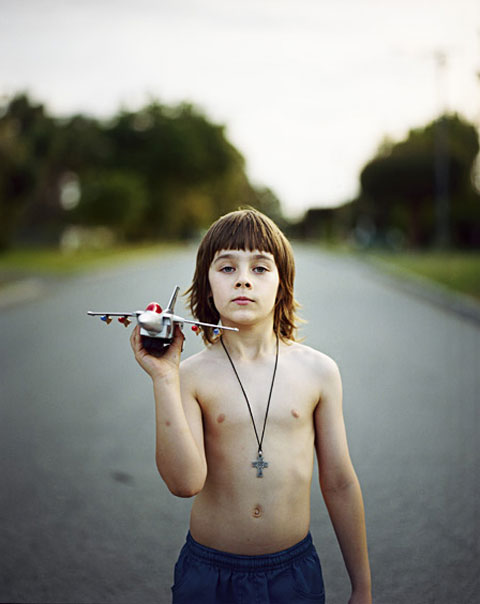 Photo by Toni Wilkinson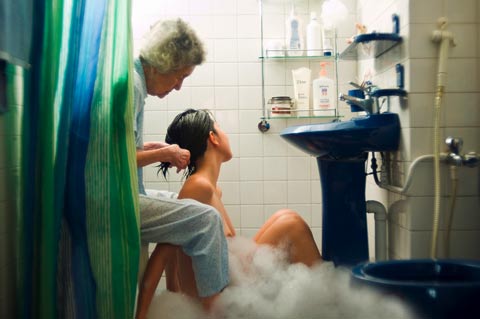 Photo by Geraldine Kang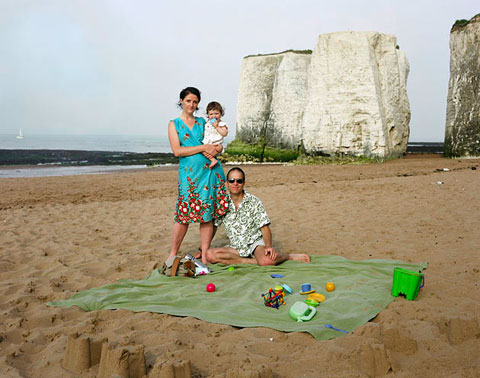 Photo by Trish Morissey
How have other art forms and their theories influenced your research?
'I am concentrating on photography in fine art and the media. I have found that I have had to look very closely at the history of the Madonna and of course this means painting, but over all my concentration is photography. This has turned out to be both a stumbling block and a liberation in terms of turning to photo theory. I have always found photo theory to be limiting, self referential and restrictive to the endless ways of understanding photography. Plus it can be dull and badly written.
'Within my investigations there are two pertinent factors that are directly relevant to my relationship to photo theory worth mentioning here. Firstly, is the significant lack of research and sophisticated analysis of commercial and advertising photography within the literature. The lack of critical writing regarding the representation of commercial photography beyond seeing it as an 'ideological text' is a serious lack in the wealth of literature on photography, but also a liberation as it allows room for me to use more interdisciplinary approaches.
'And secondly, it can be argued, what really drives the main focus of photo theory (and indeed much of its histories) is an 'ontological desire' to understand the essence of photography. This ontological desire at the very core of photo theory is not of interest to me. It is not what drives my investigations into the medium and certainly not the thesis. It is for these reasons I want to claim some relative autonomy from my predecessors and precedents and engage in other disciplines.
'Finally, I have always found photo theory to be intrinsically hostile to a 'simple' historical (I use that term with full knowledge that history is never simple) or subject lead readings of images and has feared it may be associated with revisionism of Modernism. I, however, believe looking at a relatively new medium such as photography, especially when it is concerned with a very ancient subject matter, charting the changing representations and entomology is vital. This doesn't mean to say I reject photo theory entirely. I use it up to a point and then turn to other ideas when it can no longer be useful for me.'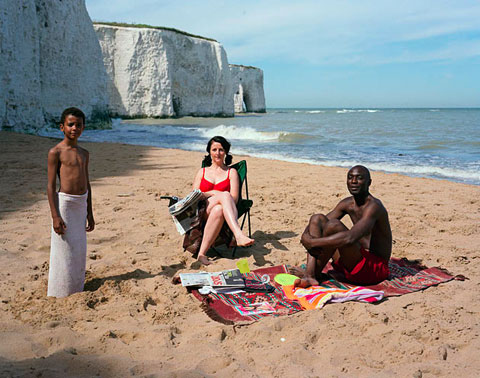 Photo by Trish Morissey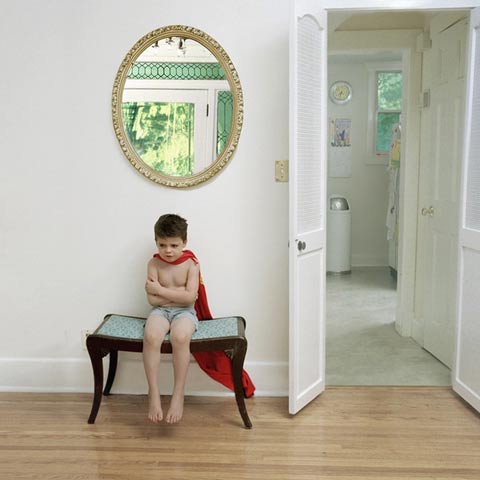 Photo by Julie Blackmon
What are your hopes for the future representation of mothers within photography and the vernacular?
'My thesis is not an examination into Maternal Practices in fine art making. There is a distinct, and important, difference between Maternal Practices and my interest in representation of Mothers in the media.
'By Maternal Practices I am referring to feminist artists dealing with Motherhood  and who represent the range and complexity of the mothering experience – one far removed from an idea of clichéd selflessness. Artists like Mary Kelly, Sally Mann, Susan Hiller, Mierle Laderman Ukeles, Renne Cox, Catherine Opie and more recently Tierney Gearon who are conceptually rigorous and crucial to this history.
'My exhibition aims to expand what the term 'Mother' can mean and its effects on an artist's identity. I see the work I have chosen sitting slightly outside of this trajectory.
'In terms of vernacular photography I am seeing more and more how celebrity images are being copied and fed into a familiar lexicon. The most obvious and striking example of this is the famous pose which Demi Moore adopted on the front cover of Vanity Fair in 1991 with a photograph by Annie Leibovitz. Go to flickr, or any other similar photo sharing site and you will see what I mean. Pregnancy was long hidden both privately and publicly in photo history. This image changed that.'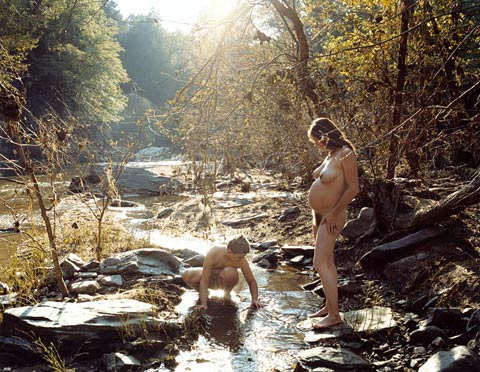 Photo by Justine Kurland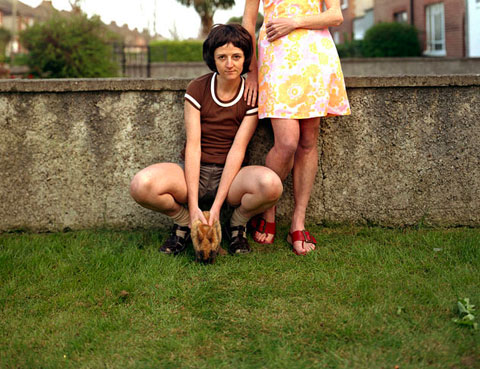 Photo by Trish Morissey
This post was contributed by photographer Sharon Boothroyd via her photo blog, Photoparley.