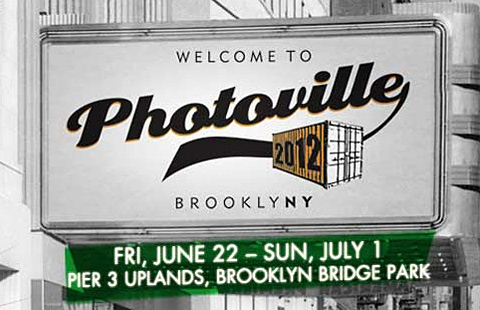 All the Talks and Panel Discussions are free, unless otherwise noted, and are first come first serve, with seating for 60 guests.
SATURDAY JUNE 23
1:00pm – 2:00pm
Talk: Crusade for Collecting
Jennifer Schwartz, owner of Jennifer Schwartz Gallery in Atlanta and the online photography project, The Ten, will talk about her Crusade for Collecting – her mission to cultivate a new crop of art lovers, patrons and collectors. From developing unique programming at her gallery to working with photographers to build their own collector base to driving a 1977 VW bus around the country to bring art to the people, Schwartz's Crusade is one you want to know about.
Presented by: Jennifer Schwartz
3:30pm – 4:30pm
Panel Discussion: Cruel and Unusual: The Prisons, the Photography or Both?
With a wide selection of image-types and surprising good humor, 'Cruel and Unusual' co-curator Pete Brook talks about documentary, institutional, vernacular and legal photography and the political uses of images by media, activists and families. If the ability "to see" relates to power, then what – based upon our shared visual culture – can we conclude about U.S. prison systems? Is photography a rehabilitative act? Can prisoners use cameras?
Panelists to be confirmed.
4:45pm – 5:45pm
Talk: The State of the News Photo
With its increasing prominence in our visual culture, growing editorial and social media impact, shifting looks and aesthetics, and ever new forms of presentation, this is an exciting time to be following news photos. Michael Shaw, the only full-time news photo analyst and publisher of the visual politics site, BagNewsNotes.com, assesses the current state of the news photograph.
Presented by: Michael Shaw
3:15pm – 4:15pm
Workshop: Gum Printing
Gum Bichromate is a 19th century photo printing technique using potassium dichromate as the light sensitizer, gum arabic as the emulsion base, and water colors as the pigment. Images are contact printed from enlarged negatives. Gum printing is an easy process to do at home. Because the chemicals in this process are sensitive to UV light, the print is exposed in the sun and developed in water. You don't even need a darkroom. Come hang out with Bushwick Community Darkroom and learn this simple and beautiful process.
SUNDAY JUNE 24
11:00am – 1:30 pm / 2:30pm – 5:00pm
Tintype Photo Booth
If you are looking for a portrait photograph that captures the passion of your unique, individual personality, step into our portable tintype photo booth and experience the magic of this 19th century photographic process! Popular during the mid-to-late 1800's, the tintype portrait is made by coating a sheet of blackened metal with collodion. The tintype is then sensitized in a bath of silver nitrate, and exposed and processed immediately.
Each portrait session will last about 15 minutes. The tintypes will be prepared, exposed and developed on site and you will be able to view the portrait immediately. The tintypes will then be varnished, and you will walk away with a one-of-a-kind 4×5 portrait.
Cost: $35, or $30 for Penumbra Foundation members.
2:45pm – 3:45pm
Panel Discussion: The New Documentary
This panel discussion will explore where documentary photography is heading in the second decade of the 21st century by first looking at where it was historically, and then discussing how it is evolving into the next decade.
Panelists include: Ben Lowy, Ed Kashi, Lori Grinker
Moderated by: Glenn Ruga
FRIDAY JUNE 29
6:30pm – 7:30pm
Panel Discussion: Photographs Not Taken
Please join us for a panel discussion and book signing for Photographs Not Taken, a fascinating collection of photographers'essays about failed attempts to make a picture. Editor Will Steacy asked over sixty photographers to abandon the conventional tools needed to make a photograph and instead make one using words. In each essay, the photograph has been stripped down to its barest and most primitive form: the idea behind it.
Panelists: Will Steacy, Ed Kashi, Elinor Carucci. Moderated by Taj Forer and Michael Itkoff
SUNDAY JULY 1
11:15am – 12:15pm
Talk: Copyright 2.0
Copyright law has changed substantively and incrementally in the past 10 years as digital media and the Internet have substantively reshaped our cultural, political, social and photographic landscape. Technology, online collectivism and social networking are changing the way people think and process information. Copyright 2.0 will review key provisions of the Copyright law that all photographers should know, and it will challenge listeners to think about how the law and user's behavior must be reformed to make the law more effective in a culture that prizes meta everything, mash-ups, bricolage and streaming data.
Presented by: Michelle Bogre
2:00pm – 3:00pm
Panel Discussion: Photography as Activism
Photography has always been used to advocate for social change. That tradition is robust today with the current generation of photographers who believe that activism does not end with the images. They start foundations, fund orphanages, testify at the U.N. or Congress to find solutions for the issues they photograph. This presentation will include a brief history of activist photography, and then a panel of committed photographers will present current projects and discuss their role as advocacy journalists.
Panelists: Brendan Bannon, Jessica Dimmock, and Kristen Ashburn
Moderated by: Michelle Bogre
3:15pm – 4:15pm
Panel Discussion: Surface Tension
CPW curators and Michael Foley discuss their two recent exhibitions, "Surface Tension" and "PENETRATION", which present work by photographic artists which free the medium of its traditional documentary impulse, instead creating images which push our understanding of what a photograph could and should become via gestures of abstraction, deconstruction, and manipulation by the artists' hand.
Panelists: Ariel Shanberg (Executive Director, Center for Photography at Woodstock), Akemi Hiatt (Program Associate, Center for Photography at Woodstock), Michael Foley (Foley Gallery), and panelist(s) TBA.
Photoville is a Feature Shoot sponsor.