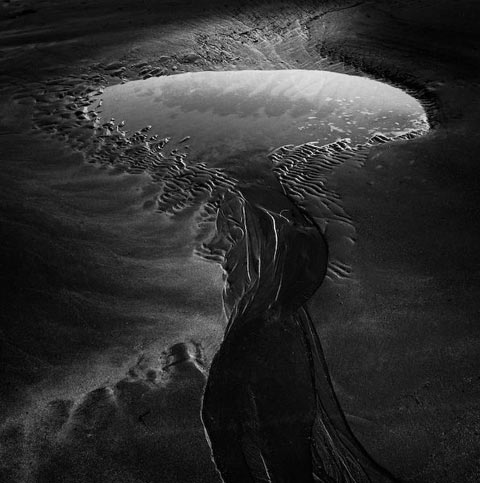 "Every working day is spent experimenting, fiddling, mixing chemicals and going for something new," said Michael Jackson.

For the past 5 years, Jackson has been creating a body of work titled 'Other Small Worlds' based on visiting and recording a single beach in South Wales – Poppit Sands. "My work on Poppit Sands beach has changed over the years. I find that I am seeing things now that eluded me before and what was of interest to me 4 years ago is no longer of much interest to me now. I suppose that I am trying to find something new with each visit – and that rarely happens."

Using a 1970's camera, lens and particular times of day he explains his motivation as "Just an amazing feeling, to be there and to look down and see tiny worlds appear before my eyes. Then to hear the whirr of the shutter and to know that I may have captured it forever. It is a very personal and intimate experience."

His work has been acclaimed internationally and published in numerous magazines throughout the UK, the USA and Australia. The Poppit Sands/Other Small Worlds series has won three finalist places in the Hasselblad Masters Award (2008, 2009 & 2010) and is now in its sixth year. Jackson is based in Wales.