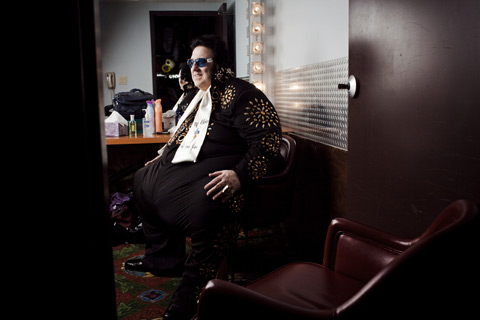 Photographers Adam Patterson and Greg Funnell collaborated on this project in Las Vegas treating the city as microcosm for the wider problems faced by America in this election year; namely recession, homelessness, rising crime rates and foreclosures. In an attempt to investigate the city's multiple conflicting narratives, they interviewed and photographed the people who actually live in the desert metropolis. Working as one, this approach has resulted in a body of photographic works and interviews that explore the heart of this year's upcoming presidential debate. Is the American Dream still valid or has a widening sense of national fear permanently crippled patriotic pride?
Above: Peter Vallee started singing in 1979 in a local Church and was told he sounded like a young Elvis Presley. Following on from this he played in a high school talent show contest and received a good reception, and from there he started to perform professionally. For the past 32 years he has been a full time Elvis performer, working regularly in Las Vegas. He works under the title 'Big Elvis' owing to his considerable 35 stone weight. He loves Vegas as it's a 24 hour town that allows you to make your own pace. He sees the city as an embodiment of the American dream; a place where you can put $50,000 on one roll of the dice.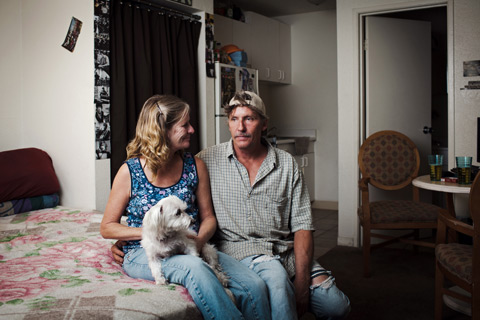 Above: Eddy and Jody spent nearly ten years living in the storm drains under Las Vegas. Being homeless they found that the tunnels offered the best chance of security, privacy and in many ways a normal life. In the tunnels they were able to have bedding and possessions in a way that they wouldn't have been able to maintain had they been living above ground. The realization that they didn't want to die down there led to them slowly getting things together so that they could move out. Acquiring things such as a computer and scooters for transport were crucial in allowing them to widen their employment opportunities and get them regular work. In 2011 they moved into a single room in Siegel Suites motel. They are now looking to get a mortgage and take their first steps to owning their own property.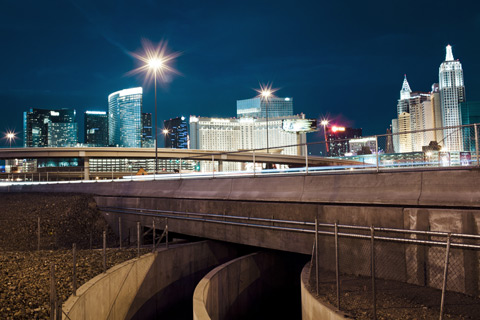 Above: Las Vegas tunnels.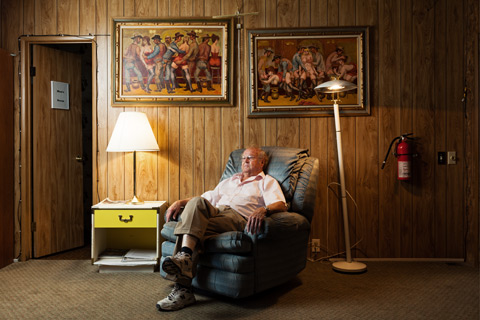 Above: Mack Moore, in his 80's, started off his working career in funeral homes and cemeteries, eventually cornering the market in the state of Oregan. But both he and his wife had a desire to move to Las Vegas and in 1997 he bought 80 acres of land outside Beatty, Nevada. The land was 79 acres ranch but with one acre which contained a 100 year old brothel, called Angel's Ladies. Mack ended up running the brothel and currently has eight girls working there. Prostitution in Las Vegas proper is illegal, but many visitors on the convention circuit will head into the desert and across county lines to find the legal brothels. In 2005 his brothel had 4,500 customers.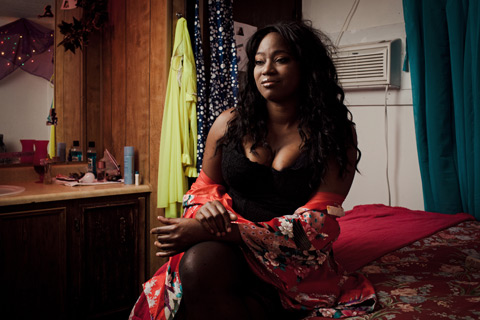 Above: Kaythryn first became interested in the idea of working as a sex worker after watching a number reality TV shows about the legal brothels of Nevada. Having always wanted to live near Vegas it seemed an appealing option to her. Formerly she had worked in administration with aspirations to establish her own company. When that failed she decided to apply to work in a brothel. She claimed to enjoy the work and felt that it managed to be a very 'family orientated' working environment, especially as the octogenarian owner, Mack, looks after the girls. Most of them live in other states and come in for a week at a time to work, which can fit around other jobs. Kathryn very much sees the work as short term; a springboard to launch another career. In order to work legally in Nevada the girls must be tested every seven days, they are registered with the Sheriff, all commit to background checks and pay for a license to work. Because of these strict health and safety measures visitors are prepared to drive the 100 plus miles from Las Vegas. Fifty percent of their customers come from the city.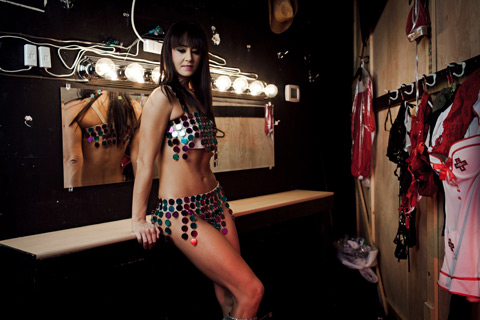 Above: Lisa Cannon, originally from Sydney, Australia, is now a Las Vegas resident working as showgirl and pole dance instructor. She always dreamed of one day dancing in Las Vegas, having already danced in numerous venues throughout the world including the Moulin Rouge in Paris. After an accident in Australia at the age 25 she was told she might never dance again, but since then she not only gotten back into her profession but she also managed to get a visa to work in the USA. Against all odds and financial issues, she was able to find employment after moving to Vegas in 2009. The sacrifice being that she hasn't been able to get home to see her family in over two years.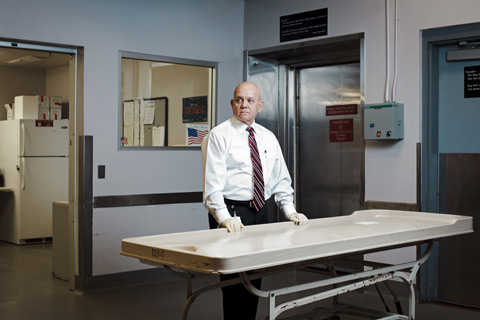 Above: As the Clarke County Coroner, Mike Murphy's office deals with all the deaths that happen in the city of Las Vegas. One aspect he has to look at is suicides; the city has one of the highest rate of suicides anywhere in the US. Studies have suggested that a high percentage of these deaths are by people who've chosen to travel to Las Vegas specifically to take their life; although roughly only one in three would leave some kind of note as to why. With the recession that hit towards the end of the first decade of 21st Century, homicide suicides also rose sharply, a situation where someone will take the life of loved ones and family before taking their own. This was tied to the high foreclosure rates and general economic downturn. With 150,000 people a day coming through a city, which is treated by many as an adult playground, it can make the life of a Country Coroner very difficult, especially when it comes to identification.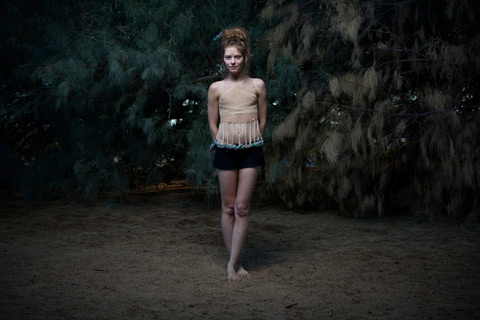 Above: Janelle, 28, poses in the shade provided by a desert oasis somewhere outside the city limits of Las Vegas, the day after a 'Moontribe' party. Moontribe, an informal collective of electronic music enthusiasts, originally formed in Southern California has no formal membership; participants gather quarterly in the Southern, Central and Northern California wilderness exclusively during a full moon. Organizers intentionally do not promote the parties commercially, having a strictly informal and non-commercial ethos, and only communicate dates and times of gatherings through word-of-mouth in a close knit social network. Despite this, Moontribe has become a well-known entity in the underground tribal dance community.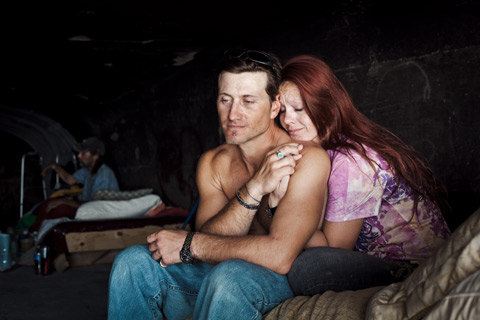 Above: Ned and D have been together for over 10 years. Moving to Las Vegas from Colorado where Ned had a successful tiling business, they fell upon hard times and were eventually forced to 'sleep rough' after falling behind on rent payments, partly caused by their drug habit. They moved into the relative sanctuary of the storm drains underneath the city where they found a sense of community they could lean on for support. To raise money they hustle on the strip, labeling themselves as 'concierges of nightlife' before retreating back underground to their home which consists of a double bed a few meagre possessions.