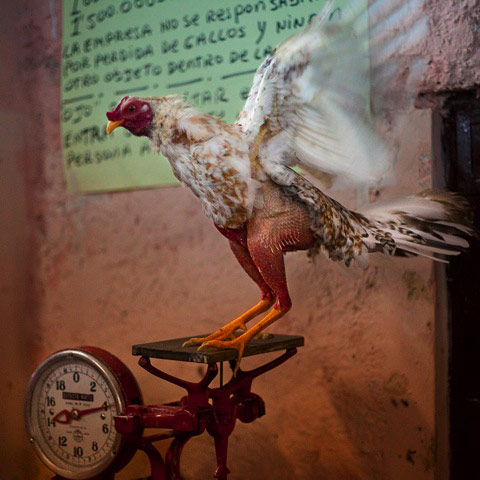 "The idea of bullfighting as an expression of culture is considered archaic to many, today. At the beginning of every bullfighting season and before every bull fight, there was a group consisting mostly of college students from all over the city demanding this 'cultural practice' be put to an end. Finally, this year, mayor Gustavo Petro announced his plans to turn the bullfighting ring into a center for culture and education. This is considered a major step forward in the developing nation of Colombia. Yet deep in the urban barrios of south Bogota, the practice of fighting cocks still exists.
"Small crowds gather on Friday and Saturday nights in halls specially designed to house these brutal fights. As I entered, the smell of the fried chicken wafted through the air. The girl sitting at the door scoured me with her eyes before permitting me entrance. I walked into the small arena and was overwhelmed by how much work it seemed to take to get this whole thing moving. It's more of a practice of preening the prima ballerina than throwing two chickens in a ring and watching them kill each other. One bird is pitted against another, after being strapped with sharp prosthetic claws made of tortoise shells, sanitized with lime, plucked up to the breast, oiled, and weighed.
"I documented as much of the event as I could as I was seeing it. This poor-man's past time is engrained into the Saturday night culture of the people who participate. Decide for yourself if it's cruelty or culture."
Fernando Decillis is a Bogota-based advertising photographer who was inspired to photograph cockfighting after reading an article about the recent mayoral decision to shut down the bullfighting ring in Bogota.