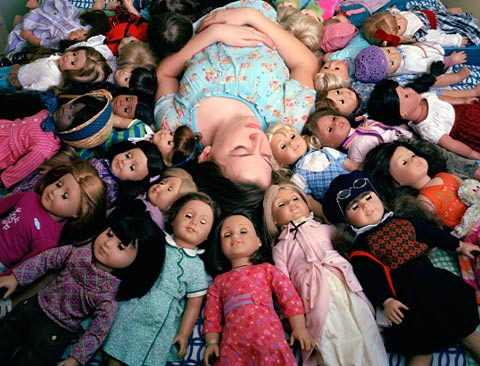 "American Girls" is a series of portraits of girls in America who own American Girl dolls. American Girl dolls are extremely popular toys for girls in America. Their design embodies contemporary cultural values. They were conceived to be "anti-Barbie" toys modeled after a body of a nine year old. Each doll can be customized to look exactly like its owner, yet all of them really look the same. American Girl dolls offer an illusion of choice therefore an illusion of individuality. The dolls become sculptural representations of girls themselves, they become their twins, their avatars. With a wide variety of miniature accessories, a doll hospital, a doll hair salon with personal stylists they are perhaps the most luxurious toys ever invented.

It is disturbing that the product- the actual doll is called the '"American Girl". It imposes stereotypes about American race. Branding behind the doll perpetuates domesticity and traditional gender roles. I examine how culture and society conditions gender and how it invents childhood. Gender becomes a performance that is again mirrored in the performance of my subjects for the camera.

Ilona Szwarc was born in Warsaw, Poland. In 2008 she immigrated to New York City where she currently lives and studies at the School of Visual Arts. Prior to attending SVA, Ilona was working in film industry as a set photographer, production manager and as a special effects make-up artist for feature films, commercials, music videos, theater, etc. Szwarc has assisted photographer Mary Ellen Mark and she is currently working in the studio of Joel Meyerowitz.