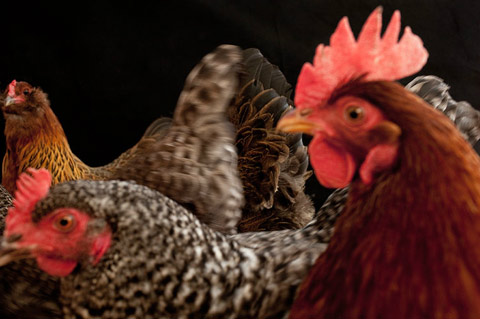 The well-publicized small farming movements are broadcasting themselves as a lived adoption of the credo that "the personal is the political (Carol Hanisch 1969)." The visibility, the witnessing, the reporting and sharing make it clear that the interest in where our food comes from, and how its cultivation effects the people and places where it is grown or raised, is not a simple matter of practicality, but also an act through which people count themselves in to an ideal of how to be a citizen of the world.

The chicken has emerged as a particularly potent focus of the shifting views carried by this movement. By utilizing an on-location studio that allows these chickens to be photographed isolated from their environment against a black backdrop, the images presented here explore this bird as emblematic of farming practices and philosophies that aim to think more deeply about our relationship with food as an ethical decision.

Aliza Eliazarov is a Brooklyn based freelance photographer and graduate of The International Center of Photography's Documentary and Photojournalism program.