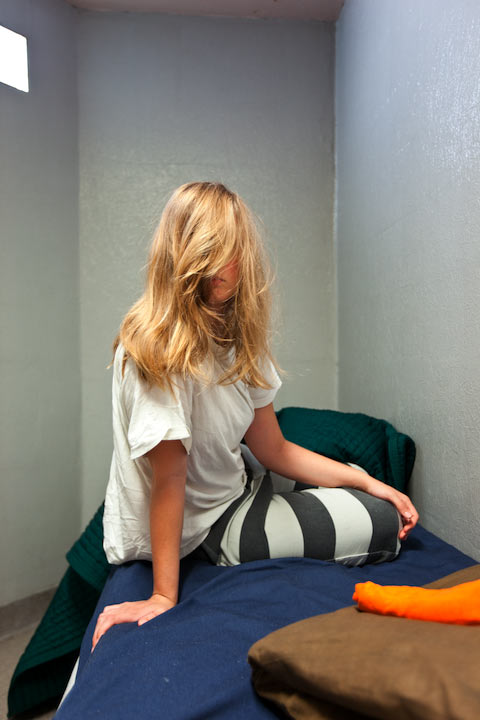 Photo by Richard Ross
Pete Brook, based in Portland, OR, is a freelance writer who focuses on the politics and social justice in photography. He writes about imagery produced within and about prisons on his own website Prison Photography. In 2011, Prison Photography was awarded a LIFE.com Photoblog Award and the British Journal of Photography recommended it among the Top Ten Best Photoblogs.

Brook is a former volunteer art teacher and working board member with University Beyond Bars, Seattle, WA. During the autumn of 2011, he made a 12-week, crowdfunded road-trip for which he interviewed photographers who've documented the rise of America's prison industrial complex. Brook is co-curator for Cruel and Unusual, an exhibition of prison photography at the Noorderlicht Photography Gallery, The Netherlands (Feb-Apr 2012). He contributes regularly to Raw File, Wired.com's photography blog.
Photo by Jon Lowenstein
What is the Prison Photography project?
'A sprawling and committed look at our shared visual culture as it relates to incarceration.

'It's a jolt to hear Prison Photography referred to as a "project", mainly because that infers I have measurable goals and possibly an end point. In late 2008, I began writing about the intersection of prisons and photography because I was compelled to do so. I've always thought of the blog as an open journal. I put down thoughts, refined and added to them over time. The claim of a lot of photography is that it is revelatory, showing us things otherwise unseen. Yet, prisons are tightly managed, closed systems so when photography comes up against prisons those claims are tested.

'I have particularly strong views about the need for prison reform, particularly in the United States, which has quadrupled its prison population in the past 35 years. The "Prison Photography project", as you put it, is an inquiry. Do photographic activities have anything to add to – or can they fuel – progressive public opinion? If I have one goal, it is to promote photography that reflects more accurately the problems of mass incarceration and tells the stories of those trapped within its walls and legal infrastructure. That goal has no end date.'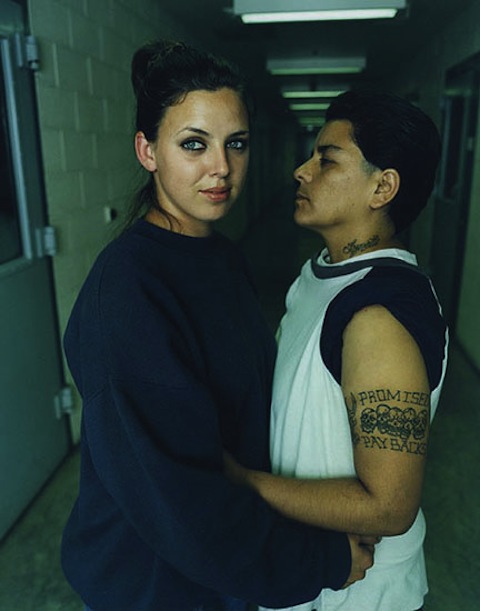 Photo by Sye Williams
You have said you aren't a photographer or an activist. What are the roles of photography and activism in this project?
'I'm definitely not a photographer. I stick to discussion. For the most part I'm revisiting photography that has already been made. I bring to it knowledge of the U.S. prison system and therefore a context. I try to guide my audience toward what they should be considering when looking at photographs of prisons. The photographers are, bar none, happy to discuss their work; often it gives it a second or third life. We behave as collaborators talking the line between their craft and the social issues their photography touches upon. So, it's usually more than art speak, it's picking apart our shared visual culture.

'I say I am not an activist, because I don't feel I am on the front lines of activism. I have volunteered with prison education programs, but I'm not lobbying politicians weekly or joining protest marches. I hope my writing may compel others to do so though. In some ways, my writing maintains a distance; it is analytical. Relatively, my activities are quite conservative. I think others speak of me as an activist because my topic is prisons, but this is a bittersweet pill to swallow. Talking about systems that lock up 2.3 million Americans shouldn't be considered a fringe or a radical act. It should be the mainstay.'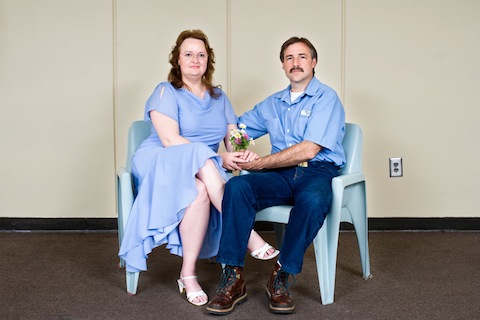 Photo by Jeff Barnett-Winsby
What is your role in this project?
'I suppose now after the road trip and the Cruel and Unusual exhibition, a defined role is more elusive. It's certainly shifting. I guess I should start by saying the editorial is all me; I'm too precious and protective to give that up. So for the blog, website, whatever you want to call it, I remain researcher, emailer interviewer, picture requester, writer, editor. During Prison Photography on the Road (PPOTR), I was a makeshift-journo, interviewer, audio editor, copywriter, "office" manager, lecturer, social media manager, and driver.

'For Cruel and Unusual, I was feature writer, newspaper editor, art installer, press interviewee, and co-curator with Hester Keijser, who kindly extended the invitation to mount an exhibition. To some Prison Photography (the blog) may have grown legs and become "trans media". To others it might be non-navigable confusing mess. It is complex. The blog will get a full overhaul to bring a structure to my ongoing research and provide audio and article archives.

'I have committed to self publish a photobook of PPOTR and later in the year plan to begin writing an academic book about photography and prisons. Last year, I decided to embrace other formats beyond the blog to share prison photography and extend the discussion in to other arenas. What makes me proud is that all this has been achieved organically as a result of putting myself and my writing out into the world through the web … and it's been done in full public view.'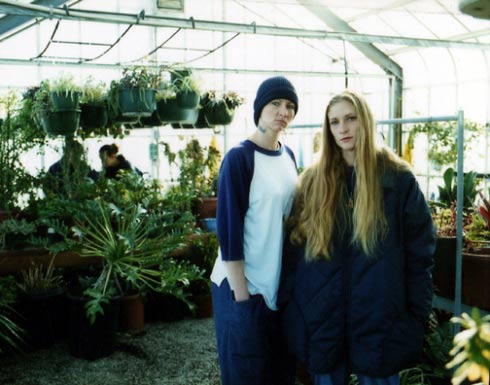 Photo by Sye Williams
You are originally from Great Britain. How does this change your perspective of the American penal system? What are the differences in the US and British systems?
'I always say that if I'd been raised in the U.S. then I hope I would still approach the issue of prisons and mass incarceration with the same tenacity and politick.

'I'm keen to emphasise that I am not an outsider criticizing the U.S. I've made my home in the States on and off for more than a decade. To me, the massive growth of prison in America is counter to common sense. The unprecedented growth has been able to continue unabated because there is little incentive for anyone to challenge it. The media benefits from ratings-winning sensational stories; politicians on both sides of the aisle are still beholden to tough on crime rhetoric – of which, the resulting policies have proven failures; and unfortunately many tax-payers don't want to acknowledge the monies wasted on warehousing people. Given the recent economic pressures we are seeing more willingness to discuss the costs of prisons, but it is sad that these conversations have come about due to financial necessity rather than a moral enlightenment. So, prisons are less invisible but they remain obscured.

'As to how the US and UK systems compare. Americans must understand their prison system is, measured by any metric, exceptionally cruel and unusual. The US locks people up at six times the rate of any other developed nation. The next on the list interestingly is the UK. Only a handful of very high profile criminals will be sentenced to life-long imprisonment in the UK. In the US, life without parole (LWOP) is not unusual. 40, 50, 60 years in prison until the day they die. It's ludicrous. I visited Angola Prison. It house 5,400 men currently. 95% of them will grow old and die within the razor wire. How does that benefit anyone? What are we thinking?

'In the UK, there is more optimism that people who have sentenced to custody can gain skills inside that better prepare them for release. In the U.S., rehabilitation as an objective was largely abandoned during the 1980s and replaced with incapacitation; that is, just lock 'em up for longer. People have to understand that 90% of prisoners will be released. Do you want angry, broken, skill-less men and women with no avenue to buy back into society? Or do you want former prisoners who've been built up with skills and esteem to move into your neighbourhood and make a positive contribution?

'The UK has seen a growth in its prison population in the past 30 years, but nothing to compare to the US. Europe knows it cannot repeat the mistakes of the US. Hell, the Secretary of Corrections in California is visiting counties in his state and telling them NOT to run their jails as the state did its prisons. That's some admission.'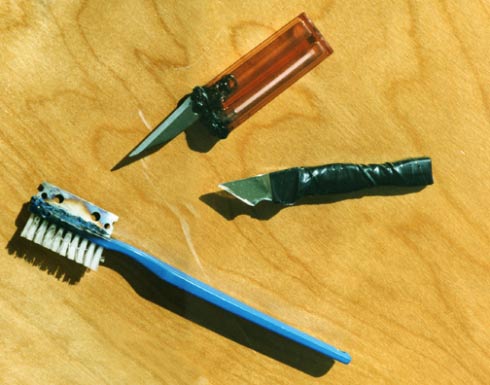 Photo by Sye Williams
The prison system feels like a closed system. It's shut away from outsiders. If change is possible, can it come from the outside? Can it come from media like photography?
'Change can only come from the outside. Granted, there are a few exceptional cases of successful jailhouse lawyers, but we must understand that prisoners and former prisoners are some of the most disenfranchised citizens in the U.S.

'Mass incarceration is a manmade problem; it can be man-unmade. That will likely only occur through changes in law. The problem is that prisoners – except in a couple of small States including Maine for example – cannot vote. Furthermore, ex-offenders with felonies cannot always vote. We can say then that a disproportionate number of the politicians and public voting on law pertaining to crime and sentencing are unaffected by the system. That doesn't mean they are unaffected by crime, but they are unaffected by prison. That's somewhat perverse; people are being sentenced for longer and longer bids due to laws drawn up by folk who have little knowledge of the system.

'One of the qualities of photography is that it is immediate and emotive in a way a text or oral argument may fall short. I hope that I can hook people with an image and usher them into the conversation. Once the conversation is underway, people are in a position to learn about the failures of the prison system; it's routine abuses, the stresses put upon correctional offices, the lack of educational opportunities, the inadequate healthcare. Simply put, open eyes may lead to open ears, may lead to open minds.

'The challenge for photographers is to firstly gain access and then secondly negotiate the power attached to sight and surveillance within prisons and successfully make images to tell a reliable story.'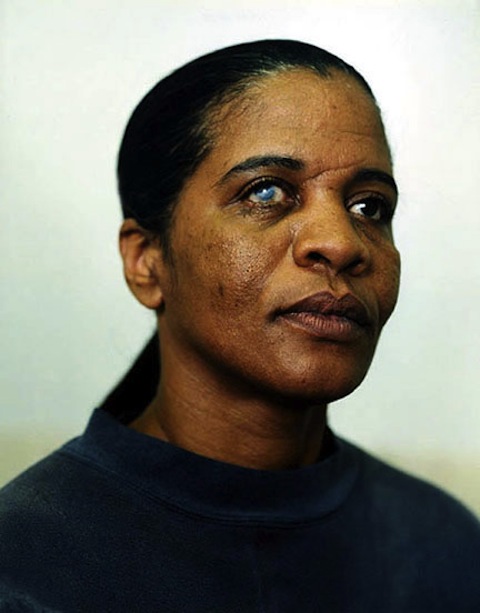 Photo by Sye Williams
In this project, which stories touched you?
'I met Jamel Shabazz. He is well known for his street photographs of New York youth, fashion and Black culture in 1980's NYC.

'Few people know that for twenty years, Shabazz worked as a correctional officer at Riker's Island. It's a part of his life he's been reluctant to talk about until recently. I'd never met a famous photographer who had actually worked within prisons and it was clear it was a stressful job for him. I opened the interview by asking Shabazz if he had posttraumatic stress disorder (PTSD) and he evaluated that he did to some degree. It doesn't surprise me. Shabazz opened up about his professional life; it was a privilege to hear.

'I was also happy because often people presume if you are against prisons you are against those who work within them. That is not how I feel. Overcrowded and failing prisons are toxic for everyone inside of them, staff included. It is unfortunate that in states such as California during the 80s and 90s the prison guards union was able to amass huge political clout and publicly buying-off politicians and bankrolling tough-on-crime legislation. It is an extreme example, but well known, and it did give reformers an opportunity to characterize correctional officers as conniving. We need to draw back from – and repair – such divisions. It might sound crazy to tell a prison guard, "Hey, prisons are bad, we should have less of them, and therefore you shouldn't work have a job," but in the long term, they'd be happier in a different, less caustic work environment.'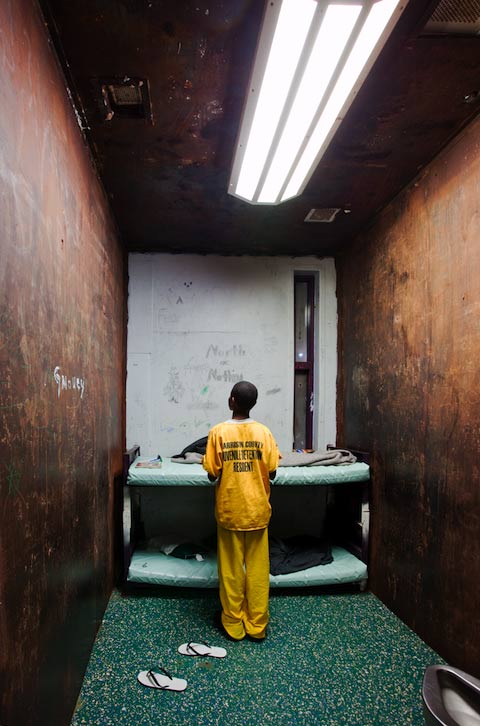 Photo by Richard Ross
Which images stood out to you?
'Any images of juveniles in prison are hard hitting; work by Joseph Rodriguez, Richard Ross, Steve Liss or Steve Davis.Truthfully, there are too many powerful images to mention. Last year, I summarised my ongoing research with 'A Brief History of Prison Photography' and you'll find many links to good works there.

'Some of my personal favorite photographers are Danny Lyon for his submersion into Texan prison subcultures of the 1970s. Melania Comoretto for her empathy with female Italian prisoners. Deborah Luster for her multi-year collaboration with prisoners, during which she estimates she gave away 15,000 portraits to Louisiana prisoners. Lori Waselchuk for 'Grace Before Dying' her noble depiction of America's aging prison population and Prison Hospice at Angola Prison, Mathieu Pernot for his clever look at family members "howling" over prison walls in Barcelona and Avignon to family members. Edmund Clark for 'Still Life: Killing Time', the first photo project on the UK's first designated prison geriatric ward. Stephen Tourlentes for his intelligent night-time landscapes; a reflection on the isolation but ominous presence of American prisons.'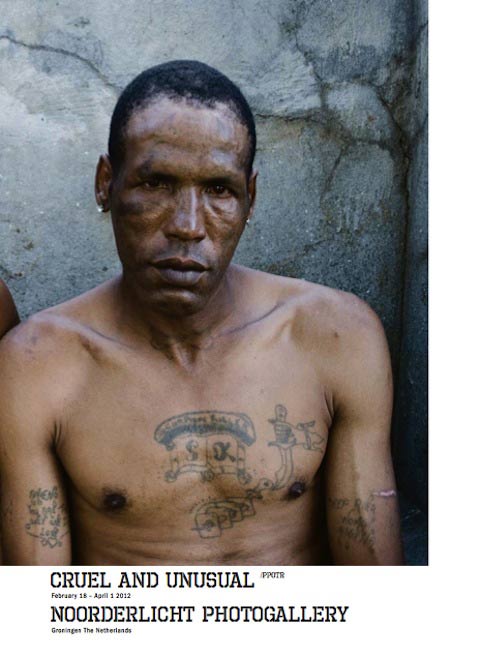 Tell me about your decision to use the blog, newsprint and gallery space to share this project?
'The blog makes sense. It is immediate and can be accessed worldwide. If anyone has opinions to make, they can no longer claim they have no way to voice them. Obviously, one must be consistent and committed to engage readers, but the web offers scope for disseminating material that has not existed before. Use it. Strategically.

'Newsprint was our attempt to mimic as best we could on paper the free availability of information Hester and I publish on our blogs. For a fraction of the cost of publishing a traditional exhibition catalogue – which would reach the hands of relatively few – we were able to put together a 32 page newspaper with information from both the exhibition and PPOTR. Thanks must go to Noorderlicht Photo Gallery for underwriting the cost. Wherever possible we've given the newspaper away for free (I distributed 100 copies on the streets of Amsterdam!) For the cost of postage, 1.5 Euros, anyone can order a copy from the Noorderlicht webshop.'
This post was contributed by photographer Greta Rybus.