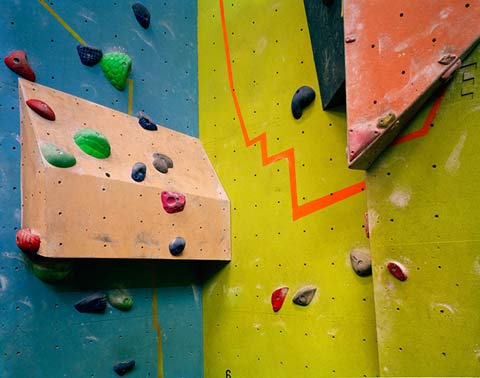 'Walls' explores the complex relationship between interior and exterior space. The conjunction of contemporary society and the artificial landscape summons a disquieting sense of reality, hyper-reality, fantasy and fiction.

Exploring the distinctions between object and representation within constructed leisure space, Wilcox's images deploy the metaphor of de-familiarisation between man and nature to suggest a place that is constructed in its own reality. These unpremeditated large format photographs of empty climbing walls, absent of the expected human activity, become estranged from their purpose. However, rather than evoke a contradictory relationship between two worlds, the strength of this work arises from the silent dialogue established between them.

Elliott Wilcox is a London based, British photographer who recently graduated from the University of Westminster, MA Photographic Studies program. His series, Walls, was most recently shown at the Bau-Xi Photo Gallery in Toronto.