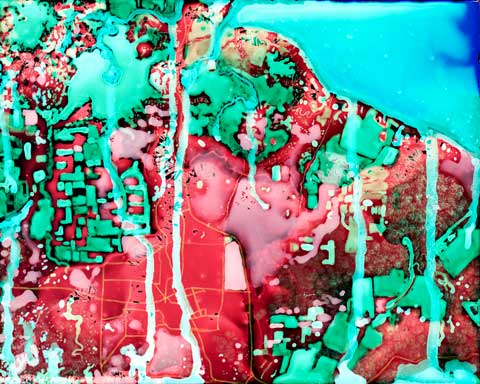 Courtney Johnson, Air I, 2011, carbon pigment print from cliché-verre, 22×27 / 44×55 / 88×110 inches
Photographer Courtney Johnson has been working with cliché-verre photography since the late 1990s, expanding on a painted negative technique first employed in the mid-19th century by painters wishing to venture into the new medium of photography. Expanding on her 2010 exhibition Glass Cities, in which Johnson created cityscapes on glass negatives using nail polish, Wite Out, and ink, her current series, Cycle of Cities, takes the cliche-verre technique to a new level by combining procedure, content, and language to form a visually arresting and haunting body of work.

Focusing her work on the collapse of major global epicenters, Johnson subjects her negatives to the same type of damage that has afflicted the city depicted in them. Through the use of battle maps or satellite topography on glass and film, her negatives are subjected to water as a symbol of flooding in New Orleans, Sumatra, and Atlantis; burning to depict fire in Richmond, London, and Nairobi; and broken glass to reference explosion in Berlin, Hiroshima, and Baghdad. The works are then titled in the native language of the location according to the disaster.

This work is currently on view at Jenkins Johnson Gallery in New York.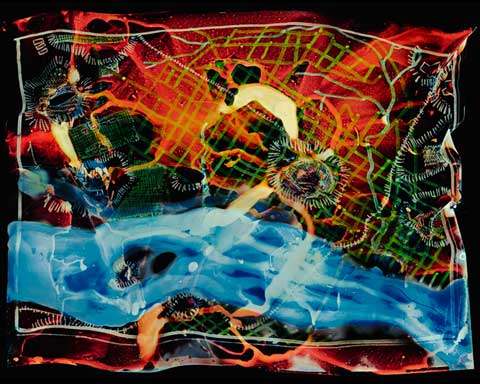 Courtney Johnson, Fire I, 2011, carbon pigment print from cliché-verre, 22×27 / 44×55 / 88 x 110 inches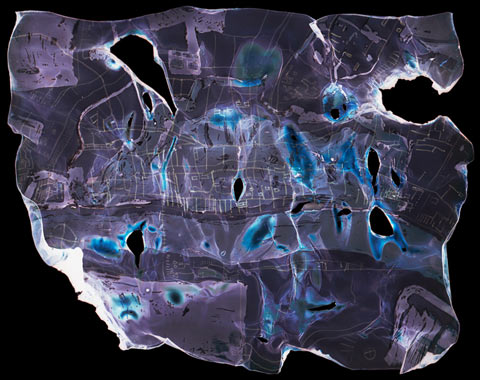 Courtney Johnson, Fire II, 2011, carbon pigment print from cliché-verre, 22×27 / 44×55 / 88 x 110 inches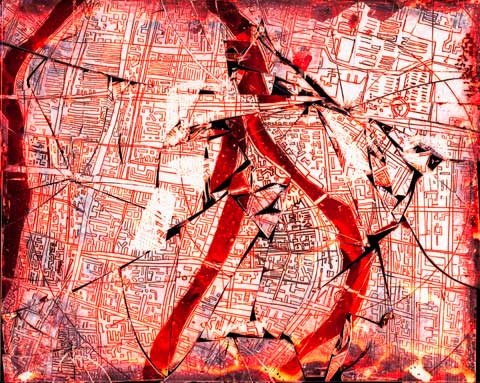 Courtney Johnson, Bakuhatsu II, 2011, carbon pigment print from cliché-verre, 22×27/ 44×55/ 88 x 110 inches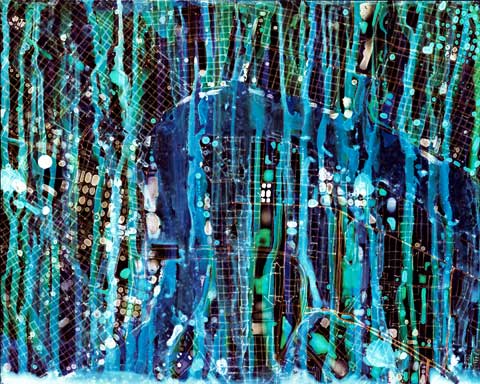 Courtney Johnson, Water II, 2011, carbon pigment print from cliché-verre, 22×27 / 44×55 / 88×110 inches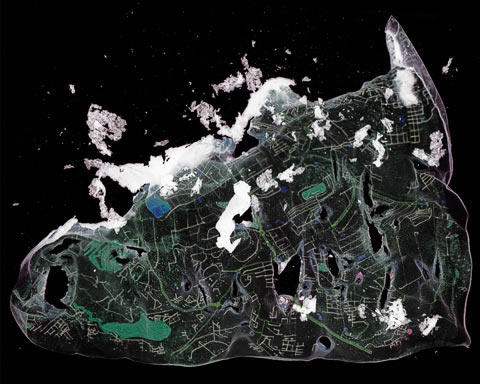 Courtney Johnson, Moto III, 2011, carbon pigment print from cliché-verre, 22×27 / 44×55 / 88×110 inches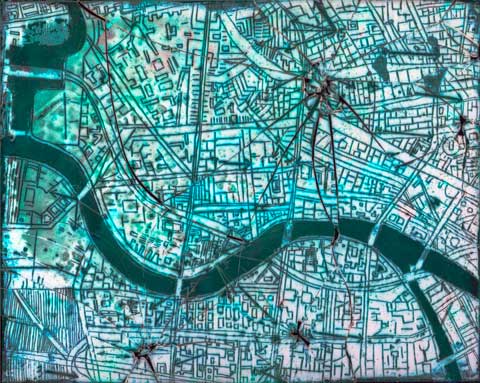 Courtney Johnson, Ausbruch I, 2011, carbon pigment print from cliché-verre, 22×27 / 44×55 / 88×110 inches