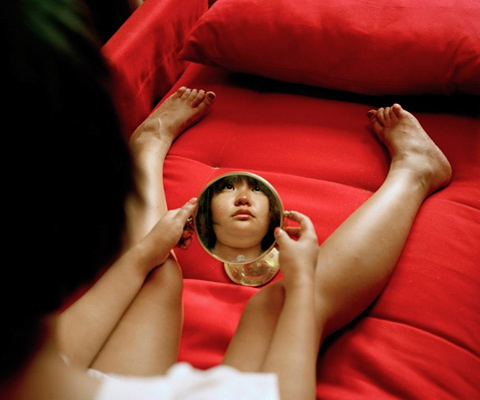 Zhe Chen is a fine art photographer originally from Beijing, China and is currently based in Los Angeles, CA. Chen graduated from Art Center College of Design with her BFA in photography in the summer of 2010. Within the past year, Chen's work has been exhibited in multiple galleries in New York, France, and China. For the past four years she's been investigating and documenting self-inflicted activities of her own and others. This work is from her Bees project. She writes:

To jeopardize existence for existence itself: 'Bees' recorded a marginalized group of people in China, who, faced with chaos, violence, alienation and irredeemable losses in life, feels propelled to leave physical traces and markings on their bodies, in order to preserve and corroborate a pure and sensitive mind from within. In 2010, having 'The Bearable' (a photo series documenting my own self-infliction in the past 4 years) as my passport, I had the opportunity to develop a close relationship with some of these obstinate souls – the bees. During the process of exchanging secrets with them, I crossed path with certain possibilities that were formerly unachieved but towards which I had struggled greatly in my personal life. I'm struck by the unyielding actions and reactions they carry on with while encountering sudden and acute emotional fluxes, and moved by the recurrent effort they make to recover themselves afterwards. No matter how different our lives seem to be, we undoubtedly shared common psychological experiences.

I intend my photographs to inquire upon society's prejudice and preconception towards this community, and not to become illustrations or pictorial evidence for the topic at hand: every subject is an individual, not just 'one of them'– his or her life cannot be predicted or dictated by any constructed social code or notion. Not everyone is strong, some are just naturally more sensitive. When the dust settles, some wave their hands and walk away, and others soak it up and digest it. When they feel weak, the bees come up with a rather alternative solution to carry them through the hardships.

I hope a first glance of my work conveys the idea of secrecy and sentiments, under which lies information awaiting exposure and recognition: like an index page pointing towards all the unanswered questions. The viewers will never be in direct communication with these bees, unfortunately. They can only see the images and read the words. What is the best way to summarize the reason for our existence? After all, we are only human. I feel responsible to be part of this dialogue.