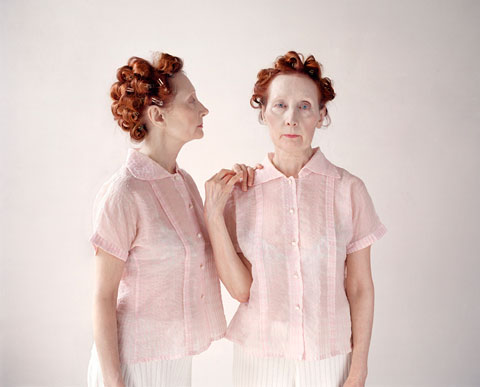 Maja Daniels is a Swedish independent photographer currently based in London, UK. Daniels studied journalism, photography and sociology, and her work focuses on social documentary and portraiture with an emphasis on human relations in a western, contemporary environment. Some of her clients include The Guardian Weekend Magazine, The Independent, Monocle Magazine as well as humanitarian organizations and cultural institutions such as UNICEF and the European Commission. She writes:

Monette and Mady are identical twins. They have lived their whole life closely together and are, as they say, inseparable. I used to see them on the streets near my house now and then but mainly on Sundays at our local fruit and vegetable market. I was instantly fascinated by their identical outfits and synchronized corporal language. When I finally approached them I was not surprised to discover that they often finish each other's sentences and that they refer to themselves as 'I' instead of 'we '.

Neither Mady nor Monette are married or have children. They live their lives closely together and have created an image as one. "If we ever go out dressed in different outfits people will come up to us wondering why we are arguing. Perhaps it has become even more important for them to see us dressed identically than it is for us."

Mady and Monette are true performers; they act, sing and dance. Somethimes they don't quite understand why I might be interested to document their everyday life. Its an interesting challenge to make them understand how fascinated I am by what seems so natural and normal to them.