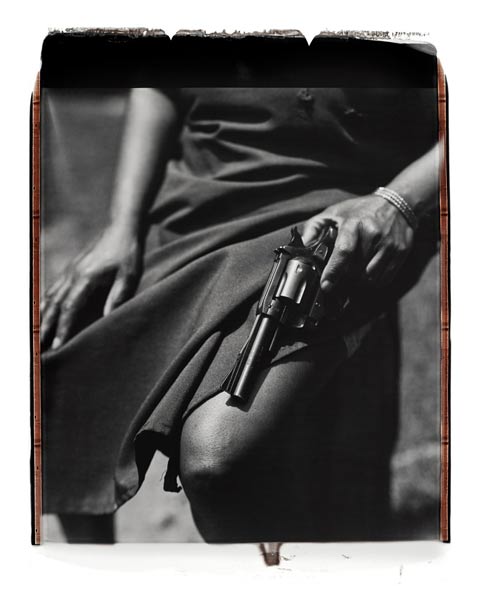 Artist Jennifer Trausch is the Director of Photography at the 20 X 24 Studio in Manhattan. The 20 X 24 Studio is built around a 239-pound analog camera that shoots 20 X 24 images on Polaroid film. There were six of these cameras built between the years of 1976 and 1978 and three of them are currently in use in different parts of the world. Despite its use of Polaroid film, the 20 X 24 Camera is no mere "point and shoot," and is rarely used outside of a controlled studio environment. The logistical complexities of using the camera make Trausch's own personal odyssey with it through out the southeastern United States a remarkable endeavor. Turnstyle News, asked her to reflect on her own powerful images of America from the series, The South, before she heads across the Atlantic to open a new 20 X 24 Studio in Paris.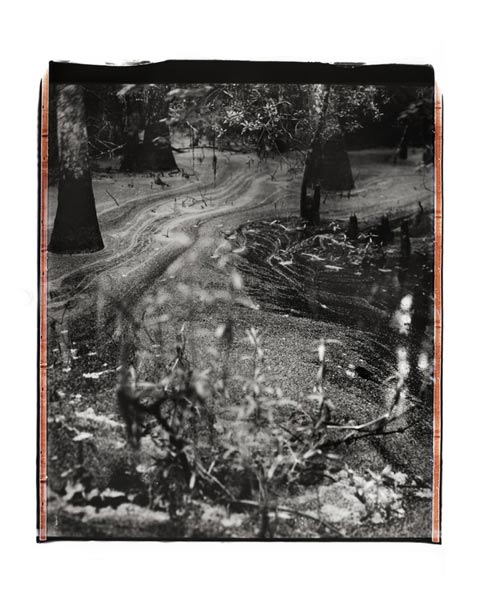 How did you come to work with the camera in New York City?
'When I was a student I took part in a semester-long internship program at the 20×24 Polaroid Studio. During the internship, I had the opportunity to play around with the camera and make some of my own work, and we bonded! Two years later, after completing my photography degree I was recommended into a position at the 40×80 Studio (with a 40? x 80? room-sized camera) where I shot and printed on 8×10 and 20×24 Cameras. Several years later, in 2003, I was asked to take over the camera at the 20×24 Polaroid Studio in Soho, a wonderfully exciting position as the New York camera was handling 70% of all 20 X 24 shoots worldwide at the time. The job was also remarkable for coming with an extraordinary lineup of 20 X 24 art clients including as Chuck Close, William Wegman, David Levinthal, Mary Ellen Mark, Julian Schnabel & Maria Magdalena Campos Pons'.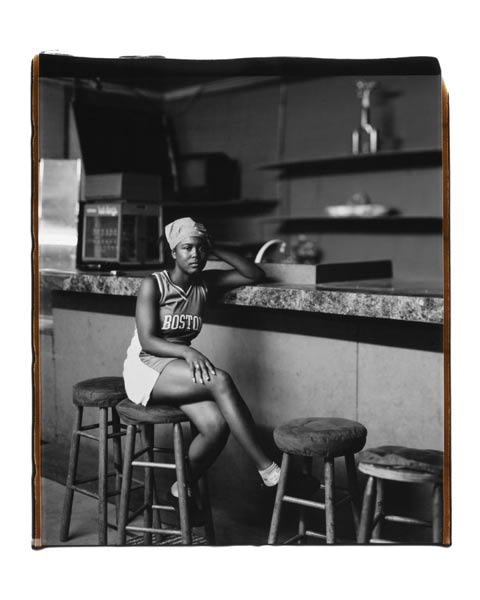 What inspired you to take the camera out of the studio?
'Over the years I watched how this static camera was always used in similar ways in the studio, mainly how people brought their ideas & objects to it to be photographed. Some of my impulse to take it outside was a reaction to this. Some was the natural reaction of a documentary photographer stuck inside dark photography studios, when she really wanted to be out in the bright world shooting! I was also curious what this awkward, albeit fascinating tool could bring to my documentary sensibility; i.e. could this camera be used freely and loosely, to see a familiar world in a new way.
'In the history of the camera there were very few people that took it out into the elements, namely Neil Slavin in his project Britons, and Julian Schnabel. Both of these artists' work gave me faith to break all of the camera's rules, to get over the hurdles of taking it outside and trust that interesting things would happen'.
Where did you take the camera?
'The project started when there was a cancellation in the 20×24 Studio's schedule that left the camera suddenly available for one straight week, which was rare. My assistant and I rented a truck and just hit the road, ready to shoot anything. We needed to choose which way we were going to drive out of New York city, and we chose south, partly because we needed warmer temperatures for the film to work outside, and partly because it was a part of the US that I knew almost nothing about, and what little I knew wasn't from direct experience'.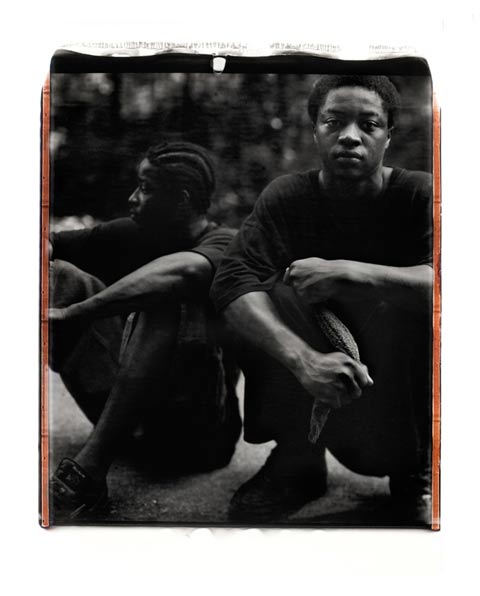 Why choose B&W for this project?
'Most of the Polaroid films available in 20×24 format are slow speed and would have required incredibly long exposures or extra lighting to work in the field. B & W is rated around ISO 400 and was able to offer the most possibilities for shooting in any condition, as its sensitivity to temperature and mixed lighting are less constraining than the other 20×24 films. So again, practical constraints guided my initial decision, but then it happened that shooting with long exposures made the B & W film a little muddier and grittier, which very much carried the feel of how I was working and how I experienced the South'.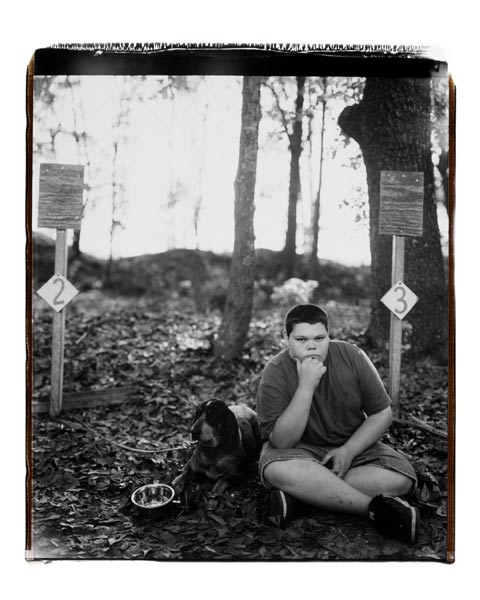 What were the responses you got from people when you began shooting down south?
'Love, hate & everything in between! In general, people were warm & inviting, especially if they were asked to take part in it. Because I was able to share the pictures as they were being made, people stayed engaged and would give as much time as was needed. There was often a small crowd watching.
'Over the five years I took shooting the project, I had plenty of other, less positive reactions from people, most memorably mistrust and suspicion. People worried that an outsider might depict them in a bad light, or that somehow sharing their lives or their image would get them in trouble or somehow bring them attention, and in some cases attention, which was, the last thing people wanted.
'Even when we weren't out shooting, in the tiny towns we were in it was usually pretty clear that we were outsiders, so we were often stared at while we ate at restaurants or drank in bars, which got really old after a while. The vehicles we drove made it even harder to blend in – we usually worked in a large truck with a lift gate on the back, and for one trip worked out of a 25 foot RV. Hardly anyone knew what to make of us, but their suppositions were by turns amusing and insulting – people confused us for being filthy rich, undercover cops, dykes, the Bloodmobile, salesladies, people running from the law, and on and on'.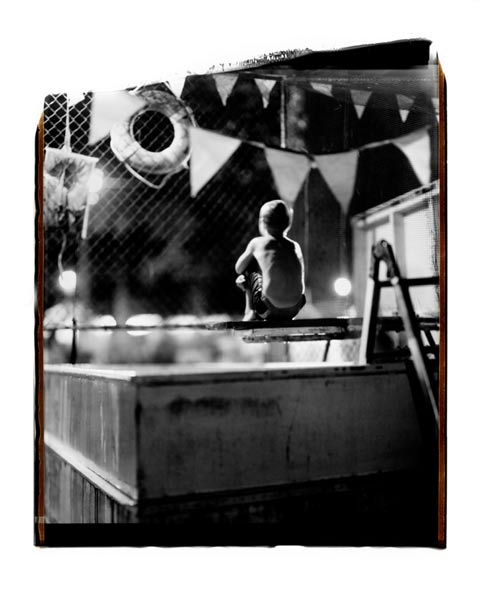 To what degree, if at all, did you see this as a documentary project?
'The premise of the trip, at least initially, was as a documentary project, to talk about a broad place at a particular moment in time. But then the images evolved into stories of that place, less as facts, more as loose vignettes that left room for your imagination.
'The project also didn't end up as just a survey, recording some particular aspect of the region – It was much closer to a record of the particular kinds of experiences we had in this place, with this giant camera. I wouldn't point to the project and say 'this is a project about rural life in the south, or about poverty, or race, or ruin', or anything like that. I didn't go into it knowing what I wanted to shoot either, like I had for my previous project, Skateland. The images for this project came about so randomly, so serendipitously, and we just tried to be as open as possible, both to the intriguing things the south put in front of us and it's effects on us personally over time, both good and bad'.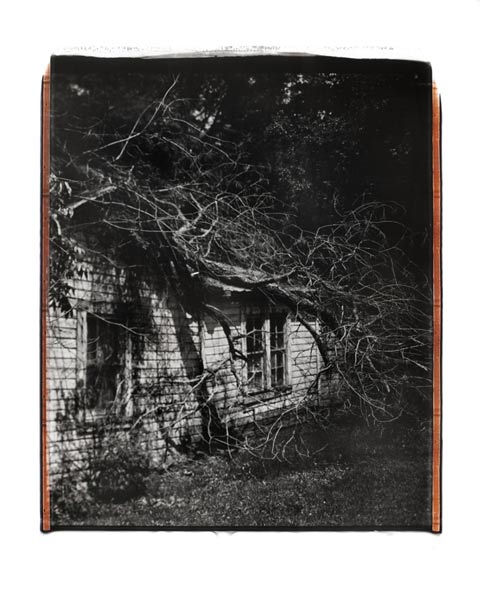 What draws you to working with large format Polaroid film?
'I started as a painter and for me the large format Polaroid medium carries a feeling and sensibility that is aligned with how I see. These films have an incredible mix of crisp detail and painterly softness. The process involves making a contact print from a giant negative, and because it is a diffusion transfer process, the silvers or color dyes that are pulled over to the paper are softened within this process. The instantaneous way of working and sharing with whomever I'm shooting is also important. While you can equate it to a digital way of working, in that you see and build an image as you work, there is nothing like doing this at a full scale print size; You really know when you got it'.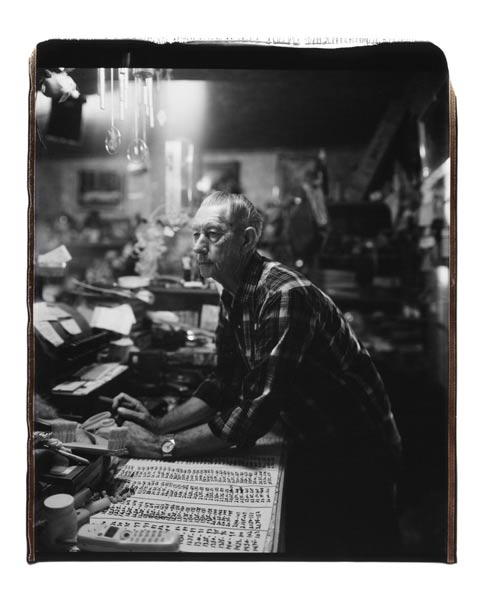 Describe the process of locating subjects on the road and convincing people to let you take their picture.
'I purposefully chose not to produce these shoots that the camera and I would find our way; this is romantic almost to excess, which I now know. Working this way meant that it was a mix of wandering and always looking to serendipitous connections where one shoot would lead to another. So as to not feel too lost, my assistant Kim Venable and I would make a list of things we were looking for – traditions and customs, everyday activities, common foods, etc. What I chose to shoot also reflected what we had access to in our life on the road – public meeting places such as general stores, the ubiquitous steam-table buffets, beauty salons, church picnics or the local snow cone truck.
'Lastly we tried to shoot things that reflected our own experience of these places. For example, our life on the road was greatly affected by the elements – Water, wind, weather, soil and every kind of bug known to man were, for better or worse, a big part of our life on these trips, so they naturally became one of our themes and something I actively tried to include in the body of work.
'In terms of asking people to take part, I was always honest with people that I was an artist shooting images in the South. In terms of when to bring the camera out, I used intuition. If people seemed wary of working with us, I would spend hours talking to them before attempting to bring out the camera for a shot. If people needed a lot of convincing, it usually wasn't worth it. Although there were exceptions to this, for instance when we waited three days for Maxine, the no-nonsense, gun-wielding owner of the town general store, to get comfortable enough with us to take out her gun for a shoot'.
Where has the series been seen since you finished the project?
'I let it sit and settle and breathe for six months before I tackled the editing. It's been good to give a project time, as the shooting itself was intense and draining both mentally and physically. Pieces go in and out for exhibitions, and I am pulling together the edit for a book. Most recently it showed at the Flanders Art Gallery in Raleigh, NC. The next solo exhibition will be at Snite Museum at the University of Notre Dame in January 2013'.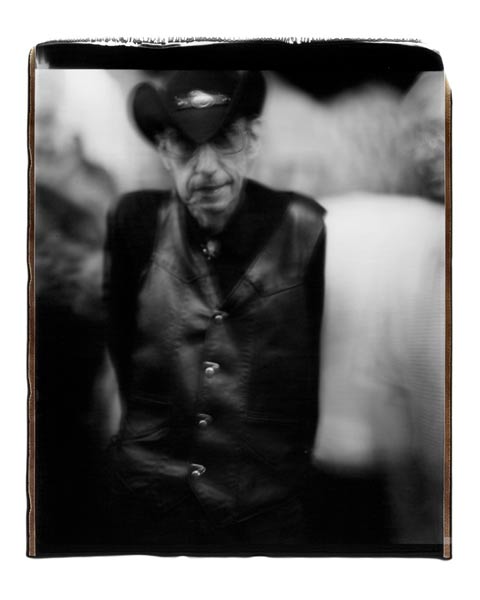 Read the rest of the interview with Trausch on Turnstyle News.