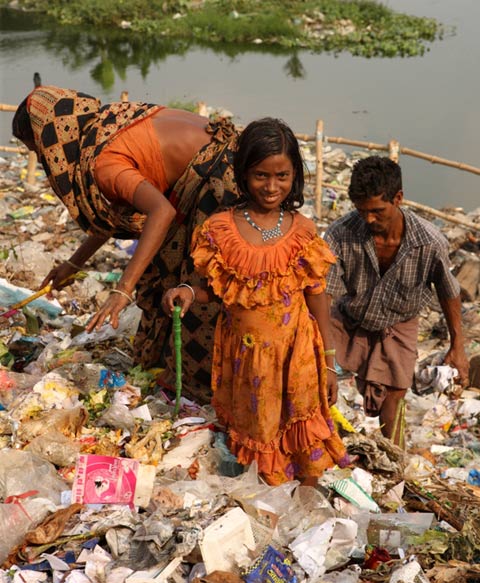 She and her parents were picking through a massive pile of garbage in the Karail slum in Dhaka. The parents didn't seem to notice me, but she did and smiled as I took the photo.
Henry Rollins, frontman for both Black Flag and Rollins Band, has been traveling the world for more than a quarter century. In recent years, he has decided to document his travels, which have taken him to countries such as Afghanistan, Bangladesh, Iran, and North Korea to name a few. His first photo book, Occupants, has just been published by Chicago Review Press.

Rollins' writes: 'Many years ago, I started working on a collection of photographs for eventual publication. I do a lot of traveling and as much as I write when I am in these places, a photograph speaks a different language, so I started hauling camera gear around with me everywhere I went and documented moments as best as I could. At some point, I upgraded my gear and took a lesson from a woman named Maura on basics and eventually started shooting in manual.

'As I traveled and took more photographs I came to the conclusion that the book had to be more than merely a collection of images. If you are a real photographer, you could perhaps get away with that but not me. I am not a photographer, just someone with a lot of visas in his passport and a camera on his shoulder. The last thing I wanted was for someone to think I was being pretentious. I thought about what I could do to make the book be more time intensive on my part, so there would be more for the person who endeavored to get the book. I came to the conclusion that I would write something for each photo. In fact, I would write two things; an impression of the photograph and a caption that provided more of the practical information about where the image was captured'.

The captions below each photo are written by Rollins.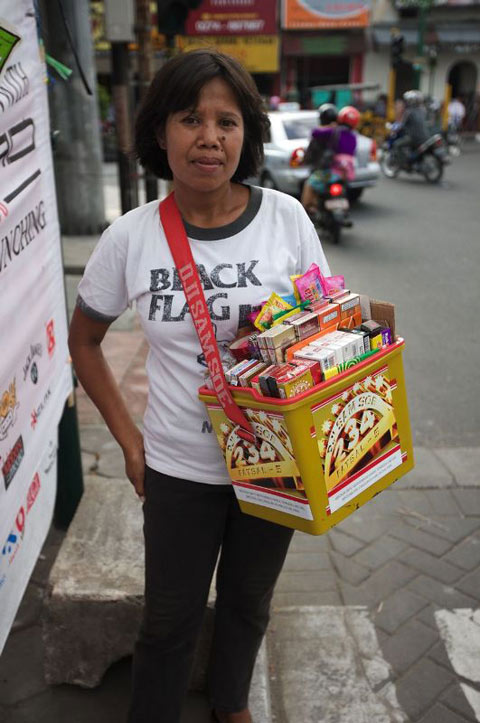 I saw this woman walking toward me in the Yogyakarta and noticed her T-shirt. At that moment, two teens on a motorbike recognized me, pulled over, and asked me what I was doing in town. I asked them if they would explain the T-shirt to the woman and how strange it was for the two of us to be passing in the street. After she was told, she just gave me a blank smile and kept walking.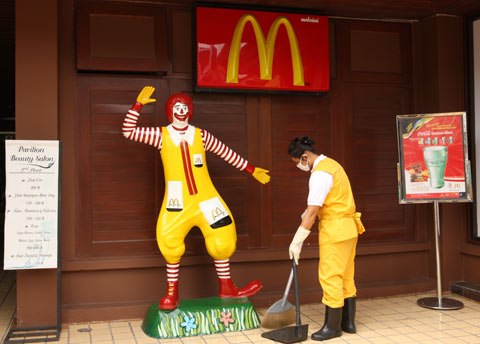 I hope it burns to the ground.
You've photographed many people in far flung destinations such as Africa, Iraq, Syria, Iran and Mali. Did you travel specifically for this project or were these images taken in your free time during a business or personal trip?
'I go to these places to explore and a large part of that is to get some interesting photographs. I walk all over the place and usually have a camera with me, so I photograph what and whom I encounter'.
Did you have a specific concept or idea that you wanted to get across when you began this project or did that come later through editing?
'I wanted to bring people from the USA a little closer to other parts of the world. I think we sometimes have too great a distance from other countries and cultures. This is where ignorance sets in and nothing good comes from that'.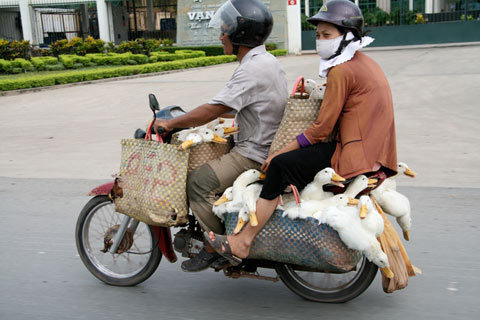 I was returning to the Ho Chi Minh City from the Cu Chi tunnels and saw a man on a motorbike overloaded with ducks. I had never seen anything like it. I kept my eyes peeled to hopefully see another example of this and moments later, I did. I hung out the window and got the shot. The couple on the bike thought I was funny; you can see them laughing. The expressions on the ducks' faces seem comical to me. I don't think they would look so excited if they knew where they were going.
I read that you travelled to Pyongyang, North Korea for a week. How were you able to do this and what was your experience once you were there?
'It took two years to get the visa. I was told that about one hundred Americans or less go to North Korea a year. It was a propaganda tour, basically. Kim Il Sung invented mathematics, the solar system, agriculture, water, etc., and everybody's happy. There's really nothing to argue with, you're in their country, so you just listen and nod. It was an interesting and depressing experience'.
Now that the book is complete, will you still continue to photograph people you come across during your travels?
'I am a good way into work on the next photo book'.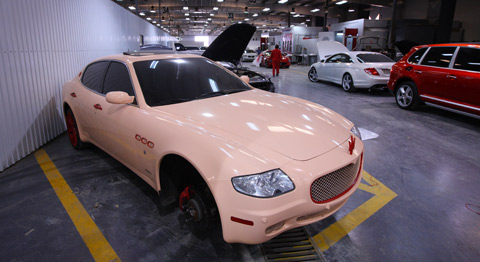 It's custom inside and out. For hours, men on employment visas in Riyadh labored to make this car utter perfection. A car for a princess, literally. Unfortunately for her, sharia law does not allow the Saudi princess to drive this car. She will have to drive it illegally. What a princess wants, a princess gets-except the right to drive.