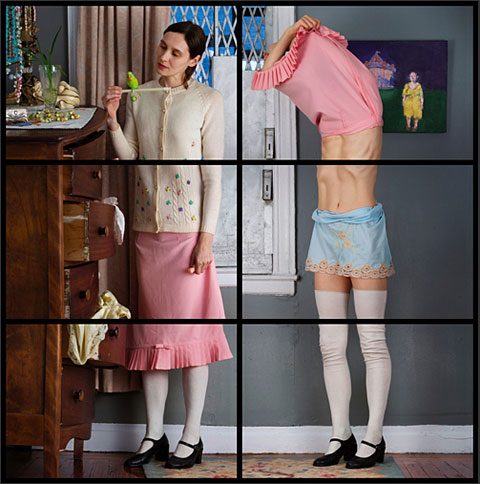 Cornelia Hediger was awarded a Master of Fine Arts from the Mason Gross School of the Arts at Rutgers University. Her work has been widely exhibited in the US, as well as internationally and in 2009 she was awarded a PDN's 30: Emerging Photographers to Watch. Her photographs have been featured in New York Magazine, HotShoe, Vision Magazine, Photography Quarterly, Photo+ and Phat Photo amongst others.

This work, Doppelganger II, is currently showing at Klompching Gallery in NYC.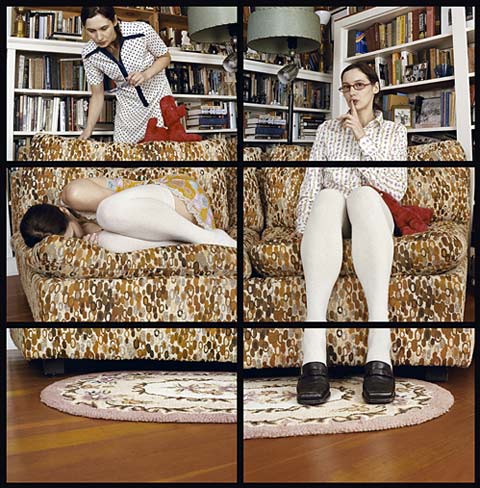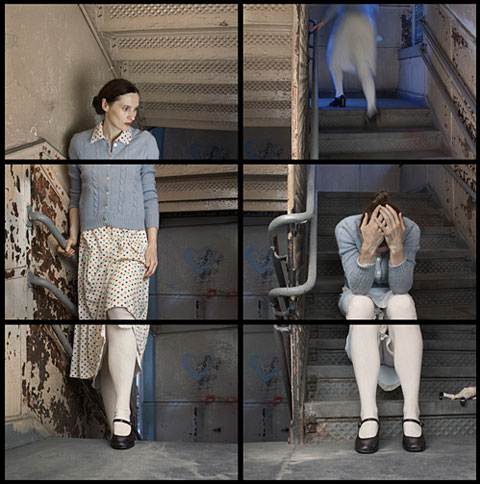 You recently completed your Döppleganger II series, how would you describe your vision for the project?
'In 2004 I started the Doppelgänger project. I was interested in exploring the concept of the Doppelgänger in a broader way. Doppelgänger in German means 'double walker', it is a ghostly double of a living person, an omen of death and a harbinger of bad luck. The idea of the Doppelgänger also allows me look the alter ego, the conscious mind vs the unconscious mind, inner conflicts, the duality between good and evil and split personalities – the concept gives me plenty of material to think about and work with.
'The first part of Doppelgänger was created between 2004 and the beginning of 2008. It took me several years to master the technique of shooting single images and putting them together in a grid to create one composition, one environment. Even though the earlier work was carefully planned out, it was more spontaneous then Doppelgänger II. In Doppelgänger II I started to make more elaborate sketches and drawings of the set I wanted to create, often weeks in advance. At times I would create the set by transforming my apartment into a set. I would paint the walls, put up wallpaper, install lamps where there are none, order area rugs and move around furniture to create new images. The more recent images are perhaps more narrative and the props and dresses are chosen carefully. I felt that I have mastered the technique by the time I started Doppelgänger II and could concentrate more on the mood and feeling I wanted to get across. The method of photographing single images and putting them together in a grid, not only allows me to distort the space and the body, but I am also able to break up the self, as in a split personality'.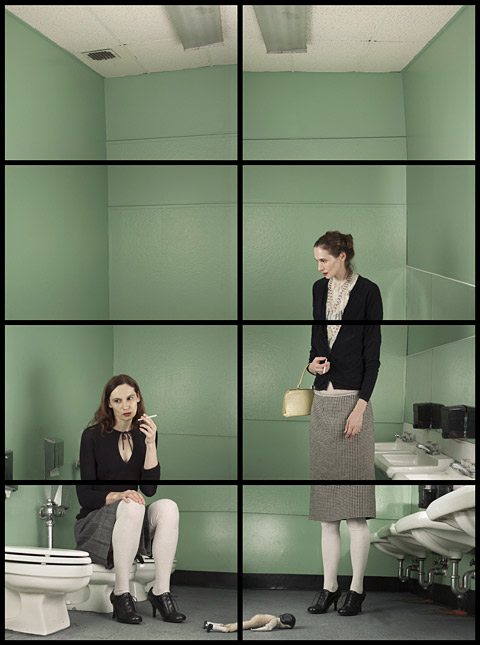 You also portray the characters in each of the pieces. What was it like being both artist and subject?
'I use photography as a visual diary. The inspirations are drawn from my own life. From the very beginning, when I picked up a camera in College, I immediately turned the camera on myself. For many years I would photograph my body in motion, either cutting off my head or blurring it out. This way of working felt right at the time as I felt very much in flux and not grounded at all. The Doppelgänger work as well, is a reflection of my own life and it would not feel right to use a model to act through my own emotions. On the other hand, a 6 panel image take anywhere from 8 to 10 hours to shoot. The larger set, Doppelgänger 2.22.09, a 12 panel image, took three days, morning to night . Any model would throw up their arms and walk off the set in disgust – these images take a very long time to do. Not only is it a slow process to create these photographs, I also prefer working on my own. I do everything myself; prepare the sets, do the lighting and stand in front and behind the camera. I would not feel comfortable to have anyone around me when I work'.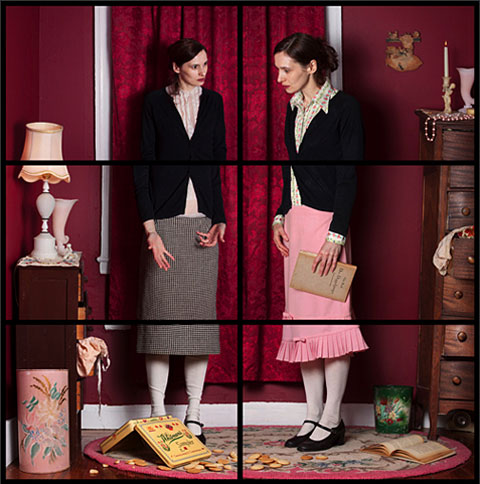 You've just launched an exhibition of the work at the Klompching Gallery in NY. Since the process and images are very personal to you, how do you think framing the work in a gallery context affects the narrative?
'I have a strong desire and need to create artwork, as most artists do. When I started the project, in 2004, I had no idea that it would end up in a gallery, I didn't produce it for a gallery setting, having the end result in mind. I created this body of work because I am fascinated with the subject and I needed to go through the process of exploring it. Having said that, I am trained as an artist and eventually I do create work for the public to see. For many years I would only show the photographs to close friends of mine. The images at the time were the size of contact prints and the set fit on a 5×7″ card. The work is very personal and it took me many years to actually allow the images to go larger. I don't believe that one should push out work prematurely, not only does the work have to be ready, the artist has to be ready as well and I wasn't until the end of 2007, when I started to show the Doppelgänger series'.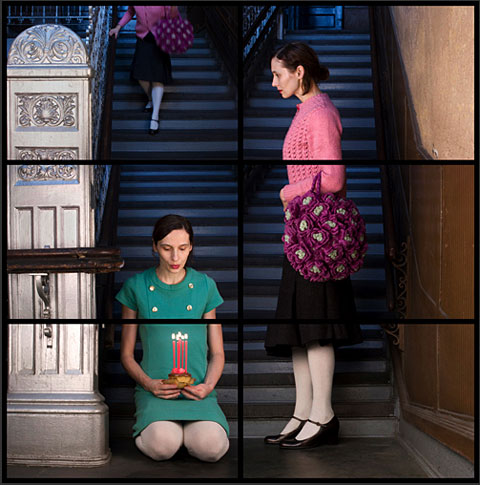 What has the feedback been like?
'The exhibition just opened the other night and it is too early to talk about the reaction and feedback. The feedback at the opening was very positive but only a day has passed since the opening so I think time will tell. The work is out there and I stand behind every single image so there is nothing I can change at this moment and I wouldn't for that matter. I think now it is important for me to look at this body of work and reflect on it. There are always things that could have been either better or different but I feel that it was crucial for me to create every single piece in the exhibition and it is important because I learned something from it and that is what it is all about'.