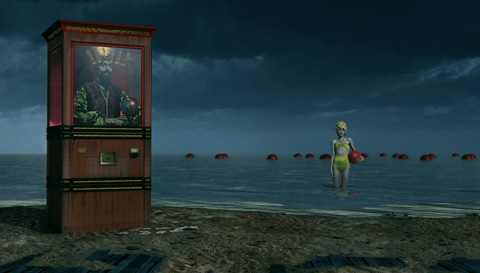 Before becoming a professional photographer, Matt Hoyle was a Creative Director in advertising. His photography has been recognized in Communication Arts, PDN Photo Annual, and D&AD. He's been selected as one of the 200 Best Ad Photographers by Lurzer's Archive, and has appeared multiple times in the IPA Best of Show. His work has also won a Cannes Gold Lion. Matt's clients include Saatchi & Saatchi, BBDO, GSD&M, Rolling Stone, New York Magazine, Wired and Fast Company among others. This work is from his new personal series, Barnumville.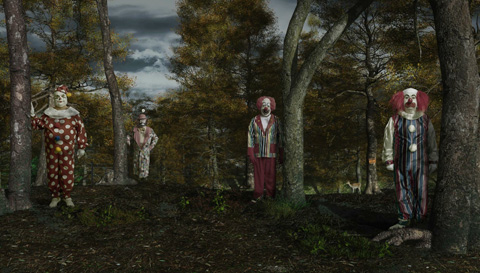 Your most recent series, Barnumville, depicts a city inhabited by sideshow performers.  What inspired this continuation of your previous series, Barnumvillians, in which you shot portraits of said residents?
'I've always thought of myself more in terms of creating stories. Having been a copywriter in advertising I was used to conveying sentiments in terms of words and narratives so it never feels quite right shooting something without trying to get something beyond an aesthetic. With Barnumville, I knew circus freaks and sideshow performers where inherently interesting for a simple black and white, with their unique physicality. But I also loved this mythic world of the sideshow which is actually based on reality. Before it was politically incorrect to make a living off or ones so called deformities or uniqueness it was actually one of the mainstays of entertainment. Barnum was one of the world's greatest showmen with his stable of stars. I wanted to base this series on a 'what if'. What if there was a town totally inhabited by these special people. How twisted would it be'?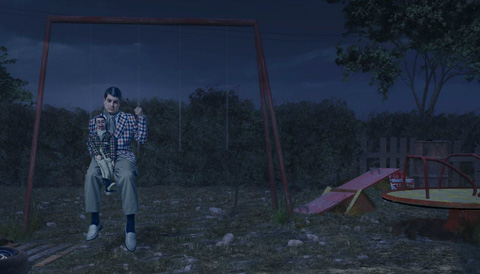 Your portrayal of Barnumville is the result of blending elements of reality with your fictitious photographic representation.  In many respects, the entire project seems to be the result of manipulation; what inspired you to take in the direction you did?
'I love nothing more than story. In my entertainment work and editorial I light dynamically and direct the subject so that even with a white backdrop, there's something there that's interesting. I like the challenge of getting something that keeps you looking with just the subject and at most a simple prop. You can see that in my celeb folio. But when I get to play in my personal work and utilize whatever resources are available, I don't want to limit my storytelling if i'm wanting a particular scene that would otherwise be too expensive finding and shooting on location. I will get what I can in shot. I'm a portrait photographer first so there will always be a photo of my subject. But if I have to composite something to add to the story in my personal work, I'll use that to my advantage'.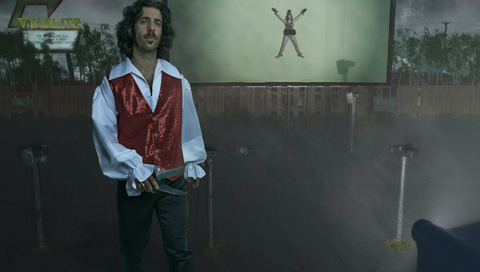 There is also quite a descriptive written story that accompanies the project and sets the scene for body of work.  What roll do you think this particular piece of writing played in the overall success of the series?
'I was a copywriter and they say that every copywriter is a failed novelist. Well I guess the same way that I utilize CG or compositing for my backdrops I also use words when applicable. I wanted to give a back story so there is a context.  Certainly you can look at each photo and get a sense of story you can make up yourself. But in this instance I wanted the depth of the story to have a context. The way I envisioned it. I even reached out to the likes of composers to write music when I was thinking of making Barnumville its own microsite. David Lynche's composer, the wonderful Angelo Badalamenti, and even the Movie Amelie's Composer Yann Tierson were interested in contributing. The idea would have been to have a unique piece of music accompany each scene.  I got too busy last year and it become to big of a commitment to get such a site up to the level I would have wanted so I just concentrated on finishing the actual images'.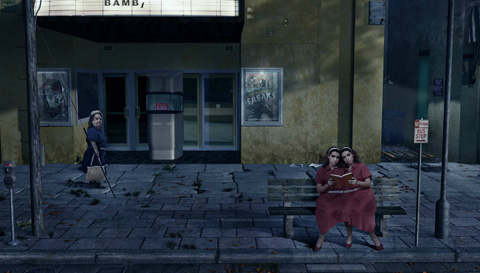 Can you talk a little about how the images were created?
'I did the shoot in studio with each talent and a rough sketch layout. Shot against green screen as I've always done with my personal work.  I then cut the hero shots out and imported them into my CG program and created each scene around them.  Once I had that scene built and rendered I shot key areas such as woodland or water etc…and composited them into the scenes before doing a final finish.  I wanted to keep a subtle theme with the series so you'll note a red and white palette in some of the elements'.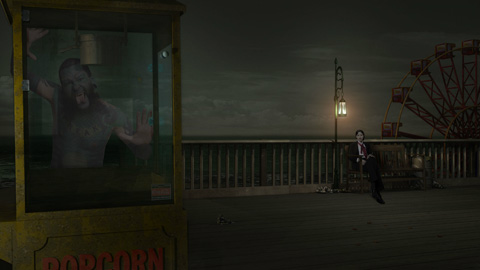 What was the feedback about the series like from the performers you shot?
'The feedback I got on Barnumville black and white portraits was the best I've received since I shot my Iceberg Winter Swimmers back when I just started my photography. The longer winded answer is that there are two parts to my work, and I've seen there are two types of people who like my work, of those who actually like the work at all. First is the purist where my simple closer portraiture work like Iceberg and Barnumville black and whites, as well as my Yesterday in America series get favored. Then there are those who enjoy the more imaginative works like my Barnumville scenes, fairy tales, and Cinemaricana Film Noir series. They aren't looking for what lens I used or if it's pure and no post. They are looking at the work from a piece of art/story perspective – does it move them or take them somewhere emotionally.
'I don't create any work to appease the viewer, it's just that I seem to like the variety for the simple portraiture balanced with more layered storytelling, which is why I'm pushing myself into tv and movie key art, the ultimate in great design and simple storytelling'.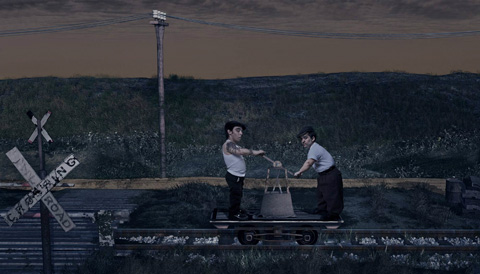 Your work encompasses a range of fine art, portraiture, and advertising areas.  What's it like transitioning from each of these and do you have a favorite genre to work on?
'I'm a hyper, I call it passionate, photographer.  I thrive on activity.  Therefore the variety of shooting a big ad campaign one day, a network tv poster art shoot another, a simple no budget editorial with a good personality another, and then personal work where I get to control, with my awesome team, the entire project; it's never boring. I do have to switch modes.  I find that for different markets the clients are attracted to different areas of my work, ad agencies like my quirky punchy stuff, entertainment and editorial, my ability to direct talent and get good performances, and so even the way I act and shoot is different depending on the client. As for my favorite genre, right now it's entertainment portraiture.  Working with well known talent who know how to take directions makes my work look all the better'.