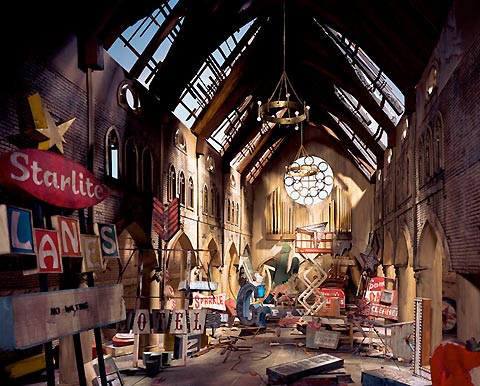 Born in Norton, Kansas, New York-based Lori Nix was awarded an Ohio Arts Council Individual Artist Grant as well as a 2004 New York Foundation for the Arts Individual Artist Grant. She earned a BFA in photography from Truman State University, Missouri, and attended the MFA program at Ohio University. Her photography often examines the boundaries of where city and rural landscapes meet.
The visual narrative throughout your work has a unique, almost eerie feeling. What inspires you to tell the stories that you do?
'I am interested in depicting danger and disaster, but I temper this with a touch of humor. My childhood was spent in a rural part of the United States that is known more for its natural disasters than anything else. I was born in a small town in western Kansas, and each passing season brought its own drama — from winter snow storms, spring floods, and tornados, to summer insect infestations and drought.
'Whereas most adults viewed these seasonal disruptions with angst, for a child, it was considered euphoric. Downed trees, mud, and even grass fires brought excitement to daily, mundane life. As a photographer, I have recreated some of these experiences in the series Accidentally Kansas'.
'I am fascinated, maybe even a little obsessed, with the idea of the apocalypse. In addition to my childhood experiences with natural disasters, I also grew up watching 1970s films known as "disaster flicks". I remember watching Towering Inferno, Earthquake, Planet of Apes and sitting in awe in the dark.
'Here was the same type of dangers I had experienced day to day being magnified and played out on the big screen in a typical Hollywood way. Each of these experiences has greatly influenced my photographic work. The series Accidentally Kansas explored my personal experience with the natural disasters of my childhood.
'The City postulates what it would be like to live in a city that is post mankind, where man has left his mark through the architecture, but Mother Nature is taking back these spaces. Flora, fauna and insects mix with the detris of high and low culture'.
There's obviously quite an art to both creating the dioramas as well as photographing them. What do you enjoy most about the process?
'I enjoy all aspects of the process, but I'm most keen on coming up with the idea and researching the topic. I mostly research images through books or with a Google search. Then I try to forget what I've seen and just start sketching my ideas, figuring out where the camera lens is going to look and what will comprise the entire scene'.
You started working on your series The City quite a few years ago, and it has recently been exhibited in various locations. How has this project developed over the years? Is it something you are still working on?
'I began The City in 2005. I completed part one in 2007 and part two in 2010. I'm currently working on part three and then will close this body of work. I hope to be done in 2013, but if it extends to 2015, then I will have worked on it for a decade. By then, it will definitely be time to move on.
'Each scene takes a very long time — anywhere from three months to fifteen months, depending on the scale and detail of the diorama. I work on two simultaneously, and finish about three a year. I'm already researching my next body of work, but I'm only in the "thinking about" phase. I should begin working on it in three years or so'.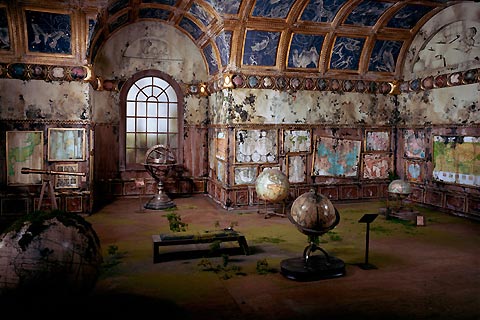 How do you come up with the scenes and are they based on real locations?
'I work narratively, so I have a list of possible dioramas to build. I'm inspired by several things. I just let the surrounding city have its impact on me. That is when I'm open, looking around, and taking in my surroundings I walk with my head down and lost in thought way too much.
'I also take inspiration from reading the daily newspaper and several magazines that I subscribe to. I usually get my ideas during my morning subway commute, usually as I'm crossing over the Manhattan Bridge. Something about coming out of the dark and into the morning sunlight while standing among the throng of other commuters puts me in a magical state of mind and an idea comes.
'I immediately write it down, and if I'm still thinking about the idea a month or two later, I'll really start thinking about it as possible photograph.
'These images are never based on real locations, but rather an amalgamation of locations. If I were to construct something that already exists, I'm afraid I would fail miserably. I do as much research as possible. For the Laundromat, I visited them not only in Brooklyn and Manhattan, but also in Ohio, Missouri, and California. Laundromats all look the same wherever you go'.
What can we expect to see in the future?
'More of The City, then I think I might return to landscapes again. It might be time to get outside by then'.