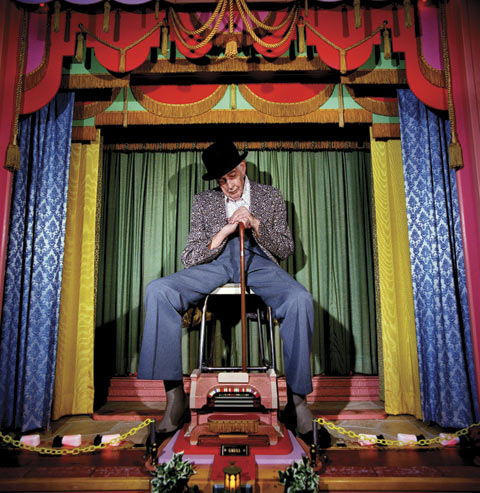 Kendall Messick is an artist who works with photography, film, video, and other media. His award-winning documentaries have been featured in various film festivals and have been widely broadcast on PBS stations. His photographs can be found in the permanent collections of the Museum of Modern Art in New York City and the Smithsonian Institution in Washington, D.C., and have been widely published. 'The Projectionist', which documents the life and work of outsider artist Gordon Brinckle, has just been published by Princeton Architectural Press.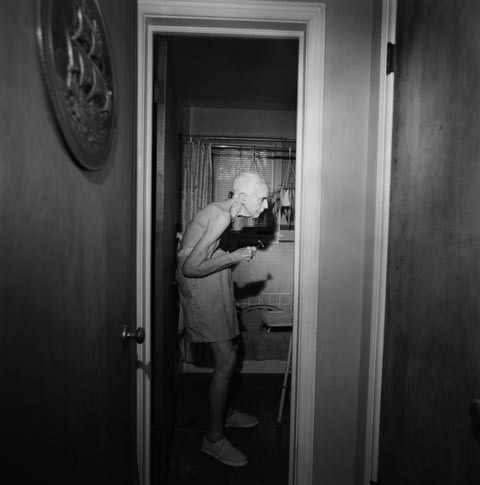 You've dedicated almost ten years to Gordon Brinckle and his amazing Shalimar Theatre, which he meticulously designed and constructed in the basement of his 1950s home in Middletown, Delaware. What makes this story so special for you?
'I found Gordon's story to be inspiring, for, despite what might have otherwise been insurmountable obstacles, he persisted in realizing his dream of owning and preserving the movie palace experience by creating it in his basements. His ingenuity, consistent vision and dedication to this pursuit led me to feel a deep kinship with Gordon as a fellow artist and the fact that I was able to share and preserve his artistic legacy is both a privilege and a responsibility'.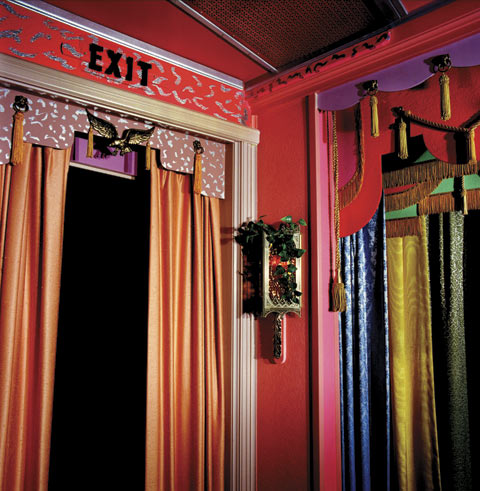 You came across this project completely by chance. It's possible that if you had not been visiting your mom at the time of the death of the Brinckle's daughter, Sandy, this series would not have been made. Is this typical of the way in which you come across personal projects?
'Actually, at the time that I was re-introduced to Gordon and his wife, Dot, I was just completing my first significant documentary film and exhibition entitled, "Corapeake." This project chronicled the lives and remembrances of the elderly African-American residents of Corapeake, NC, and was a seven-year project. Corapeake was a community smaller than Middletown, Delaware, where I had grown up across the street from the Brinckle family. At the point that Sandy died, I was questioning what my next project should be and also reflecting on the irony of the fact that I had just spent seven years documenting a community smaller than the one I was originally from. I found this ironic due to the fact that during my youth, all I ever wanted to do was move to the big city, and consequently, as soon as I finished college, I moved to Philadelphia and then later New York. These two streams of thought coupled with my determination to choose a follow-up project that was once again personal led me to question the stories that might be resident in my hometown. As a result, I believe that although the project did come about by chance, I was already primed to be open to the discovery of Gordon and his theater.
'Not unlike other artists, my way of working requires a significant commitment of time, energy, work, and emotion, so I don't take on projects lightly. Thus far, each project ("Corapeake," "The Projectionist," "Impermanence" and "Swann Song") has been exceedingly personal and made over the course of an extended period of years. I believe that, in each case, the stories were presented to me at the right time and I was fortunate enough to pay attention in the moment'.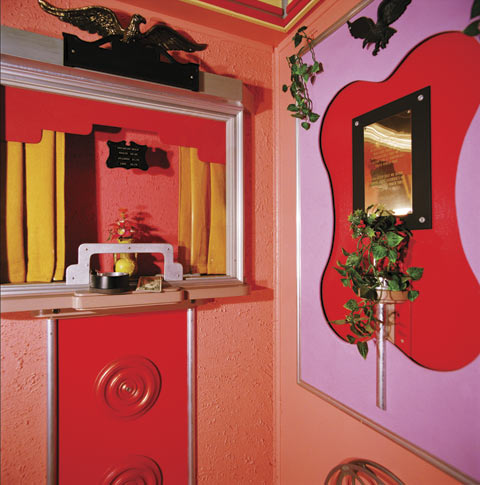 This turned into a traveling exhibition where the Shalimar Theatre was moved from city to city and the documentary was shown inside this reconstruction. Can you explain the logistics behind an exhibition of this scale?
'Any traveling exhibition has a number of logistical challenges, and with "The Projectionist," the challenges were magnified by the inclusion of the theater. The removal of the theater from the basement was no simple task since Gordon had not constructed it to be taken out of the basement. There were no plans detailing how he had originally constructed The Shalimar and the process of removing it piece by piece with minimal damage was not only painstaking, but also time consuming. Initially, architectural plans were made of the theater and a detailed numbering system was created to inventory each individual piece of The Shalimar. Then the pieces were labeled and detached from the basement with care before being re-constructed around a structural framework of walls that were designed to the exact specification of the original theater. The entire theater construction was built in a modular way so that the various wall and ceiling sections could be assembled and disassembled at each exhibition venue. As a final step, custom-built shipping crates were built to house and safely transport the theater and all of the framed artwork for the exhibition.
'The transport of the crated exhibition is similar to any other traveling show in that it is conducted by fine art moving companies. However, the significant size and weight of the assorted crates makes it much more expensive and complicated'.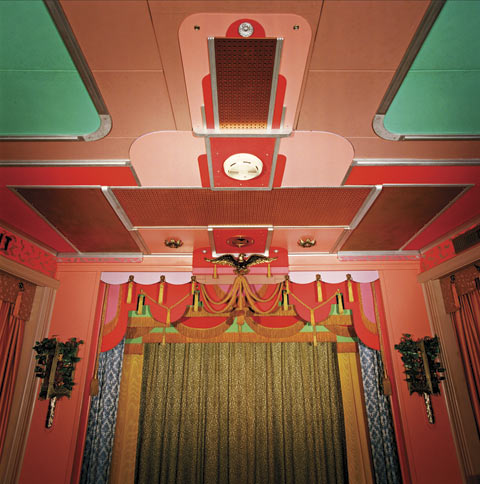 You began documenting Gordon Brinckle and the Shalimar Theatre in 2001 and you ended up documenting the Brinckle's up until their deaths (within a month of one another) in 2007. What made you continue to document their lives till the end?
'Considering the fact that "The Projectionist" was one man's story. and my decision to document Gordon's ordinary day to day life upstairs in his final years, I decided relatively early in the project that I would continue making pictures until the end of his life. Of course, I had no way of knowing how long his life would be and I certainly would have preferred that he was alive to see the publication of the book. Nonetheless, by the time my agreement with Princeton Architectural Press came about to publish the book, he and Dot had both died. I should add that he did see the documentary completed and screened in The Everett Theatre, where he had worked as projectionist for thirty-three years. He also saw the exhibition realized with his theatre removed and reconstructed to travel and finally, he bore witness to the early reactions of the press and the general public to his story. All of this was a source of pride and wonder for him. As an artist, I know how important it is to believe that your work will live on, and in his final days, Gordon knew that his creative legacy was assured'.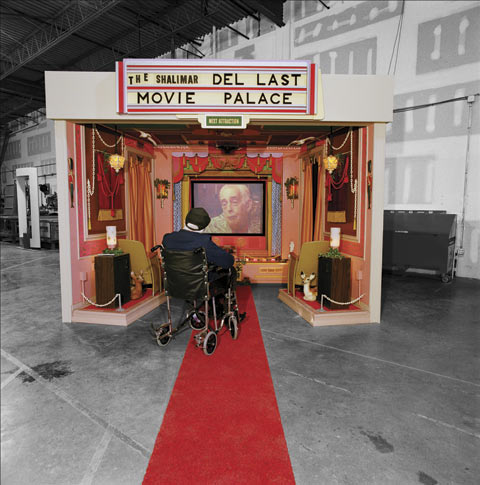 'The Projectionist' has just been released by Princeton Architectural Press. Did you always have a book in mind and can you explain the gap between the traveling theater showing the documentary, which was launched in 2007, and the release of the book in 2010?
'I believe that the strong narrative contained within "The Projectionist" makes it ideally suited for release as a book. It has been my goal from the beginning, which I had shared with Gordon many times. Nonetheless, when you have never published a book before, the prospect of doing it can be daunting. Furthermore, securing a publishing contract with a formidable publisher such as Princeton Architectural Press has never been tougher than it is now. I began my conversations with Princeton Architectural Press in 2008 and the processes of approval, contracting and production took the last two years. I am looking forward to "The Projectionist" exhibition traveling extensively over the next five years, with the book as a companion'.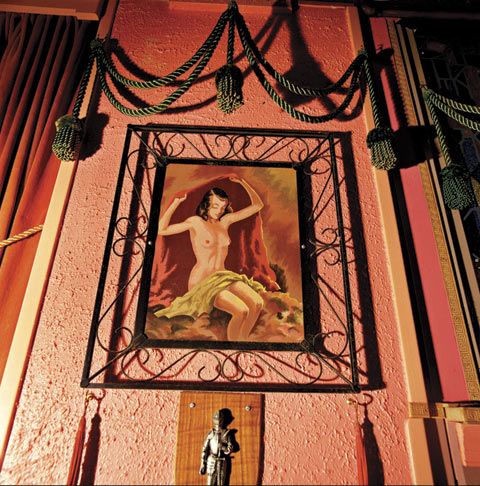 You mention that you will often photograph a project for a year or more. How do you know when you are finally finished with a subject?
'One of the things that I often struggle with in each project is figuring out when the story is complete. Part of that struggle is feeling confident that I have enough still photographs to tell the story alone. For me, this is paramount, despite the fact that I consistently incorporate additional media in the construction of my installations.
'I have come to recognize that my working method of spending years on each project makes the end result far better and more complexly layered. I believe that this is because time allows the story and the relationships to evolve. The creative process for me always progresses in waves. There are high points when everything is clicking and lower points were it doesn't seem like anything is working but over the course of time the story ripens and often becomes more than you ever thought it could be. That said, there is a point of diminishing returns. With each project thus far, I have come to certain point of working where it simply feels in my gut like the project is complete. And I have learned to always trust my intuition in these moments'.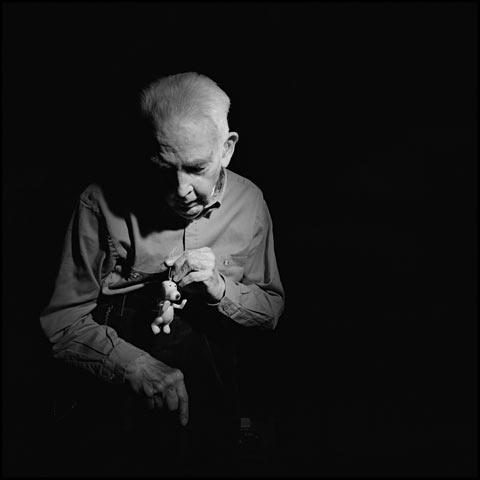 Along with being a photographer, you are also an accomplished documentary filmmaker. How do you know what to photograph and what to film? And do they always go hand in hand?
'My decisions on what to photograph and what to film are always intuitive and often obvious to me as I begin work on a project. I have always believed in the magic of the still photograph and as a result, still photography has always played a central role in my projects. For me this magic stems from the quiet way in which a viewer can interact with a photograph and when that photograph is successful, it can elicit an emotional response and resonance in the viewer.
'However, I don't adhere to the notion that a single image can ever be a complete portrait of a person. Although a series of still photographs can come closer to a realized portrait, I believe that film and video are more effective in bringing the person to life. However, film and video have their drawbacks for me as a standalone medium because the meditative relationship with the subject that I associate with still photography often goes away with the incorporated motion and sound. I have traditionally merged film, video and still photography in each of my exhibitions in an effort to tell the stories and define each person in a method that was more comprehensive and emotionally resonant.
'In this way, I attempt to combine the various media in such a way that the whole exceeds the sum of the parts'.
A lot of your work focuses on elderly subjects. What inspires you to photograph that group in particular?
'Not unlike other artists, I have found that my earliest experiences as a child have played a significant role in my choices of projects, subject and stories. I was consistently bullied by my peer group during my formative years. This led me to have the experience of the "other" and I turned inward, withdrawing from my peers and spending significantly more time with elders.
It was during these years that I honed an ability to listen and developed a fascination with the storytelling of individuals of advanced age. The painful experience of isolation from my peers led to my interest in exploring and revealing the inner lives of overlooked or marginalized individuals that mainstream society would never otherwise know. Gordon Brinckle is one such person'.