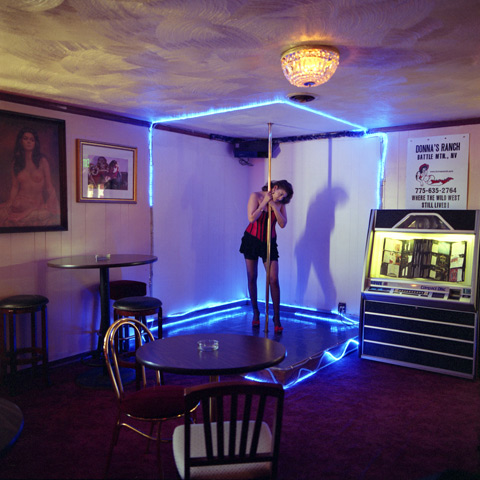 Brad DeCecco lives in Brooklyn, grew up in Massachusetts and photographs rock stars, ranchers, and athletes around the world. His environmental portrait work earned him the PDN 30 award for the 30 Best Emerging Photographers of 2007. He has also directed and worked as cinematographer on both documentary and commercial projects. Communication Arts recognized his work in 2007 with the Jury Prize for Cinematography. Last year, his first foray into music videos, Red, premiered as a selection for Music on Main at the 2008 Sundance Film Festival. His first feature length documentary film, Serpent in the Rock, will premiere in 2011. Some of his clients include The Washington Post Magazine, Lexus, Time, Popular Mechanics, People, Smithsonian, ESPN and Universal Records.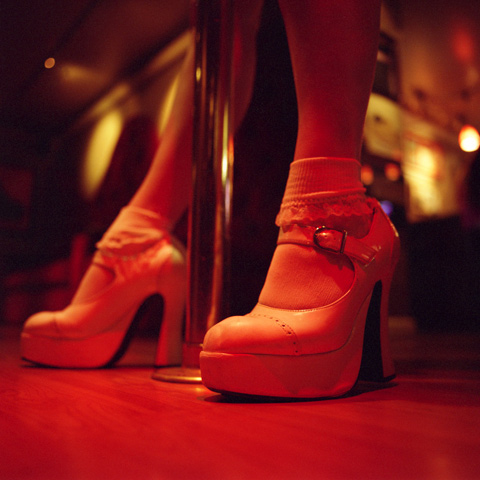 What made you decide to start this project and how much time was spent at the Love Ranch Brothel?
'The nine hour drive from Las Vegas to Elko, Nevada is a desolate 500 mile stretch. I was heading to an interview for a documentary and decided to push across the entire state in one day. Hours passed where I saw nothing but sand, sagebrush and sky. A few hours into the drive, I saw a large, hand-pained sign with blinking red lights and a giant arrow that stood in stark contrast to the uninhabited landscape. As I approached, I could see the sign read "The Shady Lady Ranch." In a hurry to make it to Elko, I made a mental note to find out what this was later.
'I learned that "Ranch" is the term used by the legal brothels in Nevada. Far from herding cattle or horses, these houses range from a single wide trailer with a few bedrooms to full-service spas with suites, pools and grand pianos. I was immediately interested in exploring these environments through the lens. My personal work tends to focus on American sub-cultures that are out of public view.
'Most of the owners were welcoming and invited me to come and shoot. I decided with the access I had gained, it would be an amazing opportunity to create a unique body of work. Most of the articles and photos I could find about the ranches in my research were either base and grotesque, talking condescendingly about the girls and the details of their services, or blatantly sensationalistic. I wanted to explore this world with a humanistic and personal subjectivity that produced an honest and informed portrayal of the lives of the women working there and the staff that takes care of them and the customers. I've spent a total of three weeks at four different ranches over the last eighteen months. I've spent the most time at The Love Ranch so far, however'.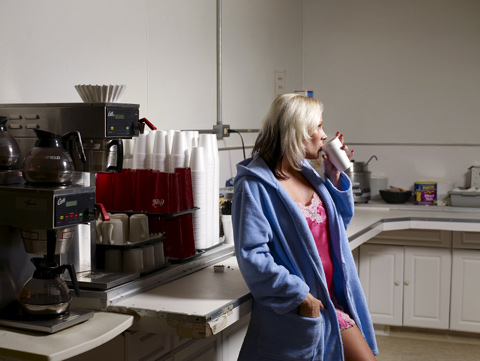 How did you obtain access to the brothel and what was your level of access?
'My friend Molly is a writer at a Las Vegas newspaper and she's done stories about the brothels. I called the owners myself that she knew and sent them samples of my work and an outline of what I intended to shoot and I got a great response. The only restrictions I had were: no photos of clients unless they specifically wanted to or asked me, and no photos of any girls who didn't want to participate. Once the girls and staff witnessed my work ethic and my respectful and inconspicuous manner, everything went smoothly'.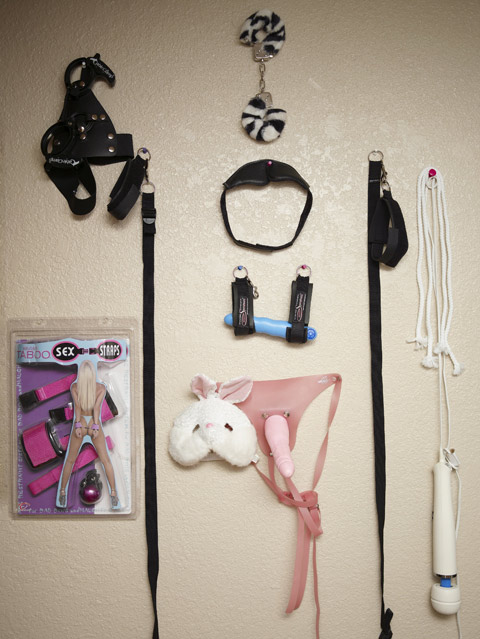 Were the girls wary of having their photograph taken? How did they react to you initially?
'About half of the women I speak with want to participate in the book. Many of them are mothers or have other jobs and have concerns about family, friends and co-workers identifying them. They come from around the world. On my last trip alone, I shot girls from Seattle, LA, Indiana, New York, Colombia, Germany, Mongolia and London.
'The first day at a new house is usually tentative. Understandably everyone is hesitant with me at first but without fail, I strike up a few conversations, shoot some portraits and by the end of the day, word has traveled around the house that I'm enthusiastically doing good work … and that I'm not a freak. By day two everyone is totally warm and engaging, even if they don't want to be photographed. I've been told several times of their eagerness at being portrayed not as sex workers, but just as they are-people who've often traveled great distances to work at a job in rural Nevada'.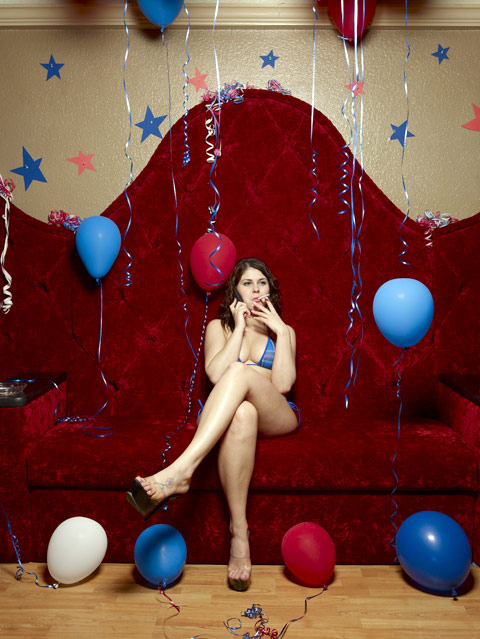 ?You captured the girls in their normal day to day life, which appears rather normal. Was this something that you expected to find?
'I honestly had no idea what to expect, which is what I love about personal work. Each brothel has it's own rich visual aesthetic so I try to capture the girl's lives as they unfold against these unique backdrops. I think a major reason for this project's success is it's deliberate honesty. Since it's self-generated, I have as much time as I want to shoot. It's nice to have the time to get to know everyone and contemplate what scenario will best communicate what I want to convey.
'I did a lot of more formal sittings to get familiar with everyone but it was the moments in between that struck me-when I'd walk through the kitchen or pass through the parlor where everyone was hanging out doing crossword puzzles and reading. Like the shot of Sunny drinking coffee in the kitchen.
'I was on my way to get something from the car and I saw her there and I was like "Wait! Stay there, I have to go get lights and my camera". The more conversations I had with them, the more I realized that most people think of them simply as prostitutes. But they spend hours on Facebook, make toast, go shopping and watch TV hungover — the same mundane crap that we all do. I've been really amazed at people's surprise at seeing this side of their lives.'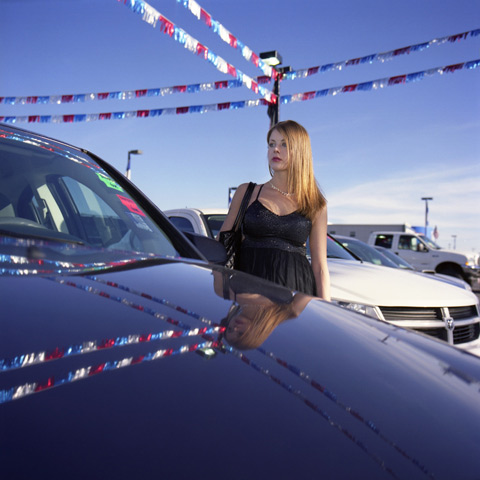 What are your intentions for this series and is this an ongoing project?
'I plan on going back once or twice more. I'm currently looking for a publisher to put this out as a book. I've collected some pretty awesome stories that will serve as small bits of text as well. I'd also like to have a show with these images at some point'.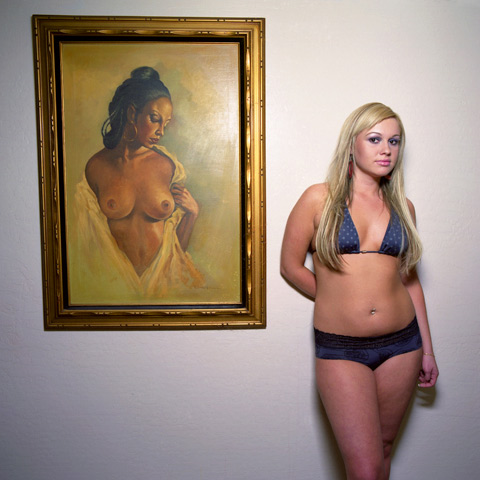 You recently bought Jet Blue's "Free and Unlimited" travel voucher for anywhere Jet Blue flies and sent out an email to Photo Editors where you offered your services with almost no travel expenses involved. How did this go over and can you talk about some of the more interesting assignments you received on the back of this?
'I got a great response to this promo. I shot two stories in Tampa, Florida for Cigar Aficionado about the last factory that hand makes cigars in America, I went to North Carolina and Missouri for a story about the best jobs to have in a recession for Money Magazine, I was in Austin, Texas to profile an organic pancake mix company and I shot a few days of a documentary in rural Ohio. And then I took my one free week and went back to the brothels'.