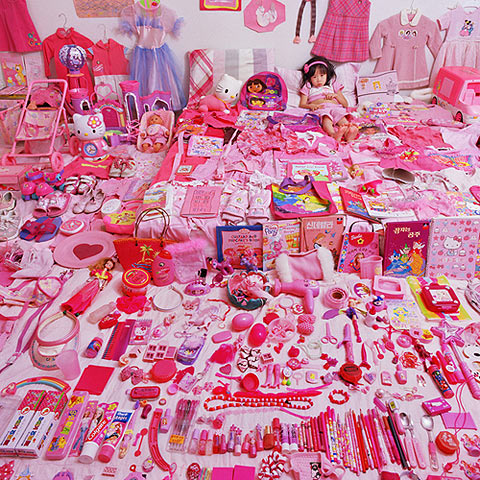 JeongMee Yoon is a photographer living and working in Seoul, South Korea. In 2006, she received her MFA from the School of Visual Arts in New York. This work is from her series, The Pink & Blue Project, which has been widely exhibited.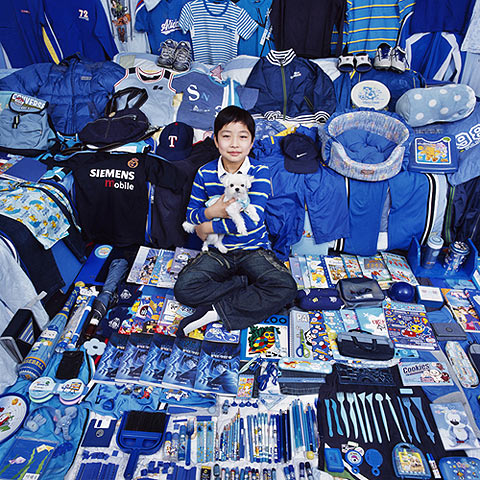 Where were most of your photos in this series taken?
'New York City and Seoul, South Korea. I lived New York City from 2004 to 2006'.
What made you decide to take photos of children with their pink and blue items?
'The Pink and Blue Projects were initiated by my five-year-old daughter, who loved the color pink so much that she wanted to wear only pink clothes and play with only pink toys and objects. I discovered that my daughter's case was not unusual. In the United States, South Korea and elsewhere, most young girls love pink clothing, accessories and toys. This phenomenon is widespread among children of various ethnic groups, regardless of their cultural backgrounds. Perhaps it is the influence of pervasive commercial advertisements aimed at little girls and their parents, such as the universally popular Barbie and Hello Kitty merchandise that has developed into a modern trend. Girls train subconsciously and unconsciously to wear the color pink in order to look feminine'.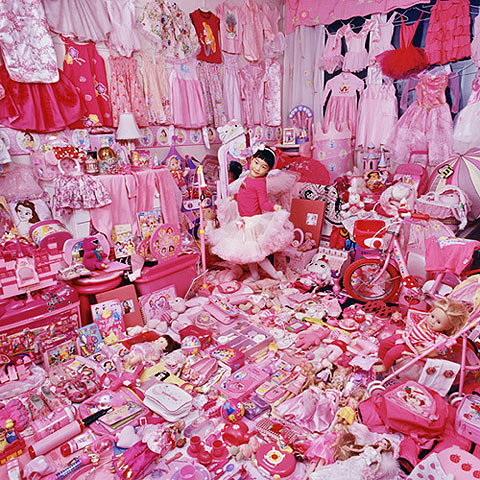 How do you find the children in your photographs?
'First, my friends' kids. And when I meet pink girls and blue boys at shopping malls, subway and on the street, I explained about my works and asked the kids' parents. One time, I advertised on an Internet site for models, but it was not effective'.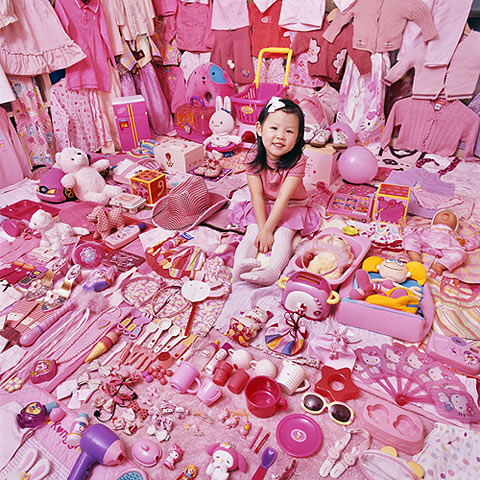 All of the pink and blue items are arranged very orderly. What are you trying to convey by doing this?
'I begin the photographic session by arranging the larger items – blankets and coats – and then spread the smaller articles on the bed and floor. When I first started taking these pictures, the objects were arranged without an order. But I soon realized that the photographs in which small possessions are well organized and displayed in the front of scene make the images appear to be more crowded. This method shows my organization of subjects similar to the way in which museums categorize their inventories and display their collections'.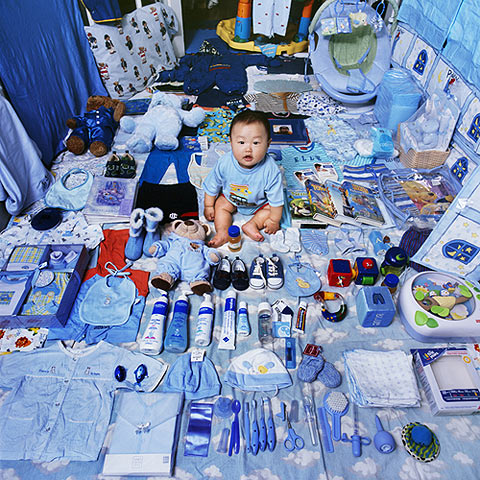 Do you think the kids are mainly responsible for their collections or is it the parents that are wanting all of this stuff for their children?
'It depends on peoples' thought. Some children are just obsessed with pink things, and some children just like pink as their favorite. Some parents did not want pink colors, but the kids want it. Also, in the boys' case, most boys did not have obsession about blue colors, but our society already divided their thoughts about gender for color'.