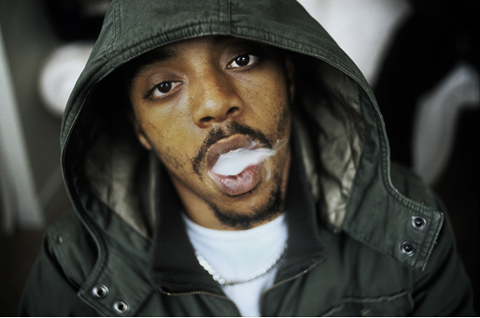 Adam Patterson was born in Northern Ireland in 1982. Over the past three years he has received grants from the Arts Council of Northern Ireland to document aboriginal and health issues across Canada. Some of this work formed his first solo show at the Royal Photographic Society in January 2008. The RPS subsequently awarded him a postgraduate bursary to undertake a long-term project on youth gang culture in South London in collaboration with an MA in Photojournalism and Documentary Photography at the London College of Communication. This work was published in the spring issue of Foto 8 magazine and is to be exhibited at the Noorderlicht photojournalism festival in Holland in September 2009. Since graduating from the LCC, he has worked with the BBC's Panorama team in Dubai while undertaking assignments for Vice magazine, most recently looking at rise of cheap heroin in South Wales. Adam is currently based in his homeland of Northern Ireland undertaking a long-term project on life after the Troubles.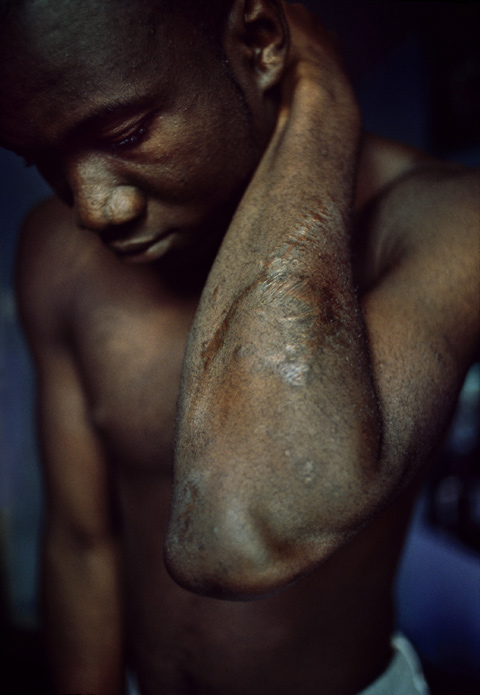 You were commissioned by the Royal Photographic Society to document youth gang culture. How long have you been working on this series and how much time would you spend with the people you photographed?
'I started a one-year MA in Photojournalism and Documentary Photography at the London College of Communication in January 2008. As I was making a big financial commitment moving to London to do this I felt it was a very important time to really drive myself forward photographically, to make a series that was relevant and necessary in my eyes. I was lucky to obtain a bursary from the Royal Photographic Society, who had previously shown work I did looking at a supervised injection site in Canada. This really allowed me the time I needed to do this project on youth gangs.
'This is the hardest thing I have ever gotten into. It really required so much in terms of persistence and belief. I started researching the project in January 2008, making contacts and meeting with social workers, anti-gang groups and such until about June 2008 – while I was doing other work for my MA such as the Squatters series. Understandably these people did not want to introduce me to active gang members through fear I may get into trouble – and they also told me it could not be done, because I would always be treated as a cop – which was often true. I finally got my break through social networking sites where a guy from a crew called ALC in Brixton wrote back to me. He took me to a local underground music place where kids from various gangs in South London mix together and use the studios to record rap music. I photographed a few different people and helped kids out with mix-tape cover shots and such but it wasn't until I met a 20 year old called Vipoh, from the Ivory Coast, that I really had a project – that was August 2008'.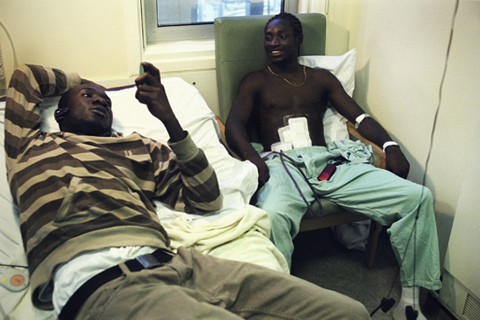 What made you decide to document certain gang members over others, and how did you go about gaining trust in these environments?
'I learnt quickly that the Hollywood idea of gangs was just not accurate- for a start if any of these young black boys went out for a walk in a group larger than three they were pulled by the police, and searched immediately. The only times I saw large numbers of boys together was for a fight, or more often to film videos for youtube – they all do music and youtube is a platform to show other gangs they are serious, have numbers etc. The groups let me hang around because I had befriended one of the local leaders at the music studio, and because I was giving them photos back I had taken and encouraging them to collaborate in the project – this also made it safer for me by helping to eliminate any feelings of misconception and maintaining an open and honest account of why I was actually there.
'Gaining trust was paramount to me being able to take photographs. Trust was gained through honest discussion and reason – without reason this project would not have happened. It's asking a lot for guys to let you hang with them when you are so far removed from what they know and trust – and to ask them to do so without having any real reason is a bad joke. It helped that I am Irish, that I was an outsider too. It also helped that one night I was grabbed with three other black kids, detained and questioned by undercover police – I think it finally convinced a few people that I was serious about the work.
'In deciding on which gang members to focus on – it was really down to who would really open up to me, and this proved to be an even bigger challenge than gaining the initial access. I photographed a lot of boys chilling out, posing, wearing masks and gang colours – this was pandering to the media stereotype, but it was also a necessary initial exchange to break the ice. It proved very hard to move past this into the intimacy I craved and luckily Vipoh came along and did just that. He quickly became the main focus of the work. I met him still on the fringe of gang life and over the past year have seen his focus move to music as he pushes for a better life. Initially I did some photographs of him and his friends and two weeks later I was on a bus to France to photograph him at his aunties wedding'.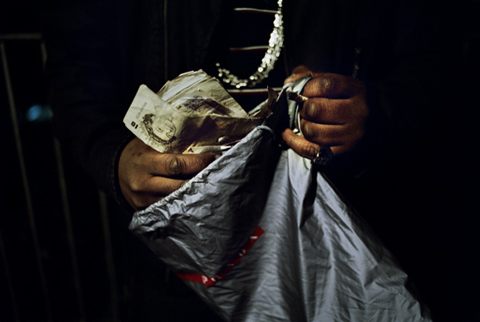 In your experience photographing these young people that are currently involved with gangs or that have managed to pull themselves out of that life, did you find that there was a common misconception about their situations?
'I had always been curious about the way the media was reporting the rise of an LA-style gang scene in London, and what struck me was that I had seen very little photographically that had looked at who these people were. So I arrived in London with a decent knowledge of what I wanted to do, which was basically to find some of these kids and see what was going on. I felt that, whereas newspapers have a duty to report the truth, they were pushing far past the basic facts, and in my mind, spreading fear through sensationalist headlines and one-sided opinion. My work was never to say that bad things were not happening, but to look past these incidents and offer a humanization of these young boys by showing that really, they have emotional structures just like anyone else; they miss their fathers, they cry, they go with their mothers to church. Sadly, I think a majority public would just prefer to believe the media hype that these people are full of evil and in no way like themselves'.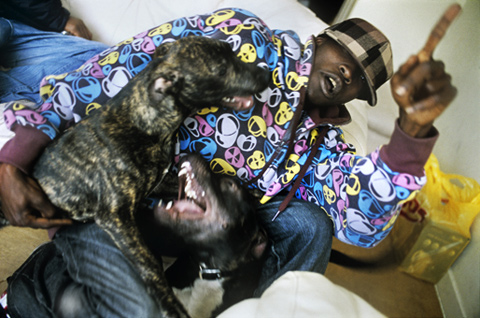 A lot of your work focuses on those that are considered to be down and out. What is it about these projects/lifestyles that attracts you?
'I certainly believe that a lot of my previous work was as much about my own curiosities as it was the issues I was trying to cover. I have always been fascinated by people, particularly in western society, and how people that live so differently can be very much the same – these fine lines play with my thoughts and my photographs are probably an attempt at addressing these thoughts. More recently I have been trying to drive these with a social-political undercurrent – whether it has been addressing issues with the aboriginal reserve systems in Canada, or through the media's dealing with London's gang culture – I do the work to offer information that will not only aid my own understanding, but hopefully, that of others too.
'The notion that photojournalism is a bastion of truth is both flawed and dangerous – everything is perceptive – and so I am not trying to force agenda but rather peel something back and encourage people to look a little deeper, and use their own minds to form a panel of thought'.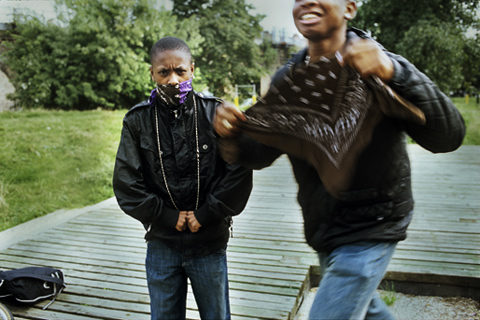 These images will be featured in the Noorderlicht International Photofestival in September, 2009. Will this project be complete at that time or do you have other plans for this work?
'This project will probably never end, but it has progressed. It is now about Vipoh and his journey. I am no longer living in London but often return back for work or visits and each time I take some more photographs of Vipoh. He has started shooting too and we are aiming for a joint exhibition at some stage next year'.