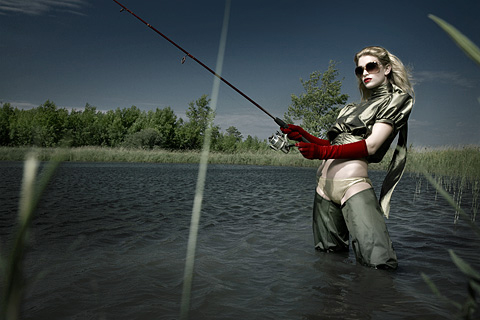 Angus Rowe MacPherson was born and raised in the tundra of the Canadian high arctic. He built a darkroom at eleven, commandeering one of the household bathrooms so that he could print pictures of the world around him. He has been making pictures ever since. He moved to Toronto in 2004, where he snagged a job with a top commercial photographer. Since then, he has been shooting for advertising and entertainment clients, while also focusing on his own work. Recent projects include a study of independent wrestlers, a staged underground table tennis showdown, portraits of drag queens, and stylized explorations of banal daily life, where you'll find at least one fake ham.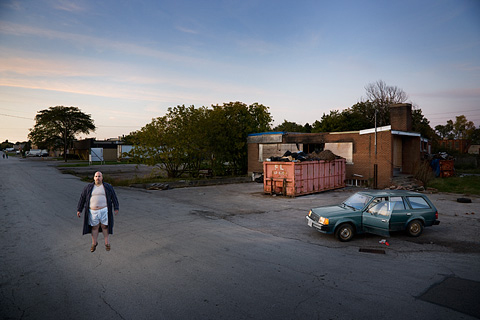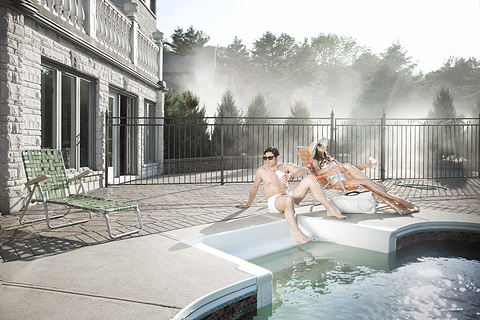 A lot of your personal work seems to require a reasonable budget. How do you go about this from a financial standpoint?
'The simple answer is that I pay for my personal projects by shooting ads. My hard earned fees mostly get spent on personal projects. This ends up paying off in the long run: art directors get excited about personal work, which leads to more commercial work, which means I can afford to make more personal work. And so on.
'I've also learned to make the most of the resources available here. Toronto is an amazing city to work out of. There is a huge industry – supported by the advertising and film work that goes on – that is really keen to participate in interesting work. People are very generous with their time and resources, which means that images can be put together pretty cheaply'.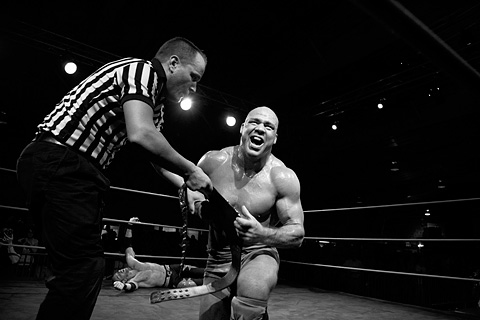 Your documentary work is super slick. How do you approach this work and are these outtakes from shoots you are already on?
'My documentary stuff is a mash of outtakes and independent projects. I did a really big series on independent wrestlers a couple of years ago that saw me traveling around the continent. That was a bit like a commercial project. It was heavily planned, and I had assistants and lighting as needed. This is how much of my documentary stuff works – I get interested in something, then make the images as I would with any other creative. The only difference is that they are real people and situations.
'My other documentary work is landscapes and environments. These are often from trips I go on, as well as some outtakes from when I'm on location. In either case, I'm not nearly so controlled with these images and am really just responding to what I see out around me. Though it is only a small part of what I do. I love working like this'.
Earlier this year you were the winner of the Supercreative09 contest in which you were given access to equipment, locations, assistants, models, etc. in order to produce a conceptual project. Can you talk about this experience and how/if it has helped your career?
'Supercreative09 was great. The guys who put it on are amazingly creative and resourceful (shout outs to Andrew Easson, Peter Dell'Agnese, Donna Irvine, and Stephen Conner). The project itself was a one that I'd had in mind for a while, but was a bit slow putting together because it was so big. Supercreative was the boost that I needed to actually commit to doing it. And it allowed me to go all the way with the concept (seven assistants, tons of gear, and the killer location were donated).
'The big way it has helped my career is that it gave me a chance to shoot my first short. I've been working with a production company, and they arranged for me to get a Red on set. So, along with the camera, operator/DP Geoff Bland, and a tech guy, I was able to capture motion footage. It is still being tweaked in editing, but hopefully I'll have something to show soon. That, along with the dozen or so stills will likely go out as a promo piece over the next month or two. A sneak peek of five images is up online now'.
You have created a separate website for the Ping Pong series that you produced with Supercreative09. Why is this?
'The website was actually put together by the Supercreative guys as a preview of the images before I send out my promo piece. It is a bit of a teaser to keep people interested, and to pump them up for the next Supercreative – which they are running right now'. Read more about this project here.