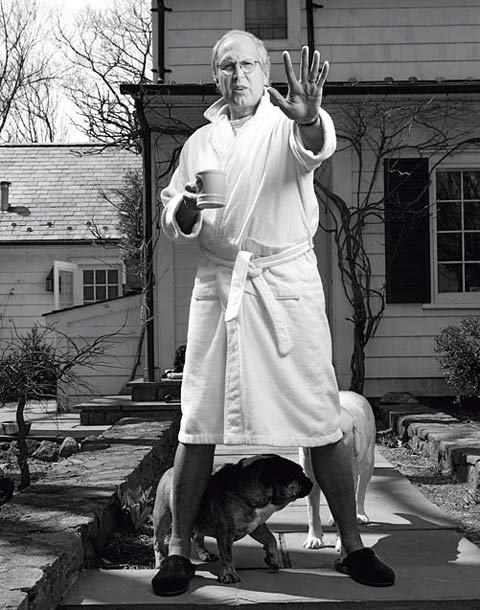 Since departing Australia more than a decade ago, Ben Baker has traveled the world from his base in New York City, carving out an award-winning body of work in portraiture. Baker has successfully shot more than forty national covers and has worked with a diverse spectrum of clients, including XXL, Marie Claire, Stern, Sunday Times of London, Elle, New York Magazine, ESPN, Time and Fortune. His images have been purchased by News Corporation, J Crew, Xerox, Zenga and commissioned by Goldman Sachs and Saatchi & Saatchi. He is represented by Redux Pictures.
Your corporate portraits are atypical in that you manage to inject humor into the shoot. How much is generally planned and cleared with the subject or PR person beforehand and how much is left to chance?
'They are just all portraits. I don't really see a difference in any of it/ I might have a business section of my site. But that's more for the editors to see what they want quickly. Everyone came from somewhere, was a little kid, an awkward teen, an improbable story. Everyone would prefer to laugh at work. It's just amazing how people seem to think a CEO or politician needs to be some boring picture. Who needs more of those? I know most subjects don't.
'I just try to connect and get a very human side. But I do get my share of PR people who think their job is to mess with mine. That's okay. I make sure they are just far too distracted to get near me or the subject when I make the connection.
I am incredibly respectful, professional, super quick and make sure that they have seen my other work before I get there. So they know it's not my first day on the job. I try to keep it under the radar and just have a chat with the subject about the little things in life that we struggle with or enjoy. And see where it can lead'.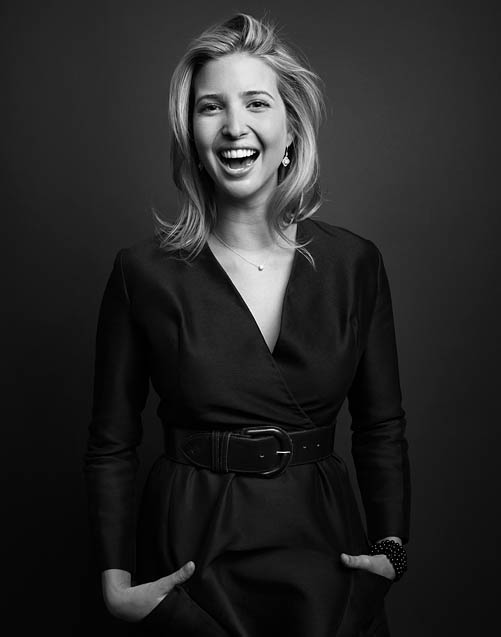 I see that your one of your shoots with President Obama paid off with seven magazine covers. Did you anticipate this happening?
'Yes, a very successful day that one. And we even had the power fail on us. You may have counted seven on my site, but there was over twenty covers and about twelve spreads from that shoot. I recently brought the prints to the White House as a gift for Valarie Jarrett, who I was photographing, who then gave them to the President.
'Did I anticipate this? Not really, but I knew that it was a big opportunity that I had to take. And I enjoyed every second of it'.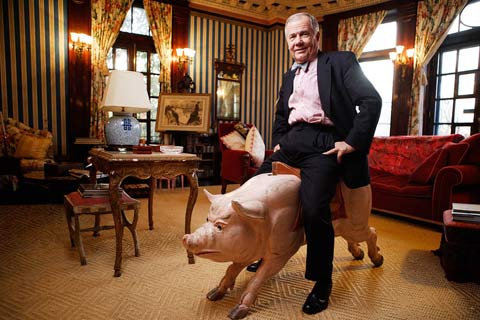 You shoot media moguls as well as rap stars. Do you prepare differently for one than you do for the other?
'Not really. People are people. You couldn't have a bigger gap than a rapper and a white kid from Australia who loves Johnny Cash. But it's about strong visuals, clear ideas, respect and professionalism. However, with a rapper, you have to go in with a very open mind. Anything can happen; and everything has. Rappers are either extremely polite or out of their mind. But they all want to be on the magazine cover and find a way to work it out. And I love that it balances out my other work'.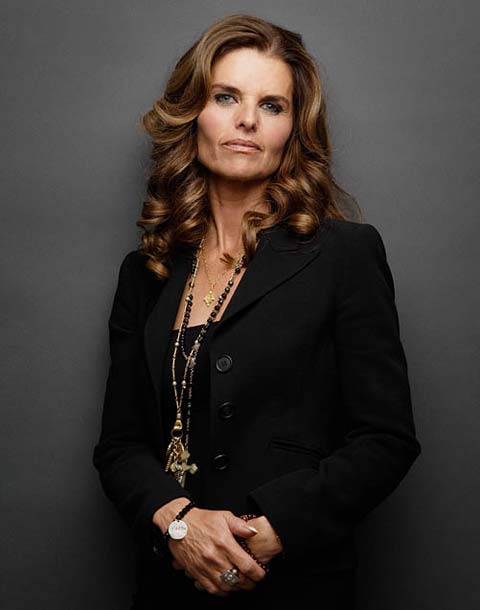 There's an interesting mix of locations in your Fortune 500 photo spread where you shot companies such as The Federal Reserve Board, FedEx, Twitter, and McDonald's. Did you have control over where the various companies would be photographed and was there any shoot that proved more challenging in this respect than the others?
'That directors shoot was big in every way. Those boards have their meetings set way in advance, so I didn't have control. But they had to be out of the boardroom. That's all. It was a huge team effort with the editors at Fortune. They all had major challenges.
'The Federal Reserve Board was in the middle of the meltdown and was so serious. They only had fifteen minutes for us to get three different set ups.
'FedEx would only give thirty minutes in the DC office. We wanted them in a cargo plane. So we had these built in two days. No sleep!
'Twitter didn't want to be seen as the cool internet company. Bad luck, as I doubt I was going to get Chairman Bernanke to jump off the playground. Someone had to do it.
'McDonalds canceled once, then we had to shoot next to the special kitchen. They were really only worried about the food, which took their mind off the rest of the picture to our delight.
'The most stressful was the Environmental Defense Fund, shot on the beach in San Francisco. Rain, wind, birds, surf, tides, rocks, and we had to get 35 people of all ages all balanced and looking good. Easily the most stressful day ever on a shoot. I was very fortunate to have been working with Nancy Jo Johnson of Fortune, who is always the calm in the storm'.
Read more about this shoot here.