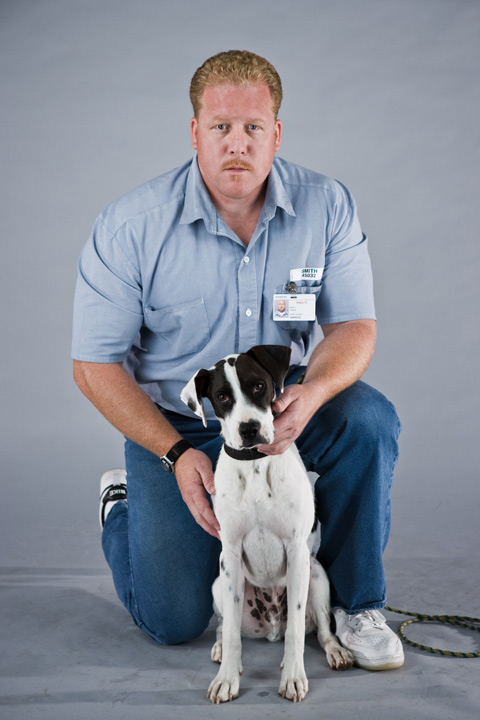 Jeff Barnett Winsby lives in Providence, RI, and teaches at The Rhode Island School of Design. Of this photo series, he says: 'Safe Harbor was a program I was introduced to while working in the prison. It was started by a volunteer named Toby Young who created a program which would rescue dogs from shelters deemed un-adoptable. She would then bring them to the prison and pair them with inmates (trained by her) and live with them in the cells. There they would rehabilitate the dogs and retrain them. Ultimately the dogs could be sent to a inmate's child or they would be adopted back into the community. I wanted to make work which would celebrate how far so many of the inmates had come personally, as well as what they had done for so many of the animals, once considered hopeless. Everyone got a copy of the image of themselves and their dog. The prison framed the prints and hung them up.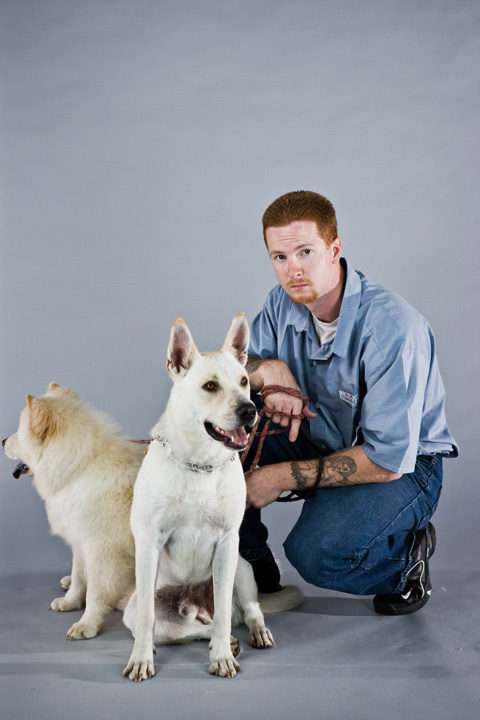 A lot of your personal work deals with life in prison. How did you first become fascinated with this subject matter and how did you go about getting access to the inmates?
'I have always been fascinated with loneliness and the outsider in society. Growing up, I felt pretty out of it (who doesn't?) and was always in trouble for something.
'Beginning in elementary school, I was a big reader, and during that time, my favorite book was the abridged and illustrated version of The Count of Monte Cristo. I became secretly obsessed with incarceration of the innocent and would devise ways out of imagined scenarios where I was accused or sent away.
'About this time my father started working for a prison in Kansas. It was his first job as a psychologist and we talked a lot about what went on there and my fascination with escape. My mother's dissertation is based on sex offender data collected there, as well. So, on some level, talking and thinking about prison was around me most of my life.
'Access is another story. When it comes to prisons, most corrections officials are wary of outsiders and quite aware of the potential harm that could come from letting someone in to photograph. I asked my father to put me in touch with an old friend, Roger Werholtz, who had become the Secretary of Corrections in Kansas. Roger agreed to put me in touch with Dave McKune, the warden at Lansing Correctional Facilty. Dave and I spoke about the first project I planned, which would examine cell interiors and belongings of maximum security inmates. I was not to photograph inmates under any circumstances. I visited several times making those first photographs and earned the trust of the people there'.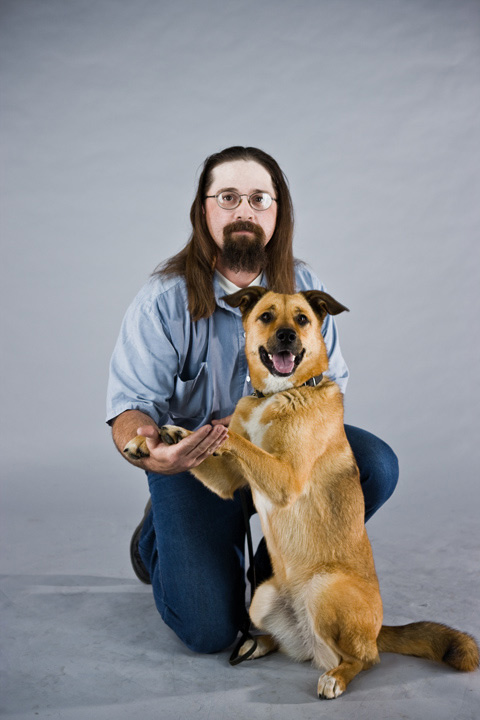 Your series, Safe Harbor, examines participants in a program where prisoners rehabilitate and train dogs that will later be available for adoption. What was your intention of showing a portrait of the prisoner alongside a portrait of the prisoner with their dog?
'While making the photographs of the interiors, I was introduced to a program at the prison that they were incredibly proud of. A volunteer named Toby Young had started a program where they would pair inmates with abandoned and undesirable dogs. From there, the inmates would work to rehabilitate the dog, nursing it back to health, and readying the dog for an adoption in the nearby community. I decided to make a piece that would celebrate the efforts and accomplishments of these men.
'While taking the photographs, I decided to take close face shots as well as full length portraits of the men with their animals. Initially, I was unsure as to how I would show them, or if I would even use everything I shot. But after thinking about how fearful we are of prisoners in society and the connotation of being a "con", I decided to play with the relationship.
'The photos of the faces are detailed and up close, offering skin pores and eye lashes. They are a way to be close to people who you imagine are dangerous or guilty of something unmentionable. While confronting some of that, I wanted to also point to the very positive actions that they were engaged in currently.
'While sometimes this over-simplification can be distracting, I couldn't think of a better way to approach it. What they are doing is wonderful. But they are also more than just what they do'.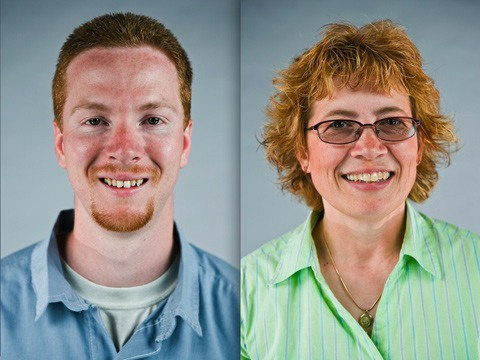 Something extraordinary happened after you completed this series, Safe Harbor. The coordinator of the program fell in love with one of the participates (an inmate) and enabled him to escape prison. After finding out the news you decided to retrace their steps and document their journey while on the lam. What were you hoping to discover from this experience?
'This whole situation was crazy. I was in my last semester of grad school when the escape took place. John folded himself into a box and was loaded into Toby's van. She drove him out the prison gates and then all night to Tennessee. They were out for twelve days before they were caught by US Marshals after a high speed chase in rural Tennessee.
'Early on, after the escape, I was contacted by the prison. I had taken the latest photos of John and they needed images which featured his newer tattoos. These photos ran on America's Most Wanted and in other newspapers around the country. I was obligated to give these photos and felt pretty conflicted.
'After they were transfered back to Kansas, John wrote an open letter to a Kansas City TV station professing his love and Toby's innocence. I started writing to John in response to this and we traded several letters over a couple months. In them, he covered much of the escape story and described what sounded like a honeymoon.
'Post graduation, I decided I needed to see where they had been so I headed to Tennessee, rented the same cabin and stayed there for several days. I thought a lot about how I should be spending my time while in Tennessee.
'I considered creating, and photographing, reenactments — and even tried that — but, ultimately I decided that approaching this story that way would make the work about specific moments as though it were a crime.
'What I realized was that my interest in this story was not specifically about the escape, it was about what they were escaping for. I think I was down there trying to honor that'.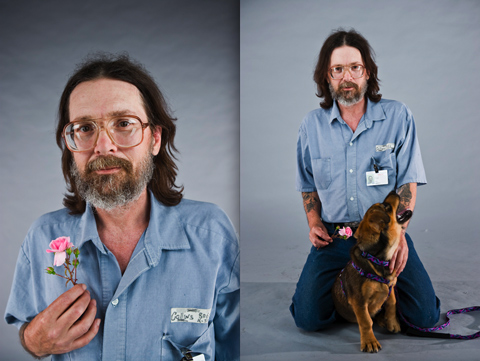 This work is currently being re-purposed for a book, Love Notes and Promised Freedom, to be released by J&L Books in the fall of 2009. Can you talk about how this book project came about?
'I had been thinking about this project in book form almost from its inception. Not because I thought it would sell, but because long form narrative with a ton of supporting material is best suited for the book format. I began working with designers River Jukes-Hudson and Matt Boyd of Way Shape Form (two lovely and talented people) to create a layout and sequence which would mimic the ways, and timing, I was introduced to in the story.
'Last summer we finally finished the layout. From there, we created a PDF, made some Kinkos copies, and I began approaching my dream list of publishers. Jason Fulford of J&L responded and said he was interested in meeting and talking a little more about the project. I drove to Scranton and we spent a long day talking, swimming, eating ice cream, moving furniture, and hitting the drive inn to see Wall-E. It was the best date of my life.
'A couple of nerve racking weeks passed before they decided to put out the book. Now we just have to finish raising the money. So if you love the project send a couple of dollars to over to the Jeff Barnett-Winsby fund at J&L. Or just say hi!'