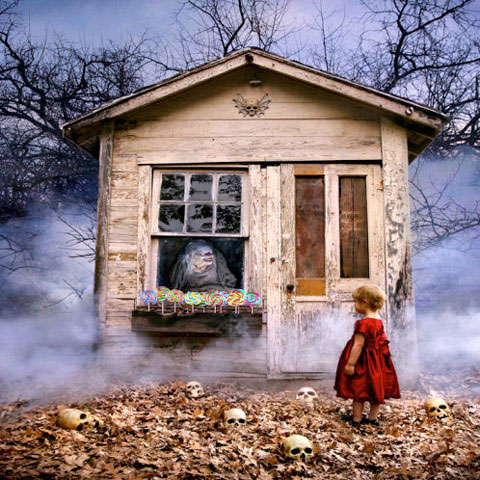 Joshua Hoffine was born in Emporia Kansas in 1973. He graduated from KSU in 1995 with a degree in English Literature and moved to Kansas City where he started taking photographs shortly afterwards. Early in his career, before making Horror the principal subject of his photography, he worked for Hallmark Cards and ran a wedding photography business. Funny, but true.
What's your process once you come up with an idea?
'I have a small journal where I write down my concepts. It can be years before a concept goes into actual production. Once I start production, I spend time location scouting, gathering props and furniture, designing my monster, and sometimes building and painting a set. During this time, I determine who is going to be in the shot, and which of my friends to draft as crew'.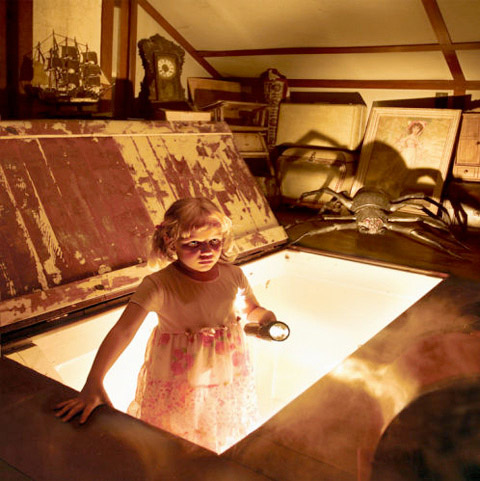 You mainly show young girls in your photographs. What's the reason for this?
'There are two reasons why I use young girls in my photographs. The first is a conceptual choice. The Little Girl as an archetype represents innocence and vulnerability. The Little Girl is also a reference to classic fairy tale figures, like Goldilocks and Alice in Wonderland. The second reason is practical. I have four daughters and no sons'.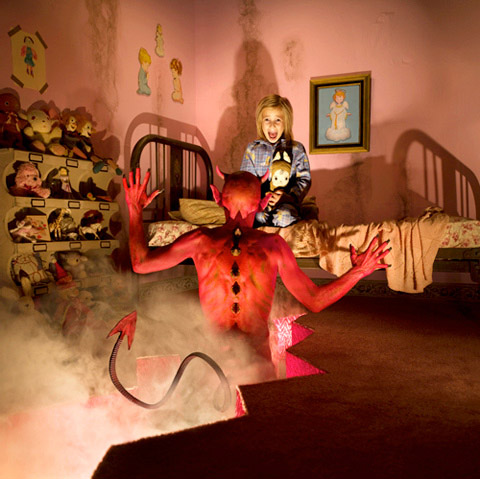 Have you found a market for this work in the commercial world? If so, can you talk about a few of your commissions?
'I've been hired to shoot artwork and portraits for bands and musicians. My first client was Tech N9ne, a famous rapper from Kansas City. As a result of that association, most of my clients have been rappers. With commercial work, I try to stay true to my personal aesthetic. I employ the same crew of friends that help me with my personal work. In the best jobs, I'm given free reign to write the concept and art direct the shot'.
You've recently started a jewelry line, using your images, which is selling on etsy.com. What led you to do this, and do you now take photographs especially for this purpose?
'My girlfriend Jen and her business partner Ramona are the Strychnine Sisters, and they make handmade jewelry and accessories. For Christmas, Ramona made Jen a necklace out of one of my photographs. Everywhere we went, people would notice and comment on her crazy necklace. I've always been wary of merchandising my work. No T-shirts or calendars. But I liked the idea of jewelry. So I decided to offer them online. I am going to be using some of my unpublished images to create new pieces of jewelry. I may also be shooting new work just to be made as a pieces of jewelry as well'.