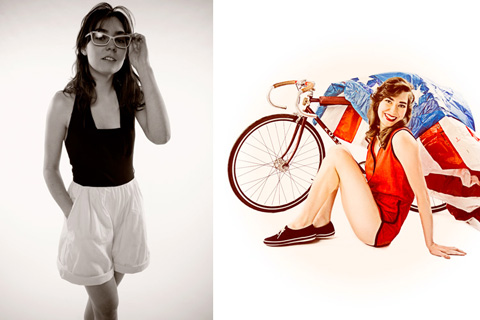 Michelle Nolan didn't pick up a camera until age 28 when she quit the family business in Milwaukee, WI in 2004 and headed to the Brooks Institute in Santa Barbara, CA. In just a few short years, she's developed a style noted for its slightly surreal, whimsical and provocative qualities. Her portraits seamlessly move between the conceptual and emotional, displaying her natural talent for quickly eliciting a personal inner self. This is seen in both her editorial and commercial work. She's shot for clients such as Philip Morris USA, OUT Magazine, Time Out Chicago, and ALARM to name a few. She is currently based in Chicago.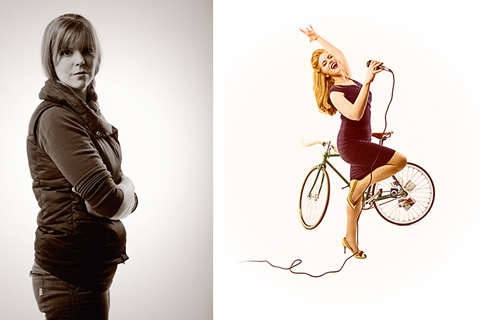 You've just finished working on a calendar featuring pinup portraits of female bicycle messengers (with all proceeds benefiting the Chicago Women's Health Center). Can you talk a little about the "before" and "after" transformation that occurred?
'The pinup calendar features woman cyclists, or better known as 'bike chicks'. Some are bike messengers, delivery girls, bike shop workers or simply bike activists. The transformation of these women from street to glamour was really powerful in that we were able to capture both the reality and the fantasy within the same person.
'The black and white shots were taken right as she stepped off her bike and onto the seamless.
'I basically wanted to capture the essence of who she was as opposed to what she looks like. The pinup shots however, took a little manipulating — in camera and after. Posing is crucial for a Vargas inspired photo. It's has to be playful and sexy and they had to let go of their inhibitions or any negative notions of body image. The fantasy photo portrayed how the woman saw herself as a confident, feminine and sexual being. She had to challenge herself to show that off to me even if that's not how she saw herself everyday. That's not easy for the average young woman. Although each one of us has it in us, to go through the process of getting in touch with that side is an inspiring exploration. One of the best moments for me as the photographer was to see the reaction of these twelve women when they saw their final pinup shot: 'I can't believe that's me!' Every woman deserves to feel that way about herself'.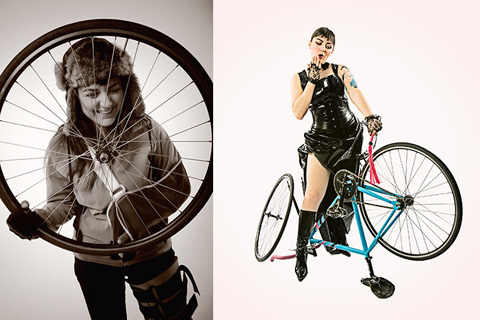 What made you decide how to portray these individuals [biker chic, bookworm, girl next door] and how much collaboration was involved?
'Each woman was assigned to a month of the calendar. They were asked to come up with a concept that reflected their personality and their assigned month. The only stipulation was that their bike had to be in the shot. They collaborated with the TyK organization founder, Alexis Finch, who also acted as art director. I thought this was an excellent way for the women to feel comfortable. That way it was really their shot. Alexis and I collaborated on final looks and treatment of the photographs and I had final say on set on what worked and what didn't'.
What was your budget for this shoot, and what were some creative ways that you made this work?
'What budget? Basically everyone pitched in their money, time, space, talent, skills, etc. It was pure collaboration. Everyone involved was equally passionate about the project, which is why it worked. The major cost was the actual printing of the calendar. Some local businesses offered services and/or products that we couldn't have done without. For example, a custom messenger bag company, Seagull, designed a bag with one of the pinups on it and we auctioned it off to help with printing costs. Some of the major players in the bike industry also helped by sponsoring months in the calendar, which helped with the majority of the production costs'.
What are your plans to promote the calendar?
'The release of the calendar will be at the Critical Mass Bike Winter Art Show in Chicago on February 13th and will be sold at local Chicago businesses – mainly bike shops, cafes, and health related stores. There are some rumblings it may be picked up at other bike shops in major cities like San Francisco and New York. The local press has helped with the promotion and we hope to get more from national media. We'll send out press packets along with the calendar to some of the major national publications. Of course it will also be sold online at Thought You Knew Us. Interested parties can also contact me at [email protected] for individual print sales'.