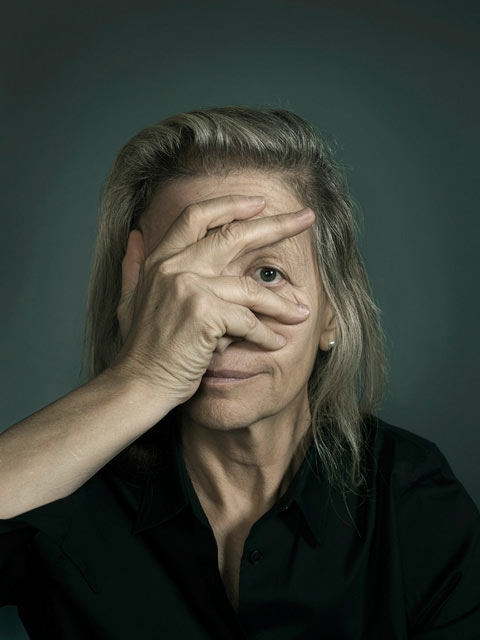 John Keatley was born and raised in California. After high school, he decided to leave the sun behind and travel north to Seattle where he studied Business Administration at SPU. It wasn't until half way through college that he discovered photography, and it quickly became his passion. Last year, John was awarded the first place honor in the Portrait category of the Western Washington SPJ competition. A few recent editorial clients include, Wired, Time, Newsweek, People, and BusinessWeek He has also recently completed ad campaigns for the Washington State Lottery, The Seattle Sounders FC, and Season 1 of The Human Wrecking Balls on G4.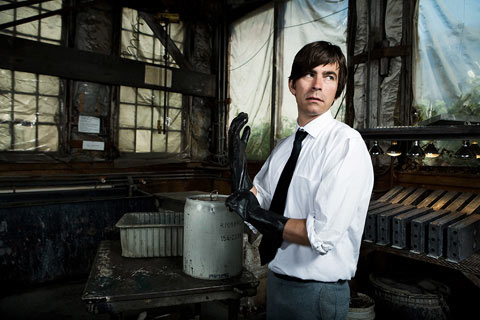 You recently photographed Annie Leibovitz for Seattle Metropolitan. How did you prepare [both mentally and physically] for this shoot?
'I got the assignment about a month in advance, and I actually tried to put it out of my mind for a few weeks. I didn't want to over think it, or get too worked up so far in advance. So I took a vacation to Mexico! Nothing like a week vacation on the Mexican coast to prepare for a photo shoot. I came back with a clear mind, and a new excitement for work.
'Although it is good to have a solid game plan, it's necessary to be ready to go in a different direction when something unexpected happens. People are never predictable, and I had no idea what to expect from Annie. I looked at a lot of her photography a few days before shooting, but the last thing I did was look at my own photography. This helped me remember to do what I do, and not try to be someone else. Especially when I am photographing that "someone else"'.
Going into this shoot, what ideas did you have on how to shoot Leibovitz and how did these ideas take shape during the short window in which you had to photograph her?
'I made a goal for myself of getting one great portrait. It's easy try and do too much when photographing someone you are excited about, and I didn't want to fall into that trap. Days before the shoot, I decided that I was going to shoot on a dark seamless. My best guess was that she would wear black, and I wanted to to try to play off of that. I also had a few specific poses in mind. I was told that we had an hour to shoot, but I prepared myself to have much less time, which is exactly what happened.
'Annie was very kind, and open to having some fun with the shoot. But I sensed that she was a little uncomfortable being photographed, and she moved around quite a bit. It would have been difficult to hold her in a pose for very long, so I decided to keep things moving. It was very much an improvised collaboration between Annie and I. She suggested some ideas, and tried various poses. And when I saw something I liked, or thought of something different, I was very specific about guiding her and posing her in a certain way.
'One of the things that I found out during my research is that Annie looks through her camera with her left eye. That was interesting to me, and I thought about photographing her as if she were looking through a camera. My original thought was to have her closing one eye, but when I explained this to her, she started using her hands around her face. I really liked how this looked, and told her that I wanted to continue with that idea. That pose ended up being the one that I connected with the most'.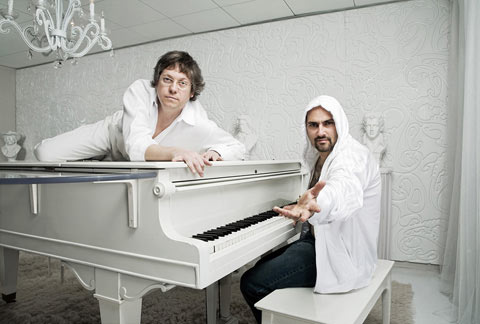 Along with other Redux Pictures' photographers, some of your work will be included in a new book called American Youth due out in May 2009. Can you talk a little about your contribution to this project?
'I photographed two very different groups of people for American Youth. The first group I photographed was the Sea Gals, the Seattle Seahawks cheerleaders. I spent numerous days across several weeks photographing the Sea Gals, and most of my time was spent with the three youngest cheerleaders on the squad. I really wanted to photograph them in a way that would be surprising, or at least different from what people expect to see in a cheerleader picture. Several of the pictures were taken at their homes. I liked the idea of taking them away from the football field and showing them in an everyday environment.
'For the second group, I photographed street youth in Seattle's University District. Most of the youth I met were excited to have their picture taken. But not at first. It took some time to gain their trust. Each time I shot with the street youth, I gave them prints from the previous shoot. Something as simple as a 4×6 photograph is easy to take for granted, but it was a really big deal for them.
'Each group I photographed provided a different experience. With the street youth, I took very little control over their expressions and posing. I wanted to let their personalities come through instead of dictating the feel of each portrait. Working with the cheerleaders as long as I did gave me a lot of familiarity with each of my subjects. Each time I shot, I could tell the girls were more and more comfortable in front of the camera. Because this was an ongoing project and not just a one day shoot, I enjoyed the chance to return to my subjects and try an idea that came to me from previous shoots'.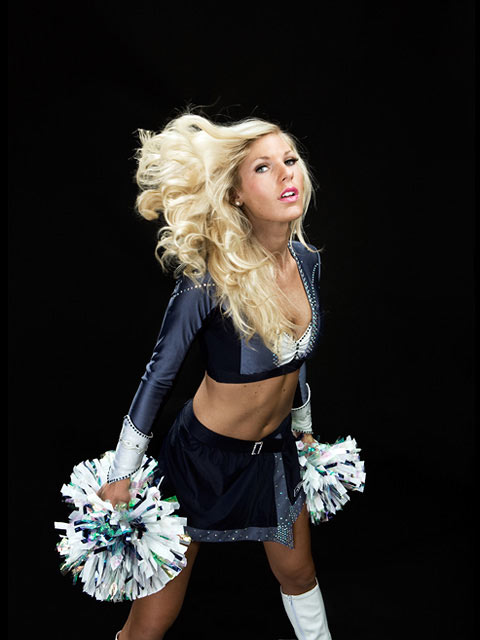 How do you find the photography scene in Seattle? Do you shoot a lot locally or are you traveling most of the time?
'It's hard for me to compare Seattle to other cities, mostly because this is the only place I have lived since I have become a career photographer. A majority of my photography takes place here, but I do a fair amount of travel.
'It seems to come in bursts. I might be in town for 3 months straight, and then I have three out of town assignments in one month. I also make a point of going to New York at least once a year to stay in touch with people and make new contacts. Seattle is obviously nothing like New York, or Los Angeles, but I am able to get enough portrait work here to keep me pretty busy. Seattle may be a smaller market, but the quality of life in the Pacific Northwest makes it all worth it'.