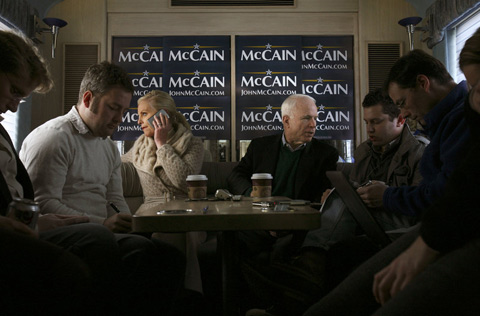 Stephen Crowley approaches his work with the same sense of exploration and wonder when he was armed with a "Polaroid Swinger" at the age of 13. Over the last 25 years he has tried to find insightful moments in the midst of breaking national and international news that can sometimes define, in a single image, politics and culture. In his personal work Crowley searches for morsels of humanity, irony and humor, collecting images of the country's character and culture as hinted by physical structures, shifting light patterns, and happenstance. On February 5, 2002, Crowley, a graduate of the photography program at Daytona State College, was cited as "Photographer of the Year" by the White House News Photographers' Association for a portfolio that included his essays "Voices of Afghanistan" and "A Day in the Life of President Bush." In 2002 the Pulitzer Prize for Feature Photography was awarded to Crowley and four other photographers at The New York Times for work produced during the way in Afghanistan. That same year he received an honorary Doctor of Fine Arts degrees from the Corcoran College of Art and Design in Washington, D.C. In 2005 American Photo Magazine included Crowley on it's list of the "100 Most Important People in Photography." His personal photography has been exhibited in shows at the Library of Congress, The National Geographic Society, and the Corcoran Art Museum.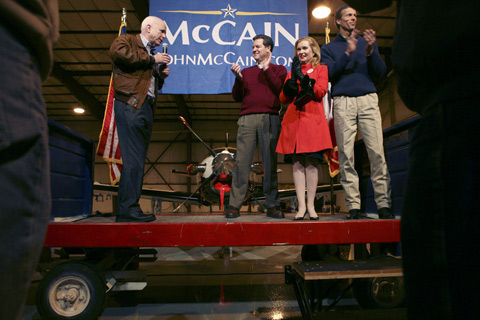 You have photographed McCain for over 20 years now, and you have never so much as said hello to each other. Is this typical of photographing politicians on the campaign trail?
'I guess, while working, I'm a bit reserved so I generally develop a formal working relationship with the people I cover. I want them to know who I am, the kind of pictures I'm trying to take, my working style, etc. so that they're comfortable when I'm around. I don't like to get too close because I think it can hamper objectivity. But it also benefits the candidate, or any politician, to have an idea as to who is probing around the inner circle.
'Although McCain liked surrounding himself with reporters on his campaign bus during the primaries he just never paid much heed to photographers. Once he secured the nomination of his party and the general election began he shut the traveling press out. George Bush was always very friendly; Kerry was very distant. His handlers kept Bob Dole away from the media. We took turns posing for snapshots with Dole on the last day of his campaign. After I shook his hand he turned to the traveling press, pointed at me and said, "He's pretty good". I was very moved. It's very important to me to be judged as fair by the people I cover. If I can do that while also finding a creative approach, then I'm satisfied'.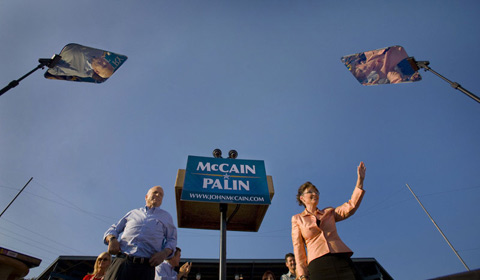 At the beginning of the Presidential campaign, what was your level of access and how did this change over time?
'Before McCain became the Republican nominee, access to him was reasonable. He was often unaware of the camera and largely unaware of the handful of photographers who traveled with him.
'Late in January 2008, my 30th day straight, and my second stint on the McCain campaign. I rode with John McCain to a video taping in West Palm Beach, FL with a New York Times business reporter for a discussion on economics, not one of McCain's strong areas. I limited myself to shooting just a few frames to avoid disrupting the taping.
'When it was over, I asked the press secretary if I could hitch a ride in McCain's van to the next rally. I crawled to the back. Seated in front of me was a local couple that attended an earlier fundraiser. McCain sat in the next seat up and his press secretary sat in front of him.
'McCain was rattled. "This was bad. I'm really worried about this. This was tough". Who was responsible for setting up the interview, he asked the press secretary and he called his headquarters in Washington to instruct them to have someone call the Times reporter and clarify some of his comments. Finally he turned to the local couple and complained about the "liberal slant" of the Times and then joked about one of his opponents and how he used to "beat up guys like him in the schoolyard".
'As he continued in this vein, it dawned on me that after all this time, even after periods of being the only photographer traveling with him, he had no idea that someone working for the New York Times was sitting three-feet from him. I could tell by the look on the press secretary's face that she sure knew whom I worked for'.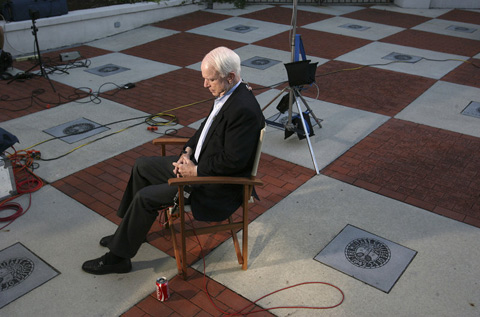 This series was published on September 4 in the New York Times. When did you stop photographing McCain?
'Right up until his concession speech in Phoenix on Election Day. The next morning I turned on the television in my hotel room where I was nursing fatigue and "the kennel-cough", a scourge that had been moving through the plane for weeks, and there was John McCain, sans staff and Secret Service, leaving his condominium behind the wheel of his SUV, no doubt stopping at the red lights for the first time in a year, driving himself to Starbucks. Such is the afterlife of the campaign'.
As a photographer for the New York Times, were you treated differently compared to say a photographer for National Review?
'The photographers at TIME "embed" with the candidate. I can usually get reasonable access depending on how they're feeling about The New York Times on a particular day. "We're not going to do that," or a variation of this exclamation becomes the siren call of the "handlers" on any campaign and it's a constant battle of wits to get beyond the preconceived image they're trying to rope you into making. In the end the portrait I created of John McCain, although starkly different from the portrait of Barack Obama that permeated the media, was of an energetic man, who when not turned into himself, would turn on briefly during a rally or in the company of his closet friends'.
Can you tell us a bit about the editing process for this series?
'I cut the audio and arranged the sequence of still pictures in Final Cut Pro. I shipped a Quicktime movie along with the elements to New York where a producer repackaged it for the web'.