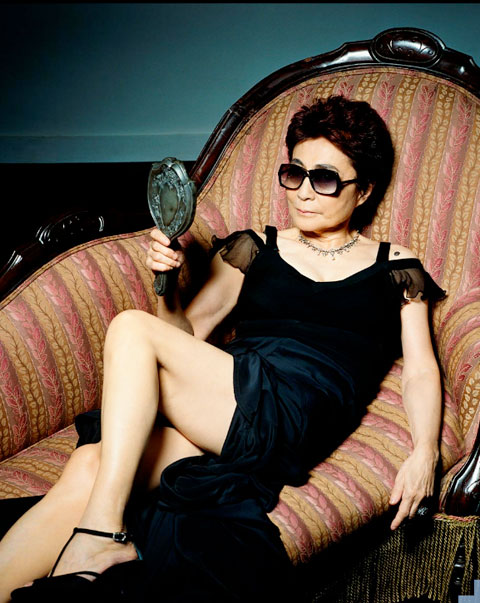 Michael Lavine grew up in Denver, Colorado, and graduated from Denver's South High School in 1981. During his school years a camera was never far from Michael's hand. He was active in the photography club, and as a photographer for the school newspaper and year book. After high school he headed to the Pacific Northwest and attended Evergreen University in Olympia, Washington, graduating in 1985. He then moved to New York City, attending Parson's School of Design, where he received a B.F.A. While in the state of Washington he became one of the "photographers of record" of the then nascent grunge music scene. His personal friendships with Kurt Cobain and other members of the group Nirvana gave him unparalleled access to create a visual record of that iconic group. He also photographed other grunge era bands such as Pearl Jam, Soundgarden, Sonic Youth and the The Flaming Lips. All these photographs were compiled in a 1996 Simon and Schuster book, Noise From the Underground. Since 1988, Lavine has been photographing music and entertainment performers, landscapes, politicians and artists, as well as daily American life and everyday people. He has received awards from Communication Arts' Photography, as well as from American Photography, the Art Director's Club and Photo District News. Michael also runs an excellent blog, My Aim Is True.
In the past couple of years, you have reinvented your style of photography to become more polished and classic in your approach. What was the catalyst for this makeover and what did it actually entail?
'That's a complicated question, Alison. The reason that I decided to reinvent my style of photography was fundamentally driven by my desire to continually grow as an artist. I've been working as a commercial photographer in New York for over 20 years and I have had some marvelous opportunities and a wonderfully successful career. But that said, it can be a very difficult business to compete in year after year, so to stay vital and fresh, I find it rather cathartic to shake things up a bit every now and then. But really, in a lot of ways, my style hasn't changed all that much. I like to say I shoot Iconic not Ironic. I make iconic portraits utilizing a straightforward and fairly formal composition. I've always done that.
'In the early nineties a gained some notoriety for using a bag of tricks filled with gimmicks, like cross-processing, gels and wide angle lenses. But hell, I was working in the music industry, taking photographs of loud and noisy rock bands, and it made sense to photograph them loudly. But I got tired of that look fifteen years ago. Underneath it all I maintained a rigorous exploration of very formal photographic compositions. To answer your question about what this latest reinvention actually entailed, it had to do with my conscious decision to concentrate on one particular light schematic to create the impression of a cohesive lighting "style". I used to try to reinvent the wheel every shoot, agonizing about creating a new and unique light for each subject.
'Now I basically know what my lighting package is going to be and the client knows what the photos are going to look like. I've streamlined! But also it's important to mention that I'm 45 years old and I find myself identifying with the classic images of the 30s and 40s more now than ever. Dorothea Lange is my hero! And to my detriment, I've always had the urge to rebel against the general trends of the contemporary photography scene. Please excuse my rambling but another important aspect of my latest reinvention has to do with the industry's switch to the digital realm.
'Fortunately, I happen to be great at color management and I have implemented a system that consistently delivers spot on proofs and perfect digital files. I know it sounds techy and stupid, but it's a really important aspect of the job'.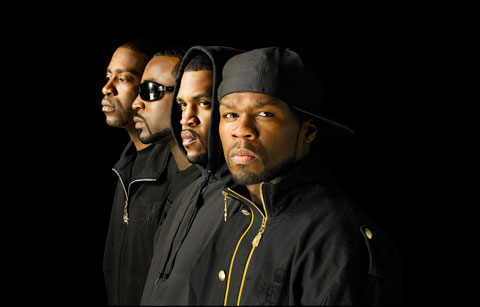 Can you tell us a little about your process when planning and conjuring up ideas for a shoot?
'You know, every assignment comes so loaded with its own unique set of circumstances that its really a matter of trying to reconcile the conceptual considerations of the subject and the storyline with the logistics and the budget.
'But generally after I've been given an assignment I wander around for a while and try to figure out what the best solution is. I know it sounds cliched, but I come up with a lot of my best ideas while doing random tasks like running on the treadmill or vacuuming or walking the dog.
'A lot of people like to use reference material for guidance and sometimes it can be appropriate to "pay homage" to a certain image or style, but I find it to be a little like cheating to rely to heavily on other images. I prefer the painful approach of trying to squeeze a few drops of an idea out of the moist sponginess of my own brain. I am going to assume that everybody does this but I go into every shoot with a strong notion of what I am planning on doing and then as the circumstances dictate, I improvise. And, as you can imagine, every possible scenario plays out over time.
'Once I was on a rooftop with a band and my thought was if they could walk around we might be able to create some nice energy, so I said to the guys 'how about you walk over here and I will take a few shots as you go'. One of the guys looked at me and said 'We don't walk'. Un-phased, I said, 'OK, then just stand there then'. With even the most thorough production you can never predict what's going to happen.
'We were shooting Miley Cyrus last year in Nashville and a storm swept in, the temperatures dropped and Miley was freezing in a summer dress. She could barely last even a few frames, but the dramatic stormy sky background was priceless. Photography sessions inherently create volatile situations and I feel like I barely make it out alive half the time'.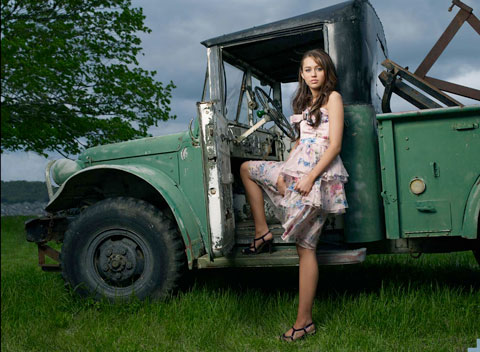 Abrams is publishing a B&W book of your Seattle grunge/street photography in the 80s with Thurston Moore writing the text. How did this project come about?
'Thurston is an old friend of mine and he is also my neighbor. One day he came by to borrow my fax machine and he saw one of my portfolios lying out on the table. Flipping through the pictures, he asked me when was the last time I had done a book. I said, 'ten years ago' and he said, 'think it's time for another one'. It seemed pretty simple.
'Thurston has become heavily involved in editing and publishing books involving some of the more obscure rock scenes from the 70s and 80's, most notably the Abrams release, No Wave: Post-Punk. Underground. New York. 1976-1980.
'We had our first meeting at Rizzoli in December of 2005 and after many stops and starts we finally signed a contract with Abrams in October of 2008'.
Can you talk a little about your editing process for the book?
'Editing this book was a like traveling on a long and arduous road loaded with potholes and wrong turns and dead-ends. I was led to believe I had a book deal, but I really didn't have a cohesive body of work pieced together, so I started compiling random images just to see what was there. I have 25 years of worth of images, literally hundreds of boxes of negatives and prints, so this was a giant can of worms and that can had just been dumped upside down.
'After flaying around for several months I decided to go back to the beginning and edit chronologically, looking at every project and every job year by year. It was a grueling process that took over a year and happened mostly at night and on weekends. There was sort of a healthy reexamination of myself that took place and I have a clearer sense of who I am as a photographer because of it. After pulling all of my work together into a mini retrospective (which, of course, I thought was going to be great), Abrams shut down the whole idea and declined the book. I was devastated. But Thurston and I knew there was a book in there somewhere so we went back to the drawing board and tried a different angle.
'Many images stood out including the artist portraits I made for Team Gallery in the mid 90s, all the hip hop I did in the late 90s and, of course, all of the rock that I shot in the early 90s, but the body of work that stood out the most, that seemed the most relevant, was a series of B&W portraits of street kids that I had made in Seattle in 1983 (two years before Mary Ellen Mark's 'Streetwise') So we pitched that body of work by itself to my editor Eva Prinz, who loved the idea but felt that we should expand into my early grunge band photos. She thought that the street images were a precursor to the grunge movement and wanted to point out the influence that these Seattle street kids had on the style and sensibility of the early grunge bands which in turn had such a big influence an our mainstream culture. Connecting the dots.
'So then I re-pitched the work with Kurt Cobain on the cover and voila, we were back in the game! Ironically I hadn't thoroughly edited many of those early band shoots, and I basically had to start over and re-edit a whole new book. It took months! Believe me when I say I cannot wait for this book to come out!'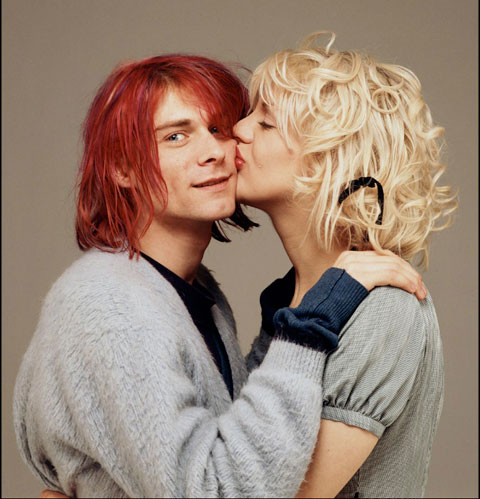 You were good friends with Kurt Cobain back in the day. What do you recall about taking the iconic image of Kurt and Courtney for the cover of Sassy magazine? [sorry, had to ask]
'Well that was seventeen years ago, and since my brain is a sieve and I couldn't tell you what I had for breakfast last week, I don't think the details are too sharp.
'We shot the photos at my Bleeker St loft on the Bowery. I remember that my friends Andrea Linett and Janet Billig were there. I remember the ridiculous twelve foot silk lighting setup I used.
'I remember people having to go out and score dope. I remember Kurt telling me that the reason that he loved Courtney so much was that she was the only girl he knew that would stand up at a party and smash a glass table to bits just for the hell of it. I remember thinking that was a pretty odd reason to love someone'.