Jeremy M. Lange was born in 1976 and bred in Durham, North Carolina. He has also lived in Italy, California, Georgia, Boston and Mexico. After working as a carpenter for 6 years, he graduated in 2004 with a BFA in photography from Virginia Commonwealth University and started his photographic career by moving to Oaxaca, Mexico and then spent 3 years in New York City before returning to North Carolina in 2007. Lange has worked extensively in Latin America and the United States covering a variety of stories ranging from kidnapping in New York City to the failed presidential campaign of Manuel Lopez Obrador in Mexico.
What made you decide to start photographing U.S. soldiers returning home from war?
'I started this project because I felt that I hardly ever saw this side of the wars. You only saw the war from the ground in Iraq and then Afghanistan. You could occasionally see a funeral shot, usually in a local paper, but for the most part it seemed so underreported. At the time it was forbidden to photograph the caskets coming off planes, and I wanted to to test that and found it to be untrue if you were invited by the family, another interesting point that the government statement did not specify. I was curious as what was happening when they came home, how they readjusted, or not, and what the issue that families were dealing with while their loved ones were gone. I did not know anyone who is fighting overseas, and I felt a huge gulf between the general public, most of whom would rather not think about any of this, and the families of the small percentage of our country who is fighting in the Middle East. With an all volunteer military it is easy to not be personally affected and I wanted to know. It seemed so important to bridge the gap in whatever way I can, and this is how I am trying to understand. My personal feelings on the wars are far less important to me than letting some soldiers and their families know that in my own way, I really care about what they are going through and wanted to show others'.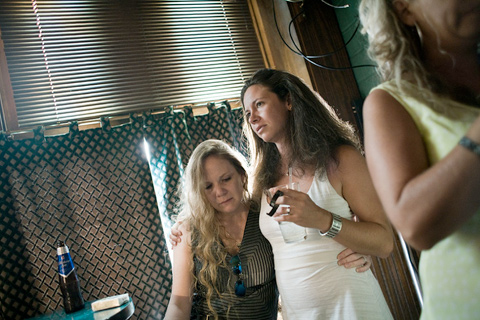 Do you know many of the people in your photographs? If not, how do you go about introducing yourself?
'I did not know anyone in the photos, at least at first. I am in contact frequently with some of the parents of the soldiers whose funerals I have photographed, I sent them all the pictures and with some, we speak pretty often now. To introduce myself, I would get the numbers of the families and call. That was the hardest part for me, the initial call. It felt so intrusive in a way, but I felt it important to let them know that someone who they did not know at all cared about what happened to their child or loved one. I just explain that and what I want to do and hope for the best. Many people have asked me not to come and that is fine, I totally understand'.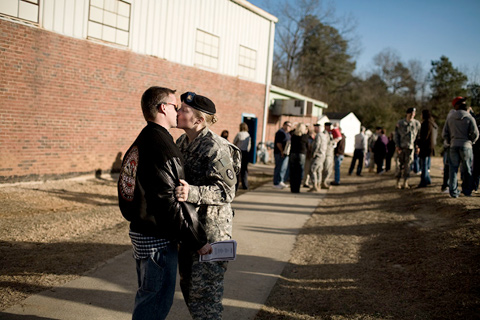 You often photograph emotional situations. Are there moments when you feel the need to just put the camera away for a while?
'There are moments when I feel I should stop shooting and sometimes I do, if I feel eyes on me, I just go by the feel of the situation, but most times I just keep on. I feel it is so important to show others these situations and if I stop shooting then I have no real reason to be there. If I am asked to stop though, I always do, but that has only happened once. As an example, at the funeral of Joel Taylor, his father Scottie had hired a photographer, but the guy stopped shooting when the ceremony started, out of respect he said. So they had no photos of this tremendously difficult time and they wanted photos. Mine were the only ones. Scottie had been hesitant to have me come but when I sent him the photos he realized what I had and has thanked me several times. He showed the slide show of the photos to his firehouse and he said they all cried. That made me feel like all this is for a reason and that some good can come out of the terrible moments the photos depict'.
You recently moved to North Carolina after three years in New York. Has your photography career changed with the move?
'Moving from New York was a hard thing to do, I questioned the decision a bunch of times, still do on occasion, but it was the right thing to do. I could not have done any of this if I had stayed. I was working a lot and learning a lot, but I never could get the time or money to work on my own projects and they were all outside the city anyway so we, me and my wife and our daughter, went to North Carolina. It has changed my career a bit, I have to be more flexible in what I shoot, more portraits and odds and ends, to make it work, but all that also makes me a better photographer overall so it is good. It is a challenge to shoot outside of my comfort zone and I like that. I have a lot to learn and it helps. But I have a great situation in NC and am so grateful that I earn a living as a photographer who mostly shoots things that really interest me. It is a privilege. I am still pretty young in my career so it was the right time to make a big move if I was going to do it. No regrets'.