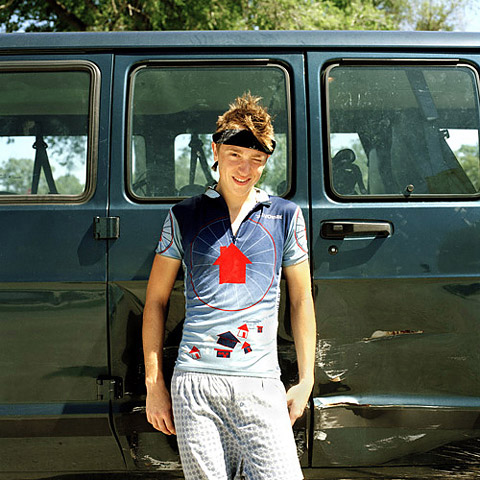 Jake Stangel is a lifestyle-outdoor photographer based in San Francisco. He studied visual communication – a combination of photography, marketing, and visual philosophy – at New York University, and graduated in 2008. Stangel primarily shoots medium and large format, and prefers using the sun as his light source and the clouds as his light diffusion. He recently completed his first major photographic project, "Transamerica", which looks into the vivid and thoroughly American world that still exists along the backroads of the United States. The project was conceived and shot on two separate cross-country bicycle trips Stangel took in 2007 and 2008. He is currently working on a self-published book of writing and photography from "Transamerica". He also runs a photo resource website called 'too much chocolate'.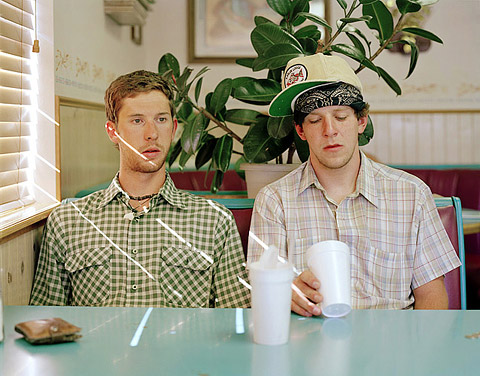 You've just completed a project, Transamerica, where you photographed people and landscapes while biking across the country. From the outset, what were your photographic goals for this trip and did they change over the course of the journey?
'My photographic goals were certainly wide ranging, and if anything, I focused on a theme rather than a storyline. I definitely wanted to capture life on the road, and primarily look into this all-at-once placid, grand, vibrant nature of the country – its 'American-ness'. I sometimes feel like there's a fine layer of golden dust, car grease, and Bud Light that lays atop the entire country, and this is what I was after.
'I also wanted to touch upon how much of the American back roads remain timeless and classic, even as the face of America is rapidly changing along our interstate 'pipelines'. I am totally head over heels in love with mom and pop stores, original 50s diners, and all the people that make up what I consider 'authentic America'. I would have loved living in the 50s, 60s and 70s.
'My goals didn't change much over the course of the journey, especially because I've done this trip twice, and knew what to expect in a way. My goal was always to capture what I described above'.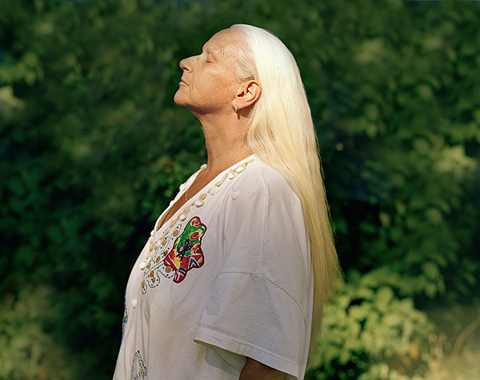 During your travels, you were very limited to how many shots you could take each day due to the format that you were working with. What were the determining factors that encouraged you to take a photo at any point?
'These trip were self-financed and occurred before and after my senior year of college, and I had allocated a certain amount of money for film and processing on each trip. This second time around, I shot on 4×5″, and could shoot about two images every three days. It was not a great feeling to hit my quota for the day, but I made it work as best as possible. Each and every situation was different, but I tended to select scenes that together were iconic, had strong visual appeal, and really illustrated the "Americanness" concept I was after.
'The shots were both of riders on the trip, as well as people I met along the route. In the afternoons, after the day's ride, I'd often wander around town, and fall in love with a physical location. I'd then set up my camera for two reasons- to get as ready to shoot as quickly as possible, as well as to help me reel in or convince a subject to get in front of the camera. When someone walked past my camera – which could take upwards of half an hour in the first place – I'd gently approach them in the least intimidating way possible and ask to take their picture. The 4×5″ camera, set up, looks pretty grand, and I'd usually point to it, set-up and ready to go, and it often got people over the hump of "who is this creeper" into the "sure, that's a cool camera and he seems harmless" zone'.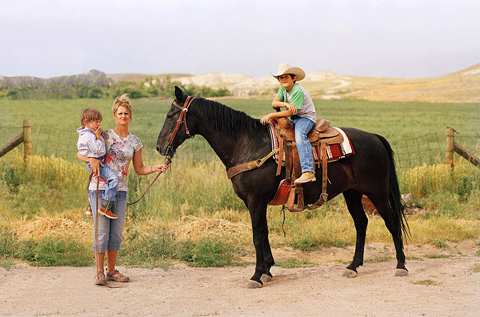 You are now working on self-publishing a book for this series. What steps must you undertake for this to happen?
'I am in the beginning stages of creating a book that includes both images and anecdotal writing about the trip. I really love writing, and I'll be including a collection of stories, narratives, and epiphanies that are hopefully as eclectic as the experience of riding across the country was. This book will be an ongoing side project, and I'm much more concerned about making it interesting and thoughtful than banging in out in two months, so who knows when it'll come out. Some people have knitting, I'll have this.
'I've also decided, within the past two weeks, to ride across the country for a third time this upcoming summer. I'll be 23, and I figured this type of adventure will only get harder and harder to fit into my life down the line! I want to accomplish a whole lot more on this summer's ride as well. Last summer, my blog served up dispatches from the road that often included 'societal insight' (like this), and this summer, I'll be writing more of those kinds of posts. A couple people have recommended trying to team up with a publication like the Atlantic or Mother Jones for an online blog/column, so I'm currently shopping the idea around.
'This summer's photos will also hone in on one or two storylines – one (for sure) will more closely follow the experiences of the 30 strangers (I ride with a non-profit that raises money for affordable housing) that come together for a summer to ride their bike across the country. The other will focus on a socioeconomic issue – perhaps the role churches play in America, possibly about the plight of former industrial powerhouses that are falling inward on themselves due to globalized production – job loss, healthcare issues, home foreclosure, and a basic lack of sustainable town life. I'm also pitching these stories around, so if you're at a magazine, holler at me!'
Just recently you have moved from NYC to Portland, Oregon. What's the photo community like in Portland?
'Portland has a cool photo community. I almost feel unauthorized to talk about it because I only moved here in October of '08, but there are some great photographers out here, a whole bunch of assistants itching to work, and a pretty friendly atmosphere amongst everyone, which goes a long way. Unlike New York, it's small enough that everyone pretty much knows everybody, and I hang out with a good number of photogs and assistants on a regular basis. The biggest difference, far and away, is the lack of work here in the wintertime. It's pretty much dead, and very frustrating, especially because we have Nike, Adidas, Weiden + Kennedy, and a plethora of other ad agencies in town. Fortunately, the cost of living here is about one third of New York. I haven't lived here during the summer yet (and I won't be this one) but I hear it picks up. The bottom line is this: photo editors, art buyers – there's talent here, there are good crews, there's a kickass rental house. Send work our way and we'll deliver the goods'.