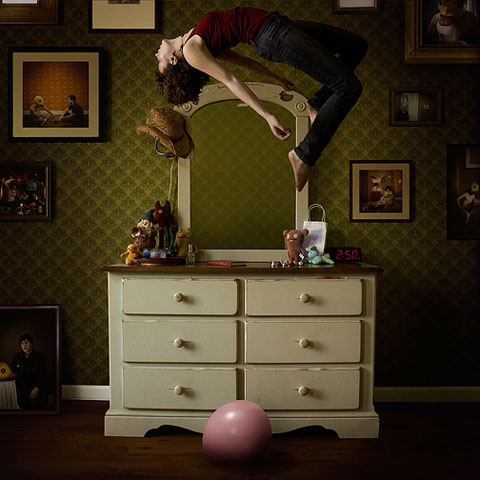 Haley Jane Samuelson was born and raised in Denver, Colorado until the age of thirteen when her family relocated to Amsterdam, The Netherlands. It was there she first fell in love with photography. In 2004 she received in B.F.A. in photography and digital media from the Ringling School of Art and Design in Sarasota, Florida. Recently she completed her M.F.A at Parsons the New School for Design. She is currently represented by HousProjects Gallery in New York City. Her work was included in the recently published, American Photography Annual 24, and in the PDN Annual 2008.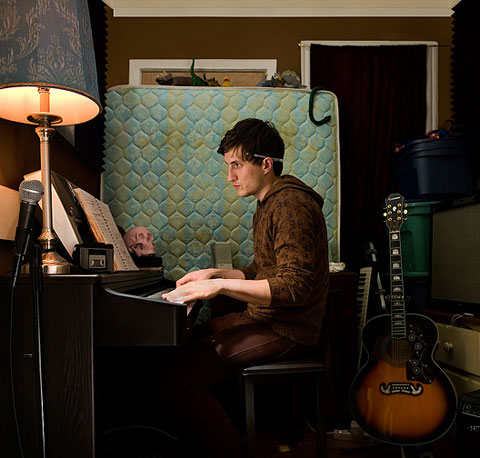 There is a neutrality about the expressions and actions of the subjects in your photographs. Are there any key word prompts that you give models before each shoot?
'The answer to this question is, no, not really. But that doesn't seem at all sufficient, so instead I'm going to talk a little about the content of the work and how the process helps to inform the content. In part, my work is often an exploration of my own private experiences with love and intimacy. Ultimately, however, it is an investigation of the self, employing love as vehicle for self-awareness. Derived from what initially began as collaboration with my romantic partner, Michael, the work chronicles the obsessive nature of our relationship. Fragmented, the events it depicts are not literal but figurative illustrations of a unique psychological state resulting from the self-reflexive nature of our relationship and the eventual breakdown between oppositional forces that comes with love; the internal and external, the self and the other, presence and absence and lucidity and blindness. Neutrality, therefore, is an important theme in the work, as it denotes somewhat of a refusal to take part in any war between these contradicting states of being. As far as direction goes, however, there is very little that happens on set as Michael and I are the only models and I am usually on both sides of the camera. Rather, the expressions and actions depicted are all impromptu performances based off our own private and shared experiences'.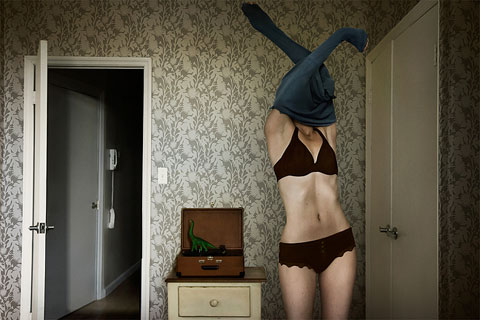 What is your process once you have decided upon an idea that you would like to explore? Do you leave room for anything spontaneous to happen on set?
'As stated above, each image is derived from personal experience. The photographs are obviously, however, not reconstructions of actual events – in no point in time was I ever able to levitate in my bedroom! Rather, they are figurative illustrations of my emotional and psychological reactions to such events. In this way, the photographs visually attempt to eliminate the distinction between dreams and reality, reason and madness, and objectivity and subjectivity by merging everyday occurrences with psychological aberrations. Once I have come up with an idea to explore, the rest is relatively simple: I set up the scene, turn on the self timer, and begin what becomes a sort of an accidental ballet between myself, the camera and Michael, as we react to one another, the narrative I've created and the scene itself. So while the set is somewhat controlled, what happens on set is usually very intuitive'.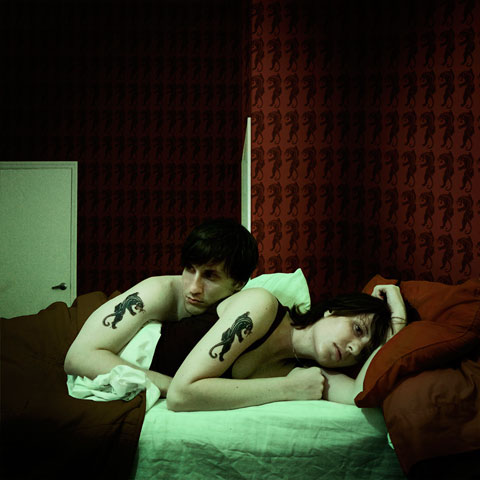 How do you go about finding models for your shoots, and what are you looking for in particular?
'Currently I have been taking self-portraits and portraits of my boyfriend. Due to the performative aspect of the work and our own tendency to change the color and cut of our hair every six to eight weeks, we end up becoming very different characters from one photo to the next. When I do shoot other people, I am not so interested in what they look like, as much as I am in their ability to transform themselves from one photo to the next, to be malleable, and subtle in their expressions'.
Your use of props is very interesting yet the sets retain an everyday normalcy about them. Do you ever just walk into sets or is everything set up from scratch?
'Every photo in my latest series of work was taken in my 750 square-foot, Brooklyn apartment. So essentially, Michael and I live on set. The props are our belongings. There are definitely reoccurring visual symbols, such as the balloons and the chocolate, that were bought specifically for the photo shoots. But even these objects (as temporal as they are) have some relevance to our daily lives. I try not to purchase anything for the photo shoots simply because it gets expensive. Plus, something uniquely wonderful about the collection of things that inhabit your space when you're in your mid-twenties. The stuff in our apartment could be part of an exhibition on the odd transition between childhood and adulthood'.
How much work do you usually do in post production, and how do you know when you are finished?
'Let's just say that the walls in my apartment are white. I only know I am finished after I've gone too far and realize that its time to go backwards'.