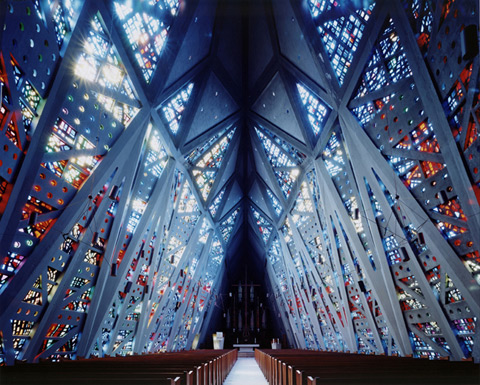 Christoph Morlinghaus studied photography at the Fachhochschule Dortmund, School of Design and Photography in Germany. In 1999 he moved to London. Since then he alternates his time between Europe and New York, where he has his base. His clients include Big, Conde Nast Traveler , Details, Dwell, Fortune, Le Dictateur, Martha Stewart Living, Monocle, New York Magazine, and Wallpaper.
How did you get started in architectural photography?
'I used to work as a still life photographer, but became increasingly unhappy and bored working all day in a darkened studio. In early 1997, my agent pointed me to an empty building with a tremendous history, the IG-Farben building. I spent a week inside that huge, empty and spooky building and loved taking pictures there. After that, I gradually stopped working as a still lifer and worked more in landscape and architecture. Eventually, I sold my studio to focus entirely on "on location" photography. I recently exhumed the negatives and reprinted them.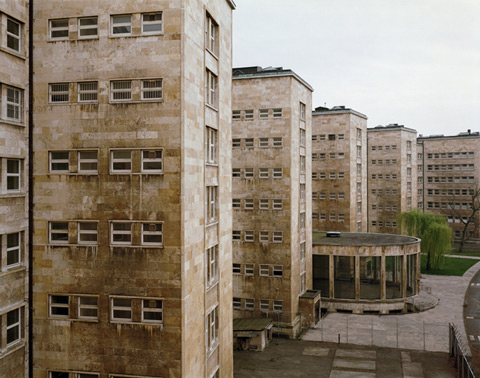 There are lots of shapes and patterns taking form in your photographs. Did you have to train your eye in order to see this way?
'Not particularly. The majority of what I learned in terms of light, colors, composition and aesthetics, I learned from still-life photography and printing my own negatives. I also owe a lot to Otl Aicher, who taught me the importance of clarity and communication, as opposed to being artistic ("the aesthetic of functionality")'.
How long do you spend studying a building before you start to photograph it?
'More often than not my time at a certain location is extremely limited. For example, for the shots that I took at Terminal 5, there was no access before the shoot day and I had a very short time window between the construction crews finishing and cleaning the terminal and the TSA clearing it. So I just switched to autopilot, mounted my 8×10 on a dolly, and literally ran through the building and took pictures. Even if I have more time, I try to work as quickly as I can. When I spend too much time at a certain place, the images tend to be too pretentious and artsy'.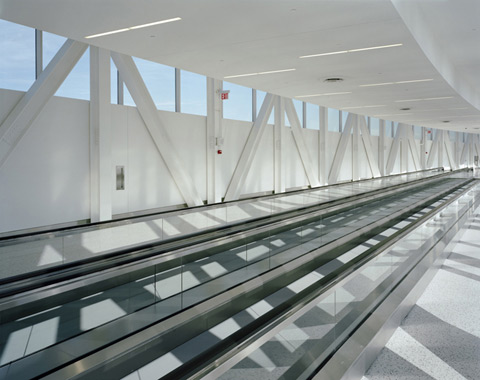 Your architecture photographs have a sense of mystery about them. Is this something you're intentionally trying to inject into your work?
'I don't try to add a layer of mystery to the images. The better pictures were all made when I was alone in an empty space. I think that there is more a sense of loneliness to the images. Also, when printing at night in the confined space of a darkroom, there is a feeling of being alone that transfers to the prints'.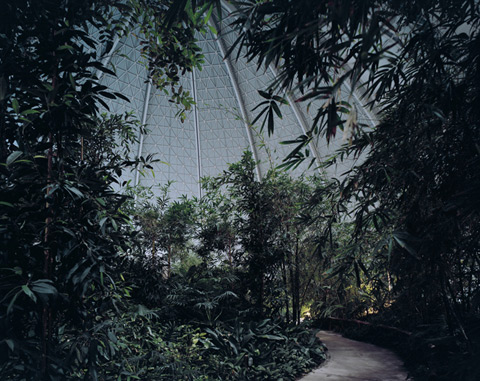 What techniques do you use in order to turn a relatively uninteresting location (like an airport baggage claim area) into something beautiful to look at?
'I don't use any other technique other than "straight photography". I only use an 8×10 camera and color negative film (recently I switched to a 12×20 camera and black and white). I never use any other light except for the light that is already there. I print, or contact, my own negatives without the use of a computer. I strongly believe that the beauty and clarity that is inherent in the traditional photographic technique is sufficient for everything that I shoot. I hope that there is a certain amount of truthfulness and honesty in my images that, combined with traditional photography, produces beauty. In addition, I think that the very long exposure times that I use give a feeling of "captured time". There is a difference between a very short exposure time or a camera flash and a 5-20 minute exposure time'.