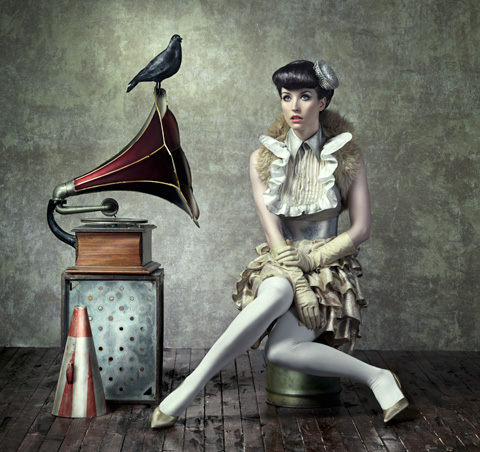 August Bradley creates distinctive, conceptual images with an artistic feel and a sense of drama and mystery. He works for clients ranging from designer labels and consumer brands to lifestyle magazines, as well as producing images for gallery exhibition. He was recently selected as a "Hasselblad Master" and his work has been included in the 2009 and 2008 editions of the Graphis Photo Annual featuring "The Year's Best Photographs".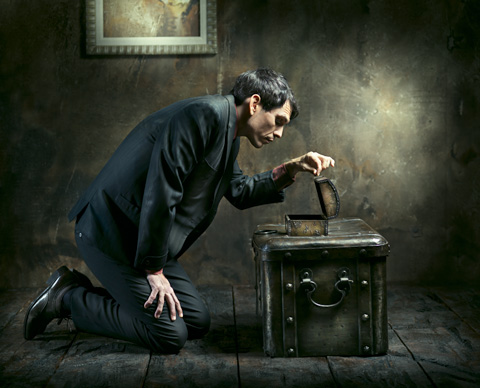 What were your inspirations behind this series for the Hasselblad Masters Book?
'The series explores the notion of external constraint and the desire for freedom, and the fantasy of what freedom is from the perspective of someone without it. There are three segments to the series. The first part presents characters shut off from the outside world, but who have a longing for a connection to it. These characters are in this place because of forces beyond their control that they do not understand. The second set continues the theme of isolation and desire for a connection but the source of the detachment here comes from a calling to pursue a different path. In the third segment, the more fashion-oriented collection, the images pursue a sense of fantasy or dream of a life beyond the constraints, with the lingering notion of limitations intertwined with the fantasy of freedom.
'The photographic style of the collection evolves from theatrical yet personalized portraits to fashion photography, so the style of the image making evolves with the theme from personal limitations to imagination and aspirational fantasy'.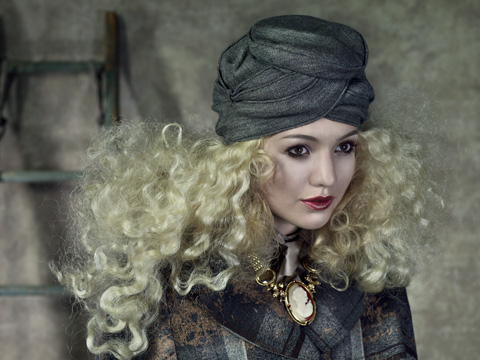 In just four years of photographing you have developed a unique visual style. How did this take shape?
'That number of years is a little misleading. I grew up in my mothers photography studio, I was her lighting assistant from an early age, moving her lights around since I was maybe 5 years old. I virtually lived in the darkroom in high school and part of collages. I was really obsessive about photography. Later I pursued another career, doing marketing strategy work for consumer brands such as Gap, Banana Republic, J.Crew, and others. After years of that, I began migrating back to photography, and almost four years ago I became a full time professional photographer doing the kind of stylized conceptual images and fashion and portrait work I'm doing now.
'But the "style" evolved from a lifetime of immersion in the arts, much of which outside of photography. I'm influenced probably more by painters than photographers in terms of the light, the mood, the color tones. I'm influenced a great deal by architecture and interior design as well, as reflected by context and environment playing such a strong role in the images. I love literary fiction and many of my themes come from that source. My style is the result of a life of exploration in a wide range of arts'.
What is the creative process that takes place before the actual shoot, and how many people do you usually have on set?
'Much of the creative process takes place before the shoot. General story outlines and concepts are developed. Color palettes are determined and out of that we come up with a vision for wardrobe styling and we build sets or scout locations to fit the concept and the palette. These are production shoots and they involve a team of talented people. It's such a misnomer that the photographer makes the images, a team of experts across a wide range of specialties make the images. The photographer often serves the role that a director would serve on a movie set,combined with the role of the cinematographer. It is the directorial role, rather than the camerawork, that is most fundamental – organizing and aligning the range of talent into a cohesive, singular vision. But the final product is only as good as the team. A great image is the result of the cumulative impact of every little thing being done well.
'For fashion or conceptual shoots the team tends to be at least eight and up to say fifteen people. That's not including client personnel. I do things differently with portraits, I like to keep those teams smaller and more intimate – more of a dialogue between the photographer and subject, but we still have an assistant to adjust lights and enable me to keep an uninterrupted dialogue going with the subject, and we'll have hair, makeup, and styling. But with a portrait we don't have an army of assistants. Too many people on a portrait shoot gets in the way and changes the dynamic with the subject. This is not an issue with professional models'.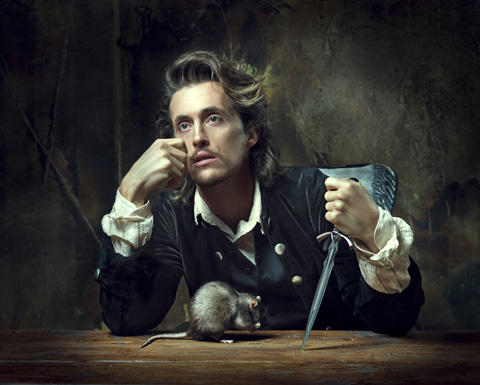 You were a marketing strategist for six years before you became a conceptual photographer. What made you decide to make this major career move?
'I was researching, brainstorming, and developing new business concepts for the great consumer brands, I had the coolest jobs I could think of in corporate America and I was bored out of my mind. I tend to be very curious with a wide range of interests. The great thing about photography as a career, or any art for that matter, is that it's a vehicle for exploring an endless number of subjects that catch your interest'.
Considering your previous occupation, what are some of the ways that you ensure your work is being seen by art buyers or photo editors?
'There is no sales pitch you can make yourself that will be as good as a third party endorsement, particularly one from a source that the recipient of the message knows and respects. My rep is fantastic, her endorsement after a long career of having represented top talent has been great. I have also had a lot of success with high profile photo industry competitions. And of course the list of clients that have hired you makes a strong statement too.
'The most effective thing an artist can do is make work that speaks powerfully to some constituency. Inevitably the most powerful work one can make is the work that is most personal and most true to the artist's view of the world and innate aesthetic sensibility. My marketing background is not particularly relevant in this regard because this is not an analytical issue, it's an issue of the heart.
'The second thing is finding advocates for your work, find the people who are most passionate about what you do and will want to share their passion for it with others. It's better to have 10 percent absolutely LOVE your work and 90 percent absolutely HATE it, than to have 100% like it. I have been fortunate with regards to finding a part of the population that is enthusiastic about what I'm doing, and they do the marketing for me'.
Can you tell us about the retouching process? Do you do this yourself?
'I do virtually all of the retouching in-house at my studio, everything on my website I have done or have managed in-house at my studio. Even when someone on my team works on an image, I will then take it and put the final touches on and modify anything that I think can be refined – on every single image.
'The process is entirely manual; I don't use a single plug-in or automated action. I paint by hand with a tablet to give the images a slight illustrated feel that helps viewers let go of the literal expectations and more fully accept the imagination of the world presented in the image. The stylization supports and works in service of the content'.