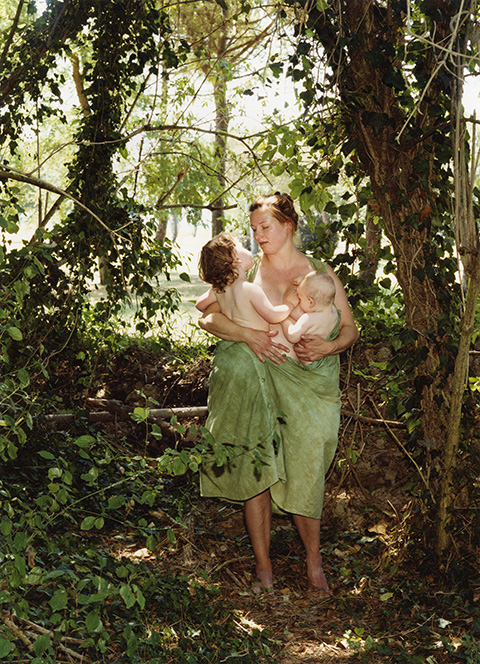 After living in New York for six years, photographer Katharina Bosse moved to Germany and became pregnant. In the next five years she would have two children and embark on this series of self-portraits, "A Portrait of the Artist as a Young Mother," in which she was compelled to "undress (or dress up) and create images of motherhood I had not seen before." The interview below is excerpted from the book, How We Do Both: Art and Motherhood.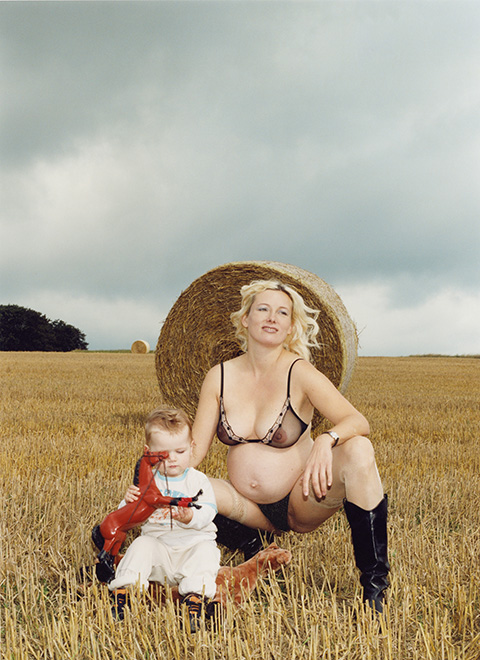 How do you logistically balance art making and motherhood?
"I have always been persistent in carving out niches to create art in my life but when the children were young and often sick in the winter, it was hard to find time at all. I remember one winter when I could not work in the studio for months because I could not leave the children alone in the apartment. I started doing small-scale, abstract paintings on the table in the kitchen after bedtime. As a photographer, painting was totally new for me. Yet I was starving for the feeling of color and unlike film, paintings don't need to be developed. I needed to make work I could do at home while the children were sleeping. I also photographed a series of flower still life on the living room floor. The work you do when the children are sleeping, it could be an art category all to itself."
Does your art making require a "room of one's own"?
"I have always needed a room just for creating art, whether it was a shared space or my own exclusively. I own a color processor and do my own printing. I do my office and organizational work at home, so the studio space is reserved for creating and storing of images. It is a safe place in which images can be developed and kept until they are mature enough to go out into the world on their own.
"I have put some effort into relocating my studio space to a place on the corner from my apartment, which is also close to school. The children can come to the studio by themselves after school. I can work in the evening and if they call me, I will be home in a minute. There is a little backyard by the studio where they can play for an hour if I need to finish something.
"In order to create a project about Motherhood, I needed: studio space, money (quite a bit because the images are large-scale), and childcare so I could work without interruptions. In order to create an art project about Mothering, I actually needed time and space that was Mothering-free. Doesn't this sound funny?"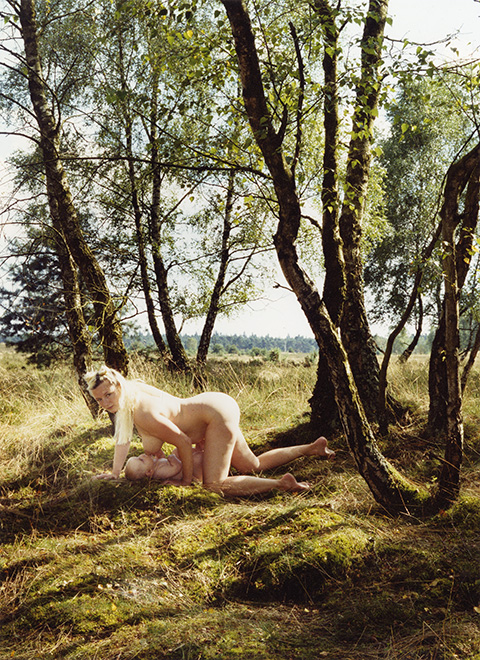 Did having children enhance your creativity?
"I had my first child at the age of thirty-six. I had well established my working practice as an artist and photographer by then. I was very creative and productive in my thirties. Back then I wondered how having children would fit into a lifestyle centered around work. Having children made traveling and shooting long hours more difficult. I am less visible now; I have to choose more carefully which art events to go to, which people to meet. Motherhood forced me to be more patient, working in smaller increments at a time. The series "A Portrait of the Artist as a Young Mother", which deals with the transition into motherhood, became a long-term, multi-layered project. It is personal, political and less marketable than my previous work.
"Looking at my children, I sometimes see them performing surrealist tableaus—this could be an inspiration but I have not managed so far to turn these visions into art.
"On a deeper level, I am, as a photographer, someone watching the world. As an artist, I am shaping my pictures. As a mother, I have to watch and shape my children's lives, but I also have to let things happen. I have to be passive and supportive, sometimes enduring. This was a big transition for me. For an artist, it helps to have a big ego. As a mother, not so much. As much as I struggle with these contradictions, I could never imagine not being a mother anymore. It would be like living in a world lacking one dimension—it would seem flat. Although I remember, when I did not have the children, the world was round and exciting, not flat at all. It's a strange transition… this motherhood.
"The love for my children feels incredibly true and grounding. I need to take care of them and also myself. We keep regular schedules, we eat and sleep sensibly. I cannot allow myself to dive into too much manic energy. I miss that sometimes but it feels good to raise my little tribe. The children call to me the same way my images do, but louder. Nurturing them makes me feel at home. Still, whenever I get a break, I take off into the strange worlds of my own mind, in which my images are waiting to be brought into life. And if these breaks don't happen, I fight for them."